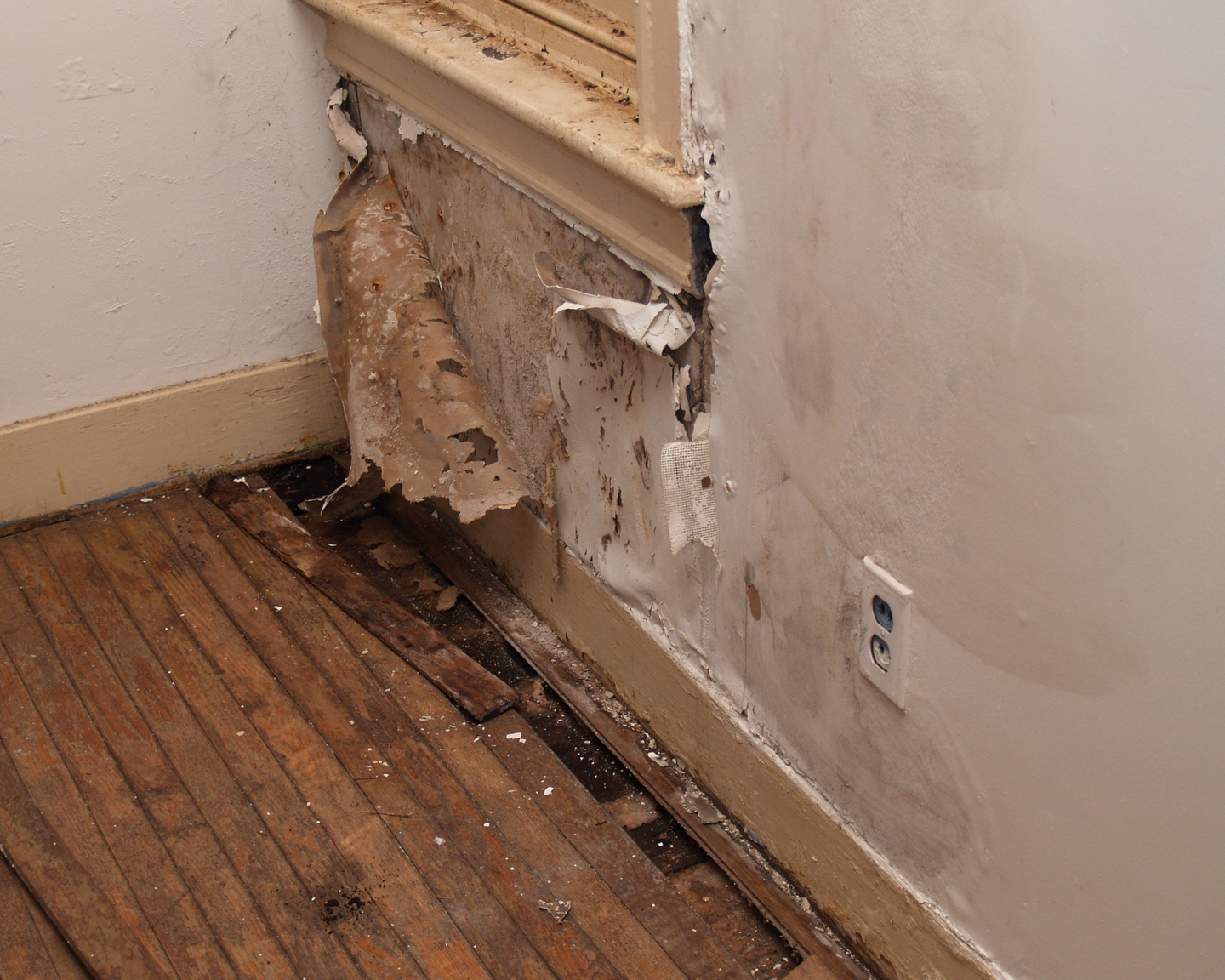 ---
Water Damage On Walls? Learn How to Identify Damage and Begin Next Steps
Water-damaged walls can arise in the aftermath of floods, fires, burst pipes, severe storms, leaking appliances, or other sources, causing rapid destruction to your living space or commercial property. Natural disasters, such as hurricanes, thunderstorms, and floods are especially notorious for causing water to accumulate near the foundation of your property; this water can seep inside and affect your walls at a rapid pace. While the cause may be something as minor as a dripping faucet, if you're suspicious of water-damaged walls, it's important you look for the following signs to determine next steps:

Mold growth on the affected walls or surrounding area due to increased moisture
Damp air and musty odors, often if the affected walls are in a basement, crawlspace, or dimly lit area with low air circulation
Paint and wallpaper peeling off walls due to loss of adhesion
Discolored walls
Warped, cracked, bubbling, softened, and crumbling walls
Rapid increase in utility bills
White, chalk-like stains on walls, otherwise known as efflorescence
Rotted wood
Water-damaged walls can grow worse the longer they sit unattended, so it's important to get this issue fixed sooner rather than later. The effects of waiting to fix water-damaged walls can be devastating to your space and include severe structural damage to both the foundation and walls themselves. Water in walls will often cause buckled surfaces, compromising structural integrity and the safety of the area.
Health effects and poor indoor air quality from proliferating mold and mildew are also possible. Unpleasant odors, permanent stains, and even electrical damage may emerge as well. Once you have identified likely water damage in your walls, it's essential you take quick action and reach out to a premier cleaning and restoration company like SERVPRO® to clean and restore your property.
Once you've given us a call, here are some actions you can take to help prevent further damage and quicken the inspection process. First, remove power to the area where you know there's water damage by turning off the breaker for that section of your home or business. Once electricity is no longer flowing to the area, move all electronics to a safe location away from the damage.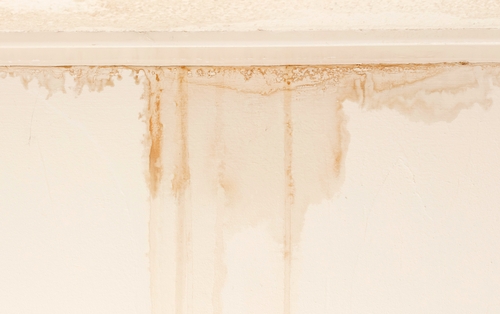 Next, if you have access to a water main for your house or the section of the building, turn it off temporarily. This can help prevent further damage and water from pooling into the foundation. Once the electricity is off and water is no longer in the area, it's safe to place some towels if you have any water on the floor. (Only try to do this if the water on the floor will affect carpeting, wood, or a linoleum floor.) Otherwise, the water can be used to help the team further identify the damage. Remember, there's no need to move furniture by yourself. Our restoration professionals will help you safely maneuver your items out of the way, so they can inspect the area. Otherwise, the water can be used to help the team further identify the damage.
With over 50 years of experience in the industry, SERVPRO professionals follow a detailed inspection process when it comes to water-damaged walls, utilizing a scientific approach that helps ensure we meet industry standards and specifications. First, we survey the scope of damage, identifying and stopping the water source. Then, we check for contamination, identifying the category of water, 1 through 3, which affects the restoration process and indicates contamination level.
Once the water has been categorized, we survey the extent of the water-damaged walls and inspect the overall premises. If necessary, we then move and block furniture and other property contents before beginning the extraction process and to help prevent rust or furniture stains on wet carpet.
Although every water damage emergency is different and requires a unique solution, our water cleanup and restoration process stays the same. We have the expertise and equipment to help restore your property to pre-loss condition. Here's a summary of how it works, beginning with inspection: first, when you contact us, our specialist will ask a series of important questions to determine the appropriate actions for your specific water emergency. A fast response can be crucial, so we'll want to set up a time for a restoration specialist to come out and assess the water damage and create a restoration plan as quickly as possible. After that, our restoration specialist will arrive at your location and thoroughly assess the severity of the water-damaged walls, including potential hazards, and determine what can be restored. This helps us put together an effective plan of action to clean and restore your property as quickly as possible.
Once our plan is set, we use specialized, industry-leading extraction equipment to remove water from the affected walls. At this point, we will inform you of any materials that cannot be salvaged and remove them from the premises to expedite the cleaning process. At this point we clean, sanitize, and deodorize the space and specific items, using specially-formulated products and specific techniques. Once the bulk of the water has been removed, the restoration professionals can begin the drying process.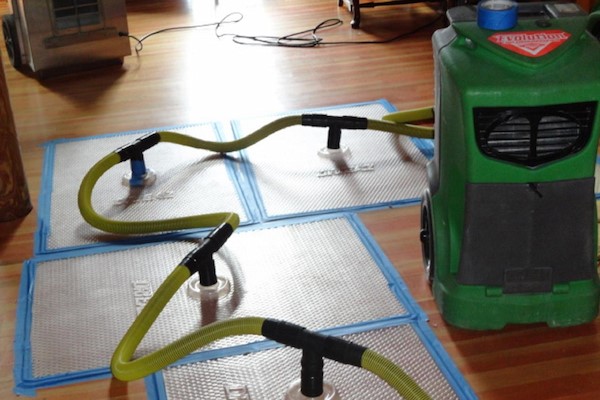 Much of the drying equipment is placed on the first day of arrival, and assists with extracting moisture from furniture, surrounding items, and the walls themselves.Our restoration professionals will continue to monitor and document the drying process throughout the job, and they will return to your property daily to make changes as needed and help ensure your property is effectively and efficiently dried.
The last step of the process includes any rebuilding or construction, if necessary. We're prepared to provide both minor construction repairs and rebuild entire areas of your home, no matter the extent of damage. Providing a complete, comprehensive, full-service restoration experience from initial inspection to rebuild and construction is important to us, as it simplifies the process for you, can save time, and keeps costs low. As a premier cleaning and restoration company, SERVPRO has the equipment, professionals, and decades of training and expertise to help make water damaged walls "Like it never even happened."®
---
*#1 Choice in cleanup & restoration based on Commercial and Residential Attitude & Usage Tracking studies. Polling 816 commercial business decision-makers and 1,550 homeowner decision-makers on first choice for future needs related to cleanup & restoration work. Studies conducted by C&R Research: Oct 2019 and Decision Analyst: Oct 2019.
---