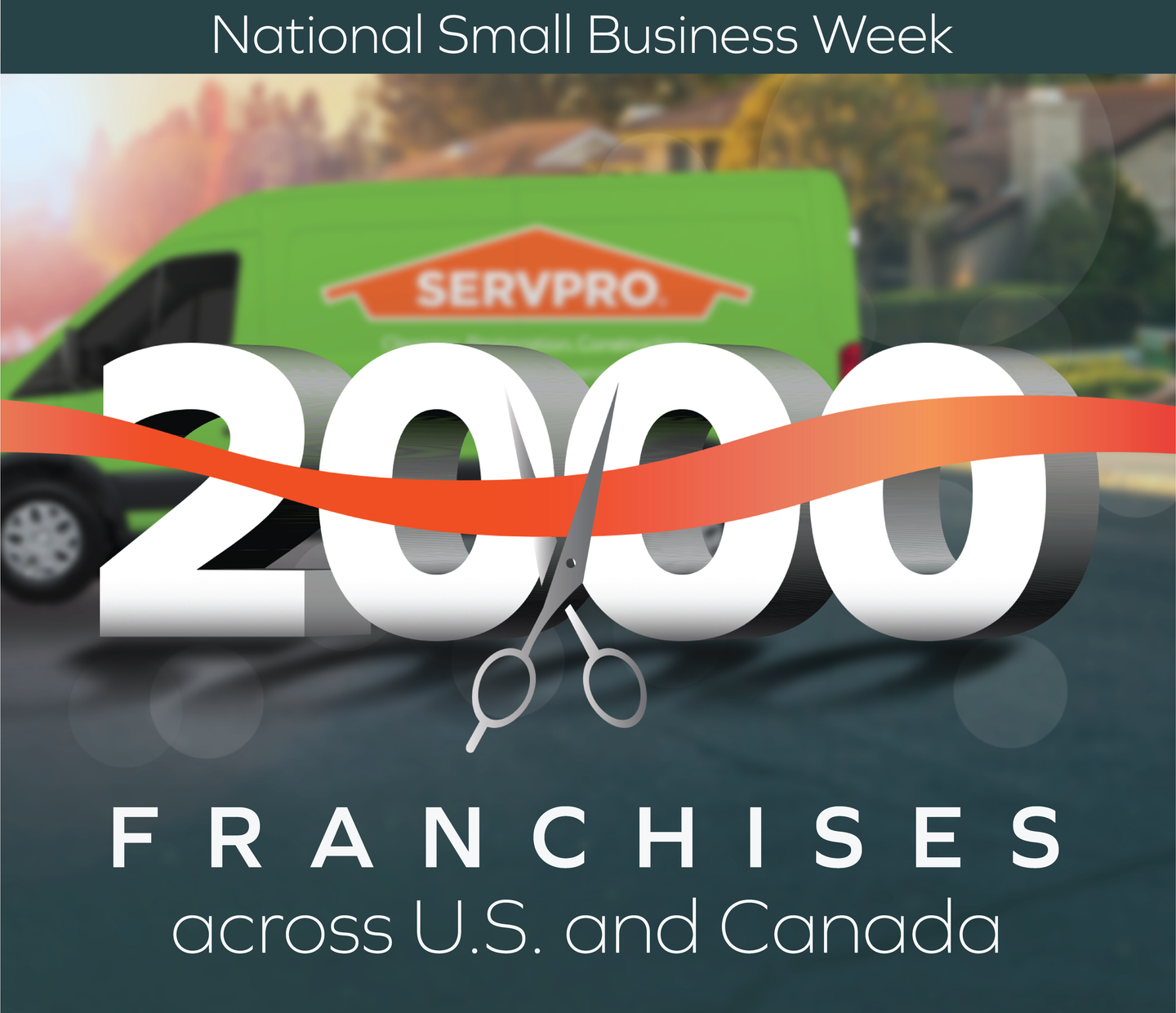 ---
Four Entrepreneurs Share Different Paths to Success for National Small Business Week
SERVPRO spotlights owners to help celebrate the brand's 2,000th franchise
Gallatin, Tennessee, May 2, 2022—A veteran, a female business owner, a college dropout, and a couple intent on giving back all found success through different paths, but each now operates a thriving small business, offering quality jobs and highlighting the importance small businesses play in their communities.
All four entrepreneurs operate multiple SERVPRO® franchises which offer fire, water, and biohazard cleanup, restoration and construction services. SERVPRO is celebrating National Small Business Week 2022 on May 1-7 with the announcement of its 2,000th franchise.
When he returned from deployment where he served on the command staff of the U.S. Army Reserves, Matt Marchese realized entrepreneurship offered the best path to success. He now operates several franchises in Nebraska and Iowa.
"What I didn't realize at the time (while serving overseas) was that I was exposed to what was a very high level of business. After sitting in these high-level meetings, when I came home, I realized I had an entirely different perspective of the world than the other 21-year-olds that I was around. And once I got into the business world, I realized, 'oh, this is small compared to what I understood.'"
"I'm not the traditional mitigation and construction company owner, and I get that," said Julie Roberts, co-owner of four franchises in eastern Kentucky. "But I own it and have my own brand, and am what I am. And a lot of people really appreciate that."
However, her unique story helped earn her a seat at the table with the vice president of the United States to discuss small businesses.
"When I told my grandmother I wasn't going back to college, she didn't speak to me for a week," said Daniel Jeffries, a franchise owner in Colorado. "It was extremely difficult and challenging as she definitely shaped my professional and personal life tremendously."
After nearly 20 years in business, Jeffries said, "Fast forward to where we are now, with all the success, and that's pretty much the only time she's been wrong."
After owning their own business for a decade, Kyle and Courtney Carter agree that the best part of entrepreneurship has been the ability it has afforded them to give back.
"It's important for us to serve others," Kyle said. "To serve the community, to serve our employees, to serve each other, to serve our kids, our church. That's really big for us."
For more than 50 years, the U.S. Small Business Administration (SBA) has celebrated National Small Business Week (NSBW), which recognized the critical contributions of America's entrepreneurs and small business owners.
"Since its inception in 1967, and its first franchise in 1969, SERVPRO has been founded on entrepreneurial dreams and helped change the lives of hundreds of small business owners," said SERVPRO CEO Rick Isaacson.
"The mission, vision and purpose of SERVPRO are inextricably linked to small business owners and entrepreneurs in every way," Isaacson said. "Our mission is to build a team of quality people, with the purpose of helping entrepreneurs succeed. SERVPRO changes family trees, and this 2,000th franchise milestone reaffirms how far we have come and outlines the bright future we still have ahead serving our customers across the U.S. and Canada."
According to the SBA, there are more than 32.5 million small businesses in the U.S. This year's theme, Building a Better America Through Entrepreneurship, will acknowledge small businesses from across the country for their resilience, ingenuity and creativity.
"Two years ago, during the start of the pandemic, many small businesses suffered and struggled to cope with unforeseen challenges," Isaacson said. "However, I watched our SERVPRO franchisees do what they do best – jump in to help in the middle of uncertainty – and switch gears by offering Covid cleanings and disinfecting services, helping other businesses in their communities safely open their doors to customers again while protecting front-line workers."
Entrepreneurs of all types
SERVPRO franchisees from all walks of life have found success by helping make it "Like it never even happened." Click the links below to read more about four entrepreneurs who have different small business stories, and all have found success and service in the SERVPRO system.
To be connected with a local SERVPRO franchise small business owner, please reach out to Senior Communications Editor Kim Brooks.


---