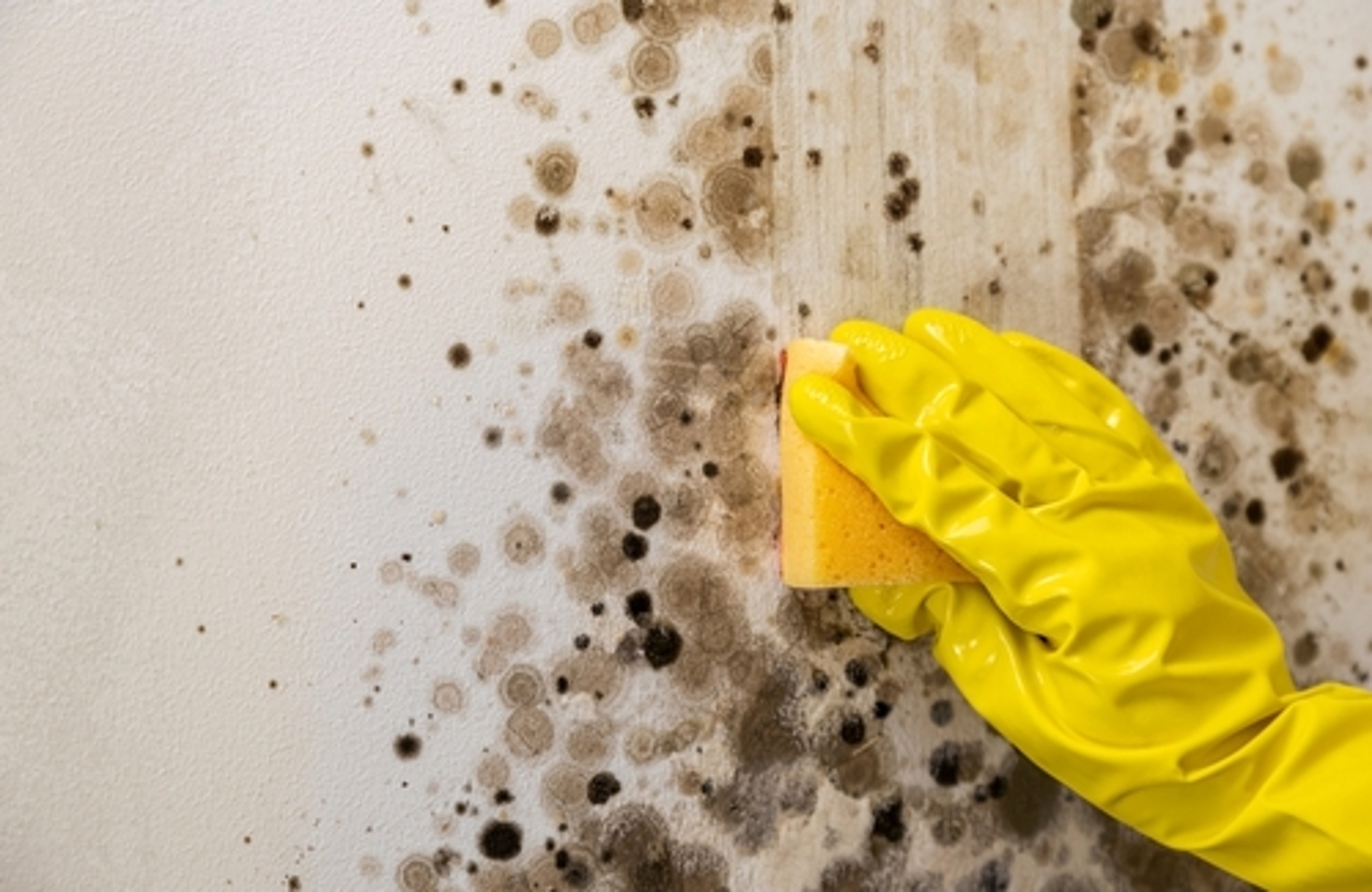 ---
Let's face it—mold seems to appear at the worst times. Whether it grows after flood water recedes, water lines burst, or you find it growing under your kitchen sink, the Nebraska Department of Health and Human Services says that in addition to being a sneaky, opportunistic growth, mold can also be a health hazard.
If you're reading this, you've probably found mold in your home or business, and are in the process of trying to get rid of it. This procedure is what professionals call "mold remediation." The good news is, SERVPRO® has an entire line of products and services to help with exactly that, and this article can help get you started.
What is Mold?
According to the Cambridge Dictionary, mold is defined as "a soft, green or gray growth that develops on old food or on objects that have been left for too long in warm, wet air." In other words, mold grows where moisture is present.
Further mold facts from the Centers for Disease Control and Prevention include:
Mold can grow on:

Paper
Cardboard
Ceiling Tiles
Wood
Dust
Paints
Wallpaper
Insulation
Drywall
Carpet
Fabric
Upholstery

Mold can be many different colors.
Mold can look like spots.
Molds have been present on Earth for millions of years.
What Can I Do to Remediate Mold While I Wait for Professional Help?
SERVPRO advises against touching or disturbing mold (you should wait until professional help arrives). However, if you desire to begin work immediately, there are some helpful measures you can take to effectively combat mold. If the mold growth can be safely accessed, the Environmental Protection Agency recommends the following to help remove mold:
Using detergent and water, vigorously scrub hard surfaces to remove the mold.
Wear gloves, goggles, and a mask when cleaning mold. (An ideal mask is an N-95 respirator.)

Gloves should be long and extend to the middle of your forearm. It is important you do not touch mold with your bare hands.
Regular household gloves may be used if you are only using detergent and water.
When using a disinfectant to clean, gloves should be made from nitrile, natural rubber, PVC, polyurethane, or neoprene.
Goggles should not have ventilation holes.

When it comes to hidden mold, if you can't see it, but you smell it, it may be safer to contact a qualified professional like SERVPRO to properly handle the situation. If not, you may accidentally release mold spores into the air when you investigate the odor and peel away wallpaper, for instance.
Ultimately, you should attempt to dry any water damage within 24 – 48 hours.
Mold Prevention Tips
General proactive tips that can help mitigate the chance for mold growth, also from the EPA, include:
Engage in "moisture controlling" behaviors, such as fixing plumbing issues and other water problems as soon as they occur and drying the area completely.
Avoid painting or caulking over moldy surfaces. Painting on top of moldy surfaces may cause peeling.

Make sure you clean the mold via detergent and water before painting.

In bathrooms or other areas prone to a lot of moisture, consider running a fan, opening a window, or cleaning more frequently to minimize the chance for mold growth.

Ultimately, the goal is to increase ventilation and decrease dampness.

Repair roof gutters and make sure they are cleaned on a regular basis.
When building new property, try to build so the ground slopes away from the foundation of the building. This will help lessen the chance of water collecting around the base or entering the property.
Keep drip pans for air conditioning units clean.
Make sure drain lines are not obstructed and can flow properly.
If possible, keep the humidity of your property's interior below 60% relative humidity.

The EPA recommends an ideal relative humidity percentage of 30% – 50%.
You can measure relative humidity with a humidity or moisture meter. This small device can typically be found at hardware stores.

Reduce humidity and increase air temperature to reduce the chance of condensation in your property. Condensation may occur on walls, windows, pipes, or more, so if you see condensation, act quickly to dry the surface, and if possible, stop or reduce the water source.

You can reduce humidity by using air conditioners and dehumidifiers. Also, make sure appliances that use moisture ventilate to the outside, if possible. This could include stoves, kerosene heaters, and clothes dryers.
Run exhaust and/or bathroom fans as appropriate, when showering, running the dishwasher, using the washer and dryer, and so on.

Make sure water pipes, or other cold surfaces, are covered with insulation if possible.
What is the Mold Remediation Process?
SERVPRO offers a seven-step mold remediation process:
Emergency Contact. In this step, when you first contact your local SERVPRO franchise, a specialist will ask a series of questions to determine the size and scope of work. This will help your local team determine necessary equipment, personnel, and resources to dispatch.
Inspection and Mold Damage Assessment. Upon arrival, SERVPRO technicians will look for visible mold signs in your property. Further methods and tools will be used to locate hidden mold damage.
Mold Containment. Fans, heating systems, and/or cooling systems may be turned off at this stage as technicians implement certain tools to contain the mold (such as a negative air chamber).
Air Filtration. Air scrubbers and HEPA vacuums are used to remove microscopic mold spores from the air.
Removing Mold and Mold-Infested Materials. Depending on the extent of mold damage, porous materials, such as carpet and drywall, may be removed from the premises to help expedite the remediation process. This involves use of SERVPRO's antifungal and antimicrobial treatments.
Cleaning Contents and Belongings. During this step, deodorization (by use of fogging equipment) and additional techniques are used to help deep clean and sanitize furniture, curtains, and other items that may have been affected by the mold.
Restoration. The last step involves possible reconstruction or other services, depending on the level of mold damage. For example, affected drywall and subfloors may be removed, painting may take place, carpets may be installed, and more.
SERVPRO is Here to Help ® 24/7
With 2180 franchise locations across the United States and Canada, there is likely a SERVPRO franchise nearby. SERVPRO's dedicated professionals are committed to restoring your home or business to pre-loss condition as efficiently as possible. We understand time is money; shutting down business operations or vacating your home can be a major headache. That is why SERVPRO professionals operate 24/7.
Whether you find mold at 3 in the morning, on a weekend, or on a holiday, SERVPRO will be there. With the personalized care of local restoration professionals who live and work in the area, combined with the resources of a national brand, SERVPRO is dedicated to making it "Like it never even happened." Visit our mold remediation resources for more information, including mold removal vs. remediation, details on black mold, and a comprehensive overview of our mold remediation process. Then, give your local franchise a call.
For more information, please visit our FAQ and Glossary.
Sources:
https://www.cdc.gov/mold/faqs.htm
https://dhhs.ne.gov/Documents/moldaffect.pdf
https://dictionary.cambridge.org/us/dictionary/english/mold
https://www.epa.gov/mold/brief-guide-mold-moisture-and-your-home
https://www.epa.gov/mold/mold-cleanup-your-home
---