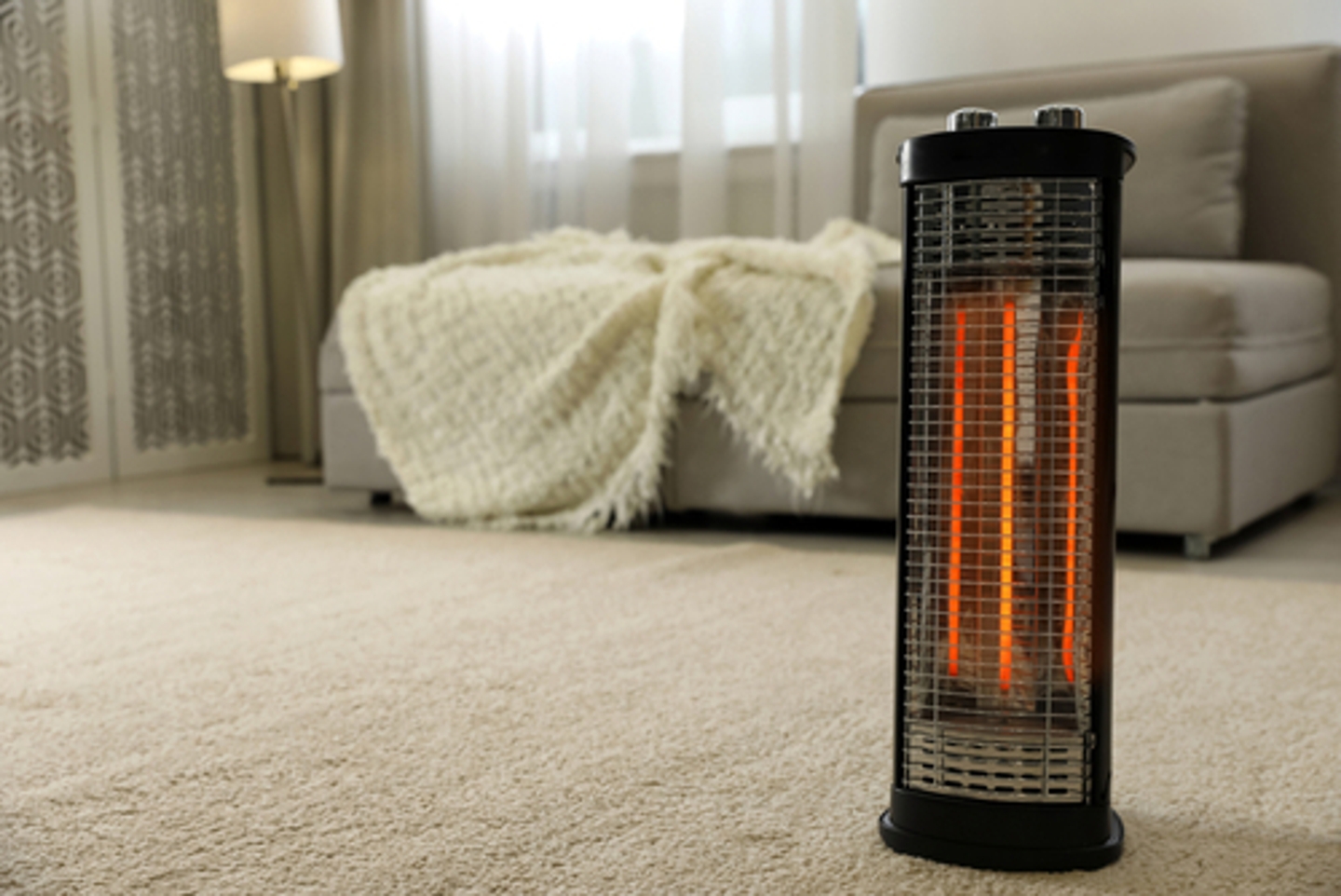 ---
As winter sets in and cold weather starts to grip the country, lots of us break out our space heaters to keep our homes and offices warm. These portable heating devices are great to supplement heating costs, but they can pose a serious risk. In fact, fire officials say space heaters are one of the largest fire hazards, especially if they're used incorrectly. So, what should you not do with a space heater? And how do you use it correctly?
Remember, it is important to keep safety a top priority, but how do you do that without running the risk of catching your home or office on fire? A lot of it boils down to where the space heater is placed in a room, and how it connects to a power source. For more information, read on—you'll find the answers here.
Common Types of Space Heaters
There are several different types of space heaters, all with unique features and styles. Which one might be right for you? Or, if you already have one, which is sitting beside you? The National Fire Protection Association says there are four common types of electric space heaters:
Oil or water-filled radiator
Fan-forced heater
Ceramic heater
Infrared heater
Furthermore, the New York Department of Public Health details several other types of space heaters:
Portable kerosene heater
Unvented gas heater
Vented gas heater
Each type of space heater requires a specific method of use, following a detailed safety guide. Keep in mind, you should be cautious when using kerosene space heaters, because they carry the risk of emitting carbon monoxide.
So, which of these handy machines do you have? Look at your own and read up on the safety instructions and operational guide, so you can be sure you're warming up safely no matter the season.
Space Heater Statistics
The numbers are troublesome. According to the NFPA:
Between 2015 and 2019, an average of 45,800 home heating fires took place.
Home heating equipment (including space heaters) is the second leading cause of fires and injuries in the United States.
Home heating equipment (including space heaters) is the third leading cause of property damage and deaths.
Space heaters cause two in five fires. They are also responsible for most home heating equipment fire deaths (81%) and injuries (80%).
Space Heater Safety Tips
Like any machine, there are risks to using a space heater. While it is easy to snuggle up under a blanket in your living room, pop in a movie, and crank on your space heater, beware of falling asleep or leaving the room entirely to go to bed. For one, space heaters should be turned off at night, according to the New York Times's Wirecutter blog, especially when no one is present to monitor it.
But that's not all. To help minimize your chances of space heater fires and damaged equipment, the NFPA and New York Times recommend the following tips when operating a space heater:
Place the space heater on a flat, solid surface, like the floor.
Purchase a space heater with a thermostat and overheat function.
Purchase a space heater with a qualified testing laboratory seal.
Purchase a space heater with an auto shut-off function in case it tips over.
Make sure the space heater is placed at least three feet away from anything combustible or flammable, including water.
Do not block an exit with a space heater.
Do not place space heaters in areas with high foot traffic.
Keep children away from space heaters.
Do not plug space heaters into power strips or surge protectors. Only plug them directly into a wall outlet.
Does SERVPRO® Clean After Space Heater Fires?
SERVPRO franchises are equipped to clean after all types of fires, including space heater fires. No matter your level of damage, technicians are trained and excel in providing elite cleaning, restoration, and construction services. SERVPRO's fire damage restoration process is comprised of seven steps:
Emergency Contact. When you contact your local SERVPRO franchise, a specialist will ask a series of questions to determine size and scope of loss, determining appropriate personnel and equipment to dispatch.
Inspection and Fire Damage Assessment. SERVPRO technicians will walk the property and survey the damage, noting fire, smoke, and soot damage not just in the immediate area, but adjoining rooms. This helps develop a plan of action.
Immediate Board-up and Roof Tarp Service. If necessary, SERVPRO professionals will implement roof tarping and board-up services. This helps protect your vulnerable property against weather events, animals, illegal entry, vandalism, and more, providing security as technicians get to work.
Water Removal and Drying (if water damage is present). SERVPRO technicians will begin removing water as soon as possible. To assist with drying, dehumidifiers and air movers are used.
Removal of Smoke and Soot from All Surfaces. Specialized techniques and equipment are employed to assist with removing smoke, soot, and other fire residue from ceilings, walls, floors, and other surfaces.
Cleaning and Sanitizing. Using a multitude of methods, SERVPRO technicians will clean all restorable items and structures, returning them to pre-fire condition. This may involve industrial air scrubbing, deodorization, document restoration, or more.
Restoration. The final step involves any last repairs, to truly help make your fire damage "Like it never even happened." This could include carpet cleaning in a small area or full reconstruction.
SERVPRO Can Clean After Space Heater Damage 24/7
Fire damage from space heaters is serious business. Despite their small size, these little heaters can have a significant, negative impact on your home or business's interior if faulty, or improperly or accidentally mishandled. Thankfully, with 2190 franchises across the United States and Canada, know there is a SERVPRO location near you, ready to provide top-tier cleaning, restoration, and construction services at a moment's notice.
From minor fires to significant damage requiring reconstruction of partial or large portions of your home or business, SERVPRO is dedicated to making it "Like it never even happened," and returning your property to pre-fire condition. When a space heater wreaks havoc, reach out to SERVPRO. With proprietary equipment and cleaning solutions, along with over fifty years in the industry, it is no wonder SERVPRO is consistently rated as the #1 choice in cleanup and restoration. When fire or other damage strikes, the choice for cleanup and restoration is easy. Give your local SERVPRO franchise a call. We are Here to Help® 24/7.
For more information, please visit our FAQ and Glossary.
Sources:
https://www.health.ny.gov/environmental/indoors/air/heaters/
https://www.nfpa.org/-/media/Files/Public-Education/Resources/Safety-tip-sheets/PortableHeaterSafety.ashx
https://www.nfpa.org/News-and-Research/Data-research-and-tools/Building-and-Life-Safety/Home-Structure-Fires
https://www.nfpa.org/News-and-Research/Publications-and-media/Press-Room/News-releases/2022/NFPA-urges-added-caution-when-using-home-heating-equipment-the-second-leading-cause-of-US-home-fires
https://www.nytimes.com/wirecutter/blog/how-to-not-burn-your-house-down-with-a-space-heater/
---