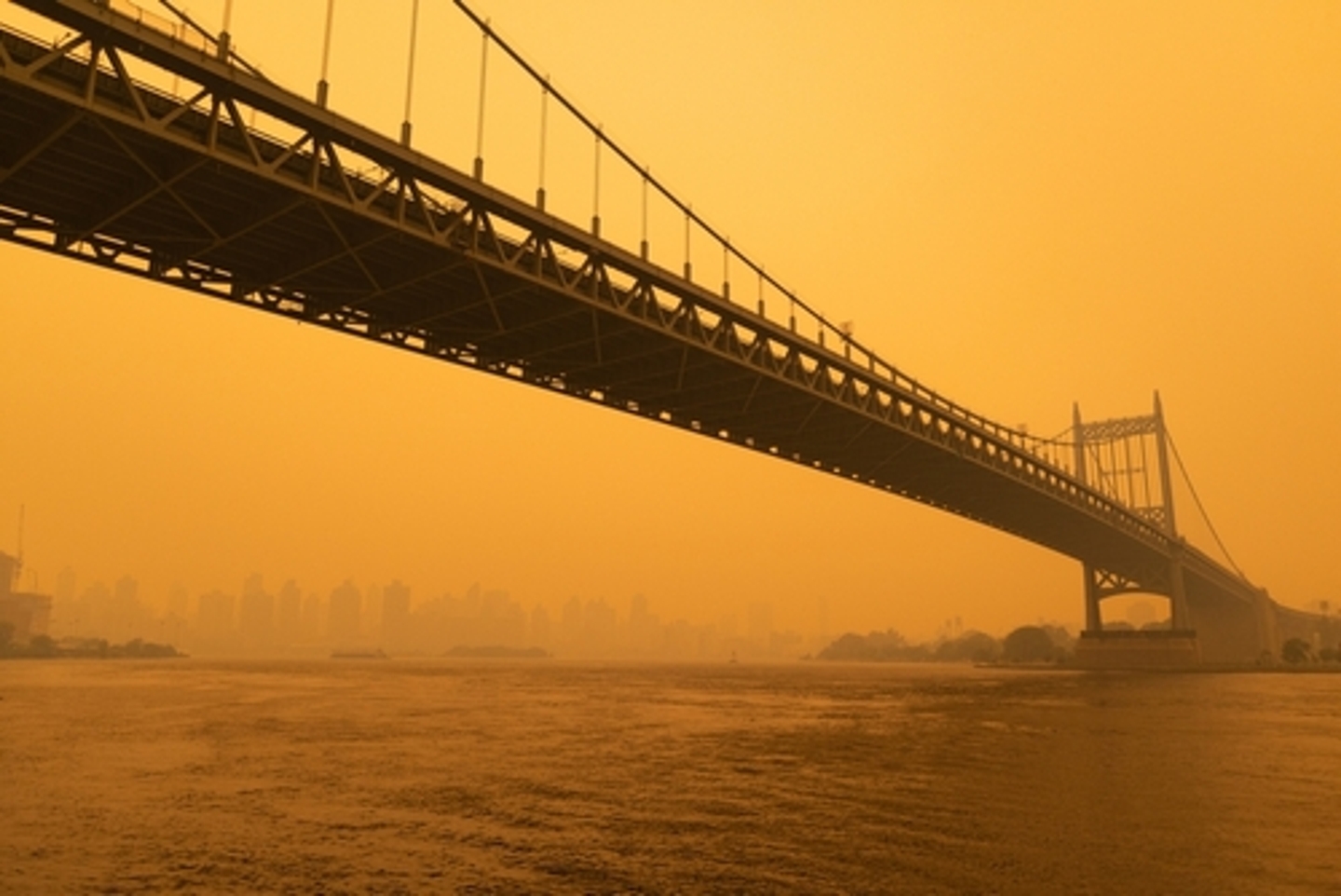 ---
Air scrubbing is an important part of commercial cleanup and restoration, especially after a wildfire or other natural disaster causes air quality issues. In spring and summer 2023, the air quality in the North Central United States and Canada became significantly affected by the Canadian wildfires, resulting in widespread concerns about public health and environmental well-being. The fire, which originated in Canada, unleashed a plume of smoke and pollutants that traveled southward, affecting a vast region of North America, and necessitating the need for air scrubbing services in commercial and other spaces.
This article outlines SERVPRO's air scrubbing services to help ensure well-functioning air circulation and delves into facts and figures concerning the 2023 Canadian wildfires. Further resources also cover wildfire smoke event preparation tips.
The Canadian Wildfires of 2023
As the smoke traveled across the North Central United States and Canada, air quality monitors recorded alarmingly high levels of air pollutants, prompting health advisories and warnings from authorities. Major cities such as Minneapolis, Chicago, and Winnipeg experienced significant reductions in air quality, with visibility decreasing and a haze settling over the affected areas.
People were advised to stay indoors, particularly those with respiratory issues, children, and the elderly, who are more susceptible to the harmful effects of poor air quality. Additionally, individuals have been advised to wear masks when venturing outside, particularly in areas with high levels of smoke and particulate matter. In some places, community centers and public buildings have been opened as temporary shelters for those without access to clean air, ensuring that everyone has a safe space to seek respite from the polluted air.
How to Prepare for Wildfire Smoke Events
The Canadian Government website recommends the following tips for preparing for wildfire smoke events:
Ensure you have an adequate supply of food and water.
Ensure you have appropriate medications on hand.
If possible, replace or clean your air filters on a regular basis.
Have a safe place to go if the situation escalates and becomes dangerous.
Review sheltering at home advice from Canada's Guidance for Cleaner Air Spaces during Wildfire Smoke Events.
How to Keep Wildfire Smoke Out of Your Property
Prevent wildfire smoke from entering your property by:
Properly sealing windows and doors and keeping them closed when the temperature is comfortable.
Installing the best quality air filter that your ventilation system can handle based on manufacturers' recommendations.
Ensure you have at least one functioning carbon monoxide alarm in your home.
How to Keep Indoor Air Clean and Safe
Protect the air in your commercial property by:
Using a certified portable air purifier to filter particles from wildfire smoke.
Ensuring you have at least one functioning carbon monoxide alarm in your home.
Having air conditioning and humidification/dehumidification capabilities present (maintain humidity levels between 30 and 50%).
Utilize SERVPRO's air scrubbing services.
How Does Wildfire Smoke Affect Indoor Air Quality?
In addition to fine particles from wildfire smoke, outdoor air can enter your property in a few ways:
Through open windows and doors, which is known as natural ventilation.
Through mechanical ventilation devices, such as bathroom or kitchen fans that vent to the outdoors (or heating, ventilation, and air conditioning systems with a fresh air intake, often called HVAC systems).
Through small openings, joints, cracks, and around closed windows and doors through a process called infiltration.
What Are Air Scrubbers?
Air scrubbers are a type of filtration system that can be used to improve indoor air quality. They remove pollutants, dust, pollen, mold spores, bacteria, and other contaminants from the air. Air scrubbers work by filtering air through multiple layers of HEPA filters. There are two types of air scrubbers: wet and dry. Wet air scrubbers remove particles using moisture, while dry air scrubbers remove particles by cooling or filtering the airstream.
For business owners, maintaining safe and functioning commercial air ducts is a high priority. Fluid air circulation is not only important for your customers, but your employees, too. When you require exceptional air scrubbing services, look no further than SERVPRO. Your local franchise's technicians are experienced in providing air scrubbing services for large and small properties and operate 24/7 year-round.
SERVPRO is Available for Your Air Scrubbing Needs 24/7
Whether wildfires affect your air quality, or you simply require a routine cleaning of your air ducts, HVAC systems, or other air circulation devices, SERVPRO is Here to Help® 24/7. With over 2,100 franchises across the United States and Canada, rest assured there is a SERVPRO location nearby, ready to service your cleaning, restoration, and construction needs at a moment's notice.
No matter when disaster strikes your property—whether at 3 in the morning, on a holiday, or weekend—SERVPRO technicians will be there. Air quality is serious business, and keeping a well-maintained air ventilation system in good working order is important for the health and functionality of your business. Rely on SERVPRO's commercial air scrubbing services to keep your property in premier condition. Give SERVPRO a call today.
For more information, please visit our FAQ and Glossary.
Sources:
https://www.canada.ca/en/environment-climate-change/services/air-quality-health-index/wildfire-smoke.html
https://www.canada.ca/en/health-canada/services/publications/healthy-living/guidance-cleaner-air-spaces-during-wildfire-smoke-events.html#a5
https://www.epa.gov/indoor-air-quality-iaq/wildfires-and-indoor-air-quality-iaq
https://www.iqsdirectory.com/articles/air-pollution-control/air-scrubber.html
https://www.washingtonpost.com/weather/2023/06/27/wildfire-smoke-chicago-michigan-code-red/
---