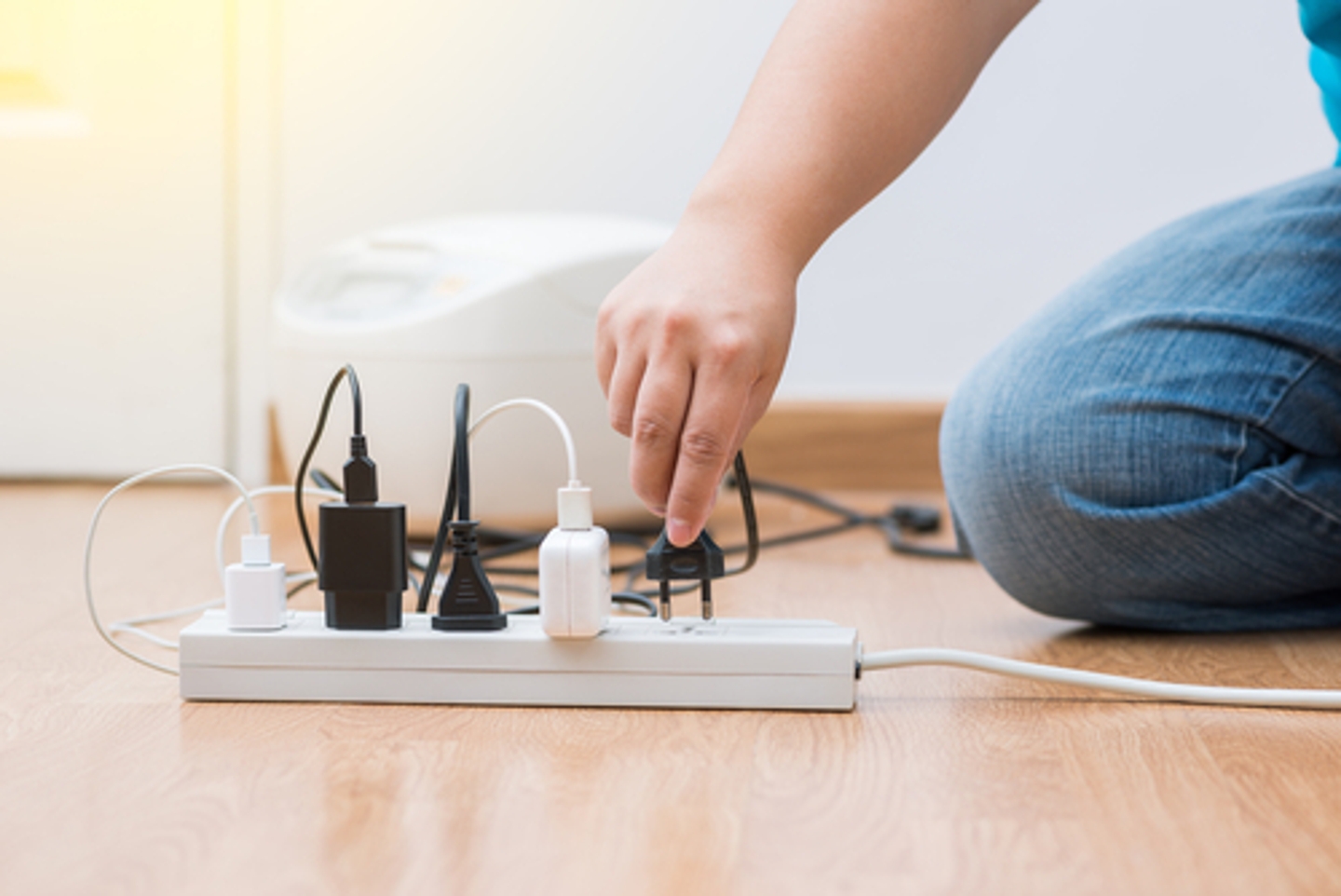 ---
A surge protector is an important part of home and business safety. These handy devices help prevent short-circuiting, and perhaps even more importantly, help to prevent fires. But did you know there are multiple types of surge protectors? Or that there is a distinct difference between a power strip and a surge protector? When deciding what option is best for your property, this article can help you narrow down your choices and make the most effective selection.
What is a Surge Protector?
Surge protectors are handy tools. Electrical surges can happen frequently, due to lost power, tripped circuit breakers, power outages, lightning strikes, on/off cycles of equipment, and more. According to Grainger, a surge protector is a device which "is designed to handle these irregularities and keep an even flow of power to your devices." It is important to note that a surge protector looks much like a power strip (i.e. it is an extension cord with many outlets).
What is a Power Strip?
Similarly, according to Travis Voice & Data, a power strip is an extension cord with multiple outlets. However, it does not have the capability of absorbing electrical surges and preventing damage to items that may be plugged in.
Ultimately, while surge protectors and power strips look quite similar, there are several revealing signs that will help determine which you are looking at:
Safely flip the device over when it is not plugged in, and look for text about a Joule rating or other information; this is a characteristic of a surge protector
Look for an indicator light, which glows when a surge protector is plugged in, to signal the protection feature is working
What are the Different Types of Surge Protectors?
CDW indicates there are two main types of surge protectors:
Rack Mount Surge Protector

Slim in design and often best for business or heavier needs, these surge protectors are designed to protect network components, and usually come in both vertical and horizontal designs

Power Strip Surge Protector

Best for home and personal needs, these surge protectors usually sit on the floor and look similar to power strips; they contain a power cord and plug that go into a wall outlet, and are frequently different lengths depending on what you need
Furthermore, when deciding which surge protector is best for your home or business, there are other considerations to make, including whether the surge protector has an indicator light, what its power is (1,000 – 2,000+ joules), or even what its UL listing is, which verifies the surge protector meets industry standards.
According to Eaton, further considerations when deciding what type of surge protector is right for you include the following questions:
What are you protecting?
Where do you intend to install the surge protector?
How many outlets do you need?
What are the Different Types of Power Strips?
While they can be categorized in a variety of ways, GlobalSpec indicates there are five main types of power strips, which include the following. These are categorized by unit type:
Wall mount
Vertical mount
Rack mount
Modular/desktop
Plug strip
Like surge protectors, two main questions you should ask when deciding which type is best are: 1) how many outlets do you need, and 2) what is this power strip for? Additionally, electrical features such as voltage, circuit breakers, and thermal sensors should be considered.
Surge Protector and Power Strip Do's and Don'ts
Surge protectors and power strips are useful tools, but they can still present hazards if used improperly. Important do's and don'ts for these devices include the following, according to CritterGuard and Wellesley College:
Do:
Know plug sizes
Invest in more outlets than you may need
Check connections
Consider investing in more joules
Use only "light-load" items such as lamps and clocks on power strips
Use power strips sparingly
Ensure your surge protectors and power strips are listed with Underwriters Laboratory

Consider purchasing power strips with internal circuit breakers and surge protection
Don't:
Overload
Use them for high-power capacity items
Confuse a power strip and surge protector; this could be to your detriment
Use a power strip if it feels hot
"Daisy chain" (i.e. plug one power strip into another; this could cause appliances to short out, or even a fire)
SERVPRO®'s Fire Damage Restoration Process
While surge protectors and power strips can certainly help keep your home or business's cords and electricity consolidated into central locations, fires may still break out. Rest assured, SERVPRO offers a seven-step fire damage restoration process around the clock, for residential and commercial locations. This process includes the following:
Emergency contact, where a SERVPRO specialist will ask a series of questions to determine size and scope of loss, and determine appropriate personnel and equipment to be dispatched
Inspection and fire damage assessment, where SERVPRO technicians assess the affected area, including adjoining rooms, to determine the extent of fire, smoke, and soot damage as they develop a plan of action
Board-up and roof tarping services, if needed
Water removal and drying (if water damage is present)

Dehumidifiers, dryers, and extraction units are usually placed upon the technicians' first arrival

Smoke and soot removal,using specialized equipment and techniques to remove smoke and soot from ceilings, walls, and floors
Cleaning and sanitizing, using fogging equipment, industrial air scrubbers, and other techniques to ensure the area is thoroughly cleaned and odor is removed
Restoration, which may include additional remediation as needed, including construction
SERVPRO Can Help 24/7
With more than 2,100 franchise locations across the United States and Canada, SERVPRO covers 97% of all US zip codes within two hours. If your surge protector or power strip ever catches fire, SERVPRO can help. Our restoration professionals have over 50 years of experience across the system, so if you find yourself with fire damage large or small, know SERVPRO is Here to Help® 24/7.
With top-tier equipment and the latest industry knowledge, SERVPRO professionals are prepared to handle any size disaster and help return your property to pre-loss condition. We are equipped to handle fire damage, water damage, mold remediation, biohazard cleanup, and more. Find your local SERVPRO today and give us a call.
For more information on services we provide, as well as the cleaning and restoration industry, we encourage you to review our FAQ and Glossary.
Sources:
https://www.grainger.com/know-how/equipment-information/kh-what-are-surge-protectors-buying-guide
https://www.travisvoice.com/news-updates/how-to-tell-if-your-power-strip-is-a-surge-protector
https://tripplite.eaton.com/products/surge-protector-buying-guide
https://www.cdw.com/content/cdw/en/articles/datacenter/the-surge-suppressor-buyers-guide.html
https://www.globalspec.com/learnmore/electrical_electronic_components/power_supplies_conditioners/power_strips_outlets
https://www.critterguard.org/blogs/articles/the-do-s-and-don-ts-of-using-surge-protectors
https://www.wellesley.edu/sites/default/files/assets/site/files/power_strip_safety_dos_and_donts.pdf
https://www.ruralmetrofire.com/do-surge-protectors-prevent-fires/
---