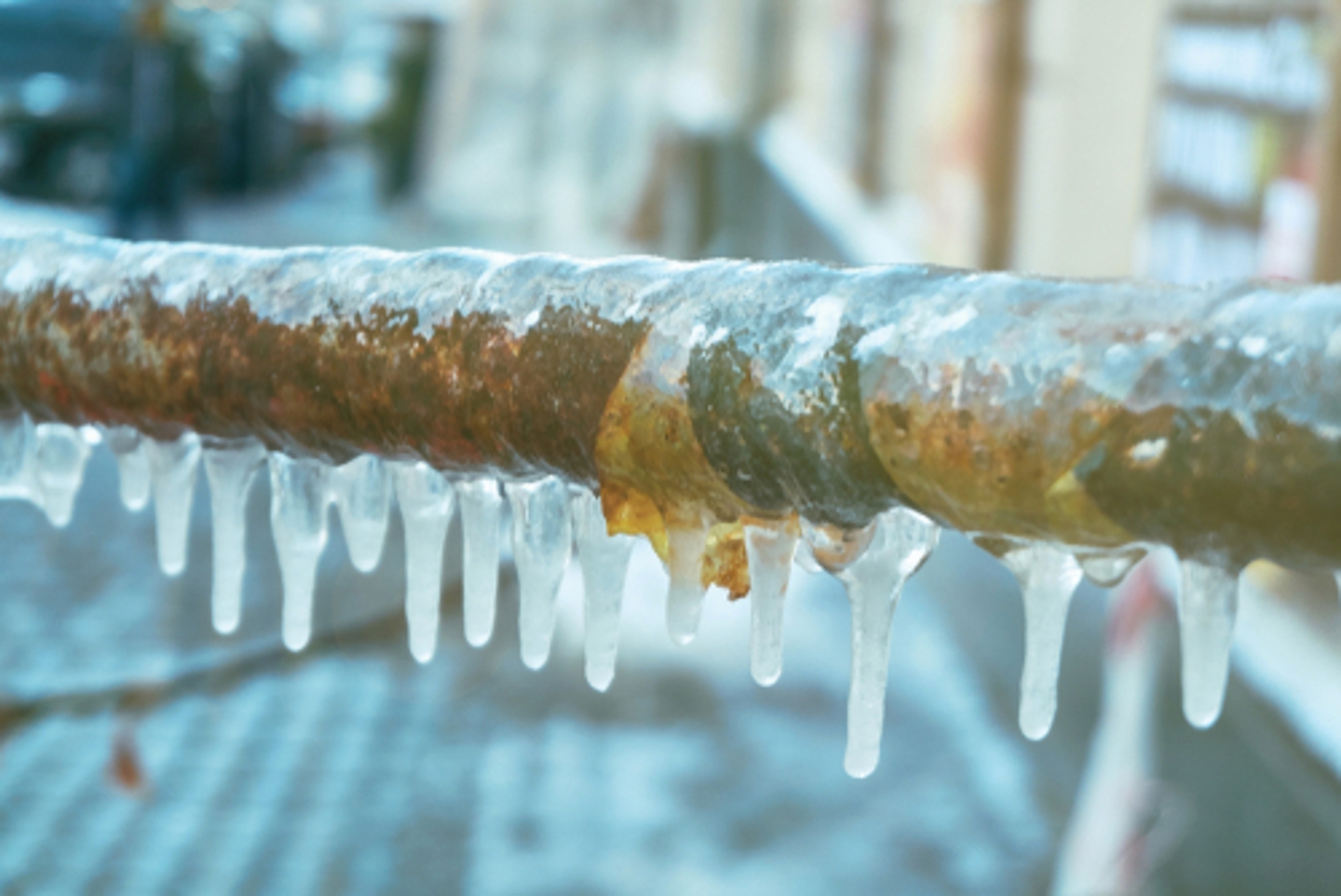 ---
Let's face it—freezing pipes are a headache. Worse, they can be dangerous, causing leaks, flooding, mold, and more inside your home or business. As temperatures fall across North America each winter, plunging below 32º Fahrenheit (0º Celsius), homes and businesses must cope with the change. But how can you help ensure your water pipes don't freeze? Whether you have copper or plastic pipes, it is important you minimize your chances of water damage and help ensure both indoor and outdoor water pipes are ready for winter weather.
Frozen Pipes: What You Should Know
The causes can vary, but common reasons pipes tend to freeze in the winter more than other times of the year including the following, according to State Farm:
Sudden drops in temperature.
Poor insulation.
Thermostats set too low.
Furthermore, the American Red Cross outlines which types of piping are most susceptible to freezing:
Pipes that run alongside exterior walls, with minimal or no insulation.
Pipes exposed to the elements, like sprinkler water lines, outdoor hose bibs, and swimming pool supply lines.
Water supply pipes in basements, garages, attics, crawlspaces, and kitchen cabinets (a.k.a. unheated interior spaces).
Tips to Prevent Pipes from Freezing
The city of Murfreesboro, TN, along with State Farm and the American Red Cross, offer plenty of tips to help prevent your pipes from freezing. No matter where you live, these can be applied to your home or business, even outside of the winter season if it gets unusually cold.
Disconnect outside garden hoses.

Along these lines, make sure all valves, faucets, and outdoor hoses are secure before winter sets in. Use an indoor valve to shut off water from pipes leading to outside faucets. Ultimately, you want to drain the water.

Make sure your basement is heated.
Cover air vents in crawlspaces.
Close windows near water pipes.
If you have water supply lines in the garage, keep the garage closed during winter.
Let faucets drip slightly while you sleep, and check them when you wake up, to help ensure water flow and pressure has not been affected by the cold.

Ideally, you should let water drip from a pipe on an outside wall.

Make sure outside walls and unheated parts of your home are insulated.
Place an insulating cover on all outside faucets.
Around windows, install weather sealing, caulk, and/or tape.
Open kitchen and cabinet doors. This lets heat flow around plumbing, including uninsulated pipes under sinks, and appliances next to exterior walls.

Make sure you move any chemicals or cleaning supplies out of the reach of children.

Use heating tape or pipe insultation to wrap pipes adjacent to exterior walls or in crawlspaces.
Consider relocating pipes exposed to the elements to another part of the property, to decrease the chance of freezing.
Chimneys, exterior doors, or flues can provide an opening for cold drafts to enter your property. Identify these areas and insulate them.
Crawlspaces, attics, and basements are susceptible to lower temperatures. Consider insulating these spaces to help increase the temperature in the winter.
Exposed pipes are liable to freeze, so be sure to insulate them.
Check pipes, dryer vents, and electrical wiring for leaks, and seal them with caulk or insulation.
Consider using heat tape, heat cables, pipe sleeves, or even newspaper for insulation. Did you know that even ¼ inch of newspaper can provide significant protection?

When using heat tape or other materials, make sure you closely follow manufacturer and operational instructions.

Look through unheated areas with water supply lines, and make sure pipes are insulated. This may include garages, and inside bathroom and kitchen cabinets.

Both hot and cold water pipes should be insulated.

If you have a pool, make sure you drain water away from both the pool itself, and sprinkler supply lines.

Don't use antifreeze unless directed, as it can be dangerous to humans, pets, landscaping, wildlife, and negatively impact the environment.

Store outdoor hoses after draining them. Make sure inside valves that supply outdoor hose bibs are closed and open the outside hose bibs so water can drain before storage. It is important you keep this outside valve open, so any water still inside doesn't break the pipe if it freezes and expands.
Can You Thaw Frozen Pipes?
You might be asking yourself: what can I do if my pipes freeze? The good news is, there are ways to go about thawing frozen pipes if you find them. Of course, SERVPRO® is always Here to Help® with water damage from frozen pipes. In the meantime, though, consider the following tips from the American Red Cross and State Farm:
Shut off the water supply. You can do this via the main supply valve in your house. It helps to instruct family members where this valve is, and how to open and close it.
Remember, pipes are likely to freeze if they're outside the property. If you turn on a faucet and nothing comes out, it is possible the pipe has frozen. Turn it on to a low trickle to encourage thawing. Running water should help encourage the ice to melt.
Apply heat to the suspected frozen part of the pipe by wrapping an electric heating pad around it. You can also use a space heater, an electric hair dryer, or wrap hot towels around the pipe. The idea is to apply heat until water pressure is restored. Try to apply this thawing method as close to the faucet as possible, if you can.

Don't ever use kerosene, a propane heater, a blowtorch, flame device, or charcoal stove to thaw the pipe.
If you can't safely locate the frozen area, if the frozen area is inaccessible, or if you simply can't thaw the pipe yourself, call a licensed plumber.

If you find one frozen pipe, it is possible there are others in the property. Check all your faucets.
Winter Vacation Tip: Check Your Pipes Before Heading Out
A lot of folks in the north like to head south to sunnier climates each winter. To avoid the shock of leaking or burst pipes and the damage they can cause while you're gone, State Farm and the City of Murfreesboro, TN, recommend the following tips to avoid frozen pipes while on vacation:
Shut off your water: This includes the water supply valve to your washing machine. Furthermore, consider draining the water system entirely. Be aware, however, that turning off your water may deactivate your fire sprinklers.
Check your thermostat: It should be no lower than 55º Fahrenheit (12º Celsius). Make sure you check the thermostat batteries, too, and replace if necessary.

Consider keeping the temperature the same during the day and night. This may reduce the strain on your furnace.

Ask a friend or neighbor to routinely check on your house while you're away, to verify no flooding or leaking has occurred and everything is still warm enough to hopefully prevent frozen pipe damage.
SERVPRO's Water Damage Cleanup Process
In the event you experience water damage in your home or business, your local SERVPRO franchise will implement a robust, eight-step water restoration process:
Emergency Contact: When you first contact your local SERVPRO franchise, a specialist will ask a series of questions to determine the size and scope of loss, and the appropriate number of personnel and type of equipment needed for the job. It is important SERVPRO technicians arrive onsite as soon as possible, to assess the damage in person and develop a restoration plan.
Inspection and Water Damage Assessment: When SERVPRO technicians arrive, the first order of business is to stop the source of the water damage, if necessary. Then, technicians will evaluate the damage to help you understand the seriousness of the damage itself, and any risks that might be present.
Water Removal: Using powerful pumps and extraction units, SERVPRO technicians will eliminate the water from the property.
Damaged Material Removal: At this stage, if any materials or items cannot be restored, this will be communicated to you. These materials will then be removed as quickly as possible to help expedite the drying process of all otherwise restorable materials.
Cleaning, Sanitizing, and Deodorization: Furniture and other belongings may be significantly damaged in the water loss. If this occurs, SERVPRO technicians will employ a variety of cleaning, sanitizing, and deodorization techniques, along with specially formulated products and industry leading equipment, to help ensure these belongings are restored.
Drying: This step involves using industry leading equipment to dry the water you can't see. Keep in mind, the type and extent of equipment placed is based on each unique job.
Monitoring: Technicians will visit your property daily to check on the progress of drying, adjust equipment as needed, and ultimately confirm materials and property are drying properly.
Repairs and Construction: The final step of SERVPRO's water damage restoration process involves any necessary construction work, such as rebuilding a single room or even entire portions of your home or business. Or, it may involve other jobs such as repainting or carpet cleaning. It is SERVPRO's goal to return your property to pre-loss condition, "Like it never even happened."
SERVPRO is Ready 24/7
Did you know SERVPRO franchises are in all 50 states and Canada? With 2190 locations, you can be sure that whatever your level of damage, and whenever it occurs, SERVPRO professionals will be there. From minor water damage to major flooding events, your local SERVPRO franchise is committed to restoring your property to pre-loss condition in the aftermath of frozen pipe damage, "Like it never even happened."
Operating 24/7, SERVPRO will be there whenever water damage strikes. But it is not just water damage your local franchise specializes in. From mold remediation to document restoration, deodorization to construction services big and small, SERVPRO franchises across North America are qualified to assist with all types of cleanup, restoration, and construction needs. Find your local SERVPRO today and give us a call. We are here to help and look forward to serving you.
Our FAQ and Glossary offer more information about SERVPRO, cleaning, and restoration. Please visit to read more.
Sources:
https://www.murfreesborotn.gov/2455/Cold-Weather-Readiness-and-Recovery-Tips
https://www.statefarm.com/simple-insights/residence/dont-let-pipes-freeze-and-steps-to-take-if-they-do
https://www.redcross.org/get-help/how-to-prepare-for-emergencies/types-of-emergencies/winter-storm/frozen-pipes.html
---