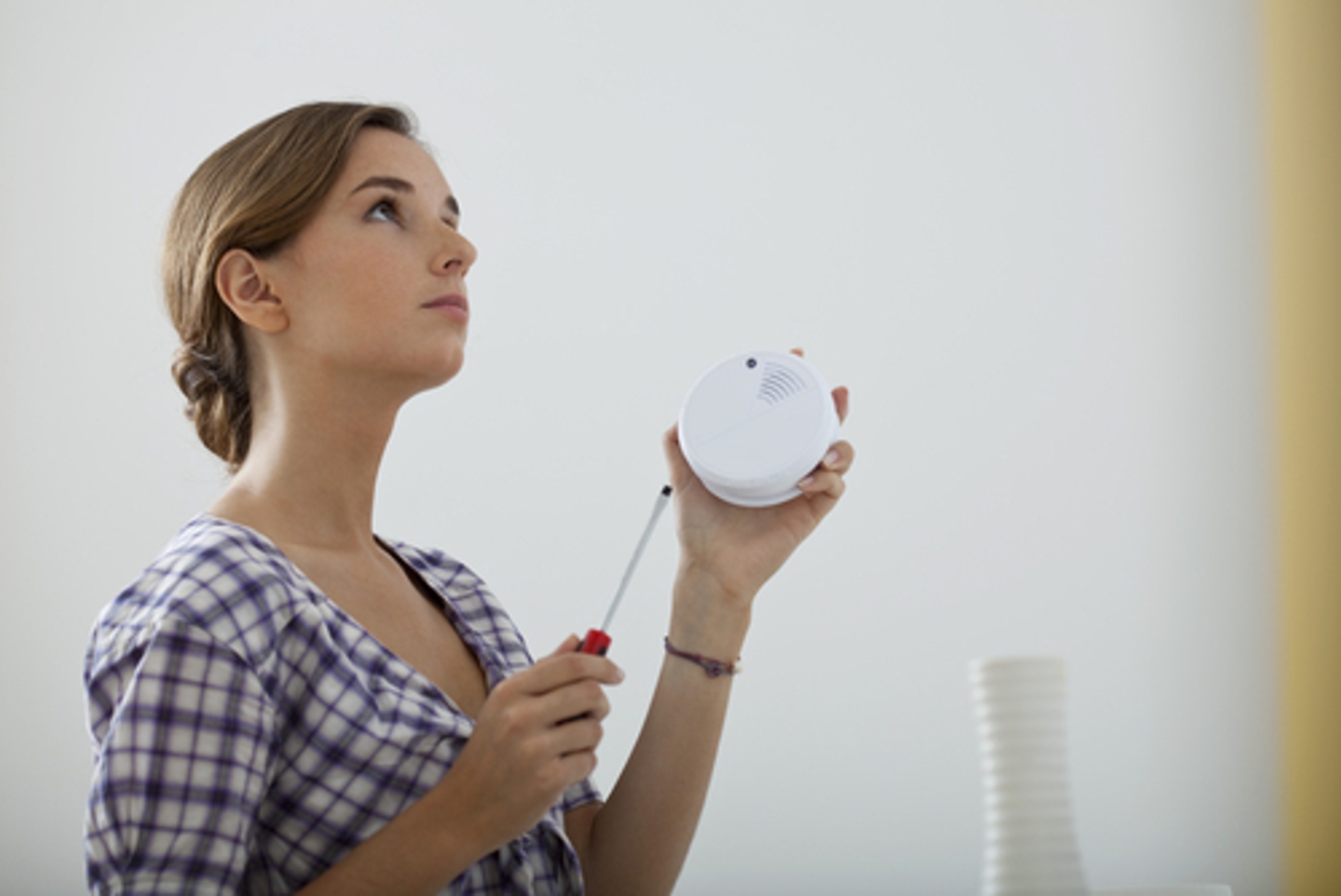 ---
There are many different types of smoke detectors. Choosing the right one is an important decision you will make whenever you move into a new home, start a business, or find yourself renting out a space. Maybe you simply wish to update some older detectors or have faulty ones that need replacing. Read on to learn more about the six primary types of smoke detectors, and how to decide which one is best for you.
What is a Smoke Detector?
Before detailing the six different types, it is important to outline what a smoke detector is—and perhaps more importantly, what it does. According to Cambridge Dictionary, a smoke detector is "A device that makes a loud noise when there is smoke present to tell people that there is a fire."
While the terms "smoke detector" and "smoke alarm" are commonly used interchangeably, there is a distinct difference between them. According to the National Fire Protection Association, a smoke alarm "has both the sensor to monitor for smoke and the speaker that emits the sound to notify the home occupants," while a smoke detector is "a sensor that monitors for smoke and is connected to a whole building fire alarm system." However, the detector itself does not emit sound.
Types of Smoke Detectors
The NFPA indicates there are six primary types of smoke detectors:
Ionization Detector. This type of smoke detector is responsive to flames, and usually less expensive than photoelectric smoke detectors.
Photoelectric Detector. This type of smoke detector is responsive to the presence of smoke or smoldering fires (such as the smoke produced by a burning cigarette).
Combination Ionization and Photoelectric Detector. This type of smoke detector has dual sensors, so it is just as effective in detecting actual flames as it is in detecting smolders or smoke.
Intelligent Multicriteria Detector. This type of smoke detector can sense legitimate fires, as well as nuisance or non-emergency flames (while you are cooking, for example) and knows when to correctly go off as a result. It uses multiple methods of sensing fires, such as ionization, photoelectric, and heat, including an algorithm for fire detection.
Voice Smoke Detector. This type of smoke detector will produce an everyday smoke detector's telltale beeping noise when it detects smoke, but also a voice announcement. This voice may tell you where the smoke is located, or if there is an issue with the detector itself.
Combination Smoke and Carbon Monoxide Detector. This type of detector typically looks like an ordinary smoke detector and is mounted on the wall or ceiling. However, as its name indicates, it can detect both smoke and carbon monoxide. This may be a good choice for living spaces such as an apartment or condominium.
How to Decide Which Smoke Detector is Right for You
Using the information above, it is important you consider the following factors when deciding which smoke detector is right for your living space. The below list of considerations comes from Lowe's:
Product features and specifications
Lifespan
Power (battery or hard wire)
Where it will be placed
Installation process
The answers to these questions should help you make an informed decision, but if you're ever in doubt, consult a fire and safety professional.
SERVPRO® is Ready 24/7
No matter if your fire damage is large or small, SERVPRO will be there. With 24/7 availability year-round, your local franchise is ready to assist no matter when—in the middle of the night, on a holiday, or during a weekend. With over five decades in business, SERVPRO has helped clean up jobs both large and small, in commercial properties, schools, hospitals, skyscrapers, everyday homes, and even The Pentagon. For a detailed disaster readiness checklist, review the SERVPRO Emergency Ready Plan, and consider implementing it for your own use.
Smoke damage is not something to ignore, so it is important to select the proper type of smoke detector for your home or business. When accidents or damage occur, rest assured SERVPRO maintains a network of over 2,100 strategically placed franchises across the United States and Canada. Servicing 90% of US zip codes within two hours, there is a SERVPRO franchise nearby, with elite equipment and experienced technicians ready to service your cleanup, restoration, and construction needs at a moment's notice. It is SERVPRO's goal to make the damage "Like it never even happened." From water damage to fire damage, from mold remediation to biohazard dangers, and from deodorization services to specialty cleaning services, and even more, SERVPRO is Here to Help®.
For more information, visit our FAQ and Glossary, as well as our companion article, "Why Do Smoke Alarms Go Off for No Reason?"
Sources:
https://dictionary.cambridge.org/us/dictionary/english/smoke-alarm
https://www.lowes.com/n/buying-guide/carbon-monoxide-detector-buying-guide
https://www.nfpa.org/News-and-Research/Publications-and-media/Blogs-Landing-Page/NFPA-Today/Blog-Posts/2022/01/28/What-kind-of-smoke-alarm-smoke-detector-should-I-buy
---