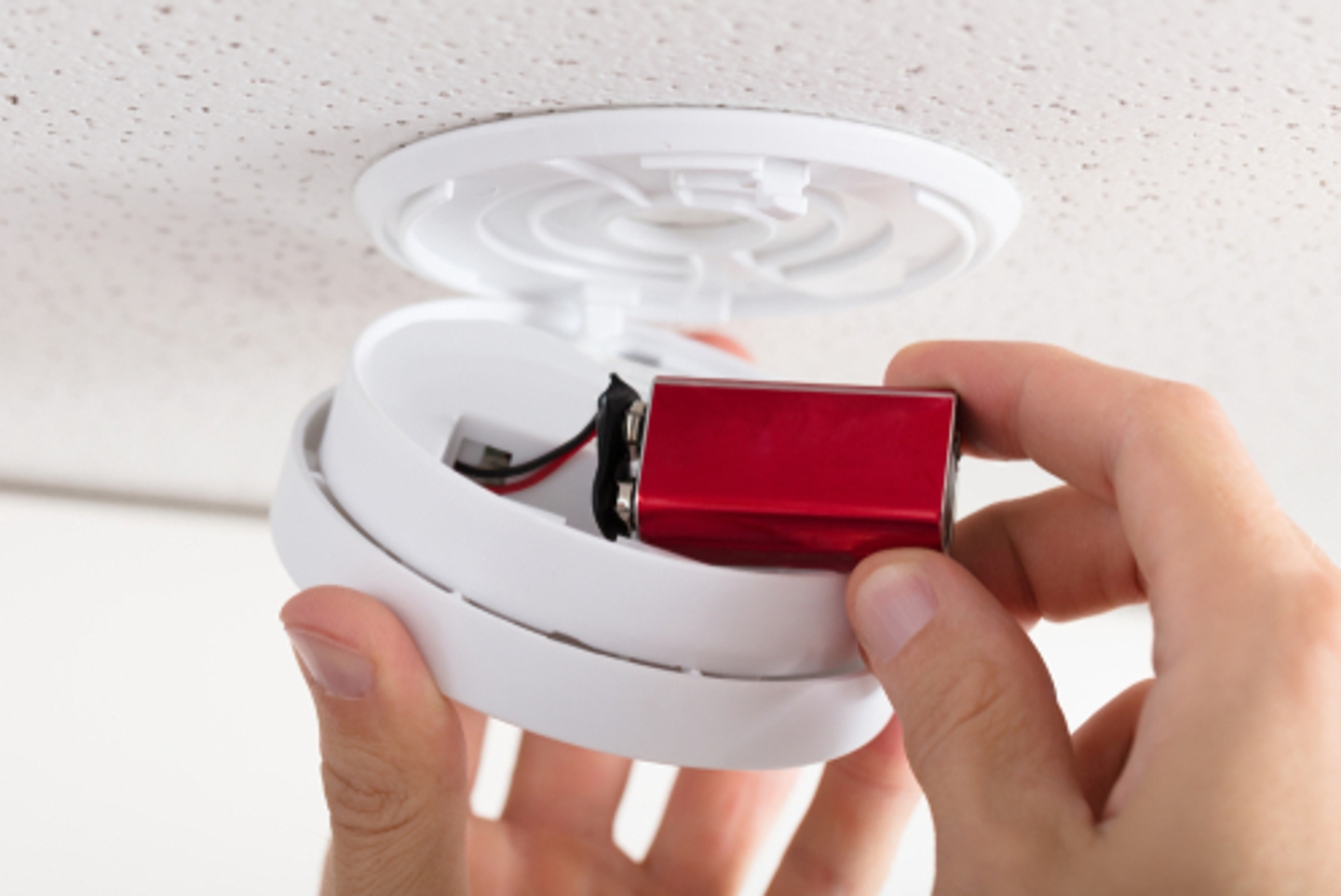 ---
On November 5, the majority of the United States will "fall back" an hour to observe the end of daylight saving time. Although it can be a hassle to do this every six months or so, the benefit is, this time we get an extra hour of sleep, and it is a great reminder to change the battery in your smoke detectors. The recommendation was first made by the National Fire Protection Association. Not only is this a great way to keep you and your family safe if there is ever a fire emergency, and hopefully avoid fire damage, but changing the batteries will also prevent your smoke alarms from going off for no reason.
History of Daylight Saving Time
So, why do we observe daylight saving time, turning our clocks forward and back an hour twice a year? Well, daylight saving time was created in 1895 by an entomologist named George Vernon Hudson. The purpose was to add a two-hour time shift to New Zealand, according to History.com. While Vernon was unsuccessful, the idea picked up steam, eventually making its way overseas to the U.S. during World War I and II, and being signed into law by President Franklin D. Roosevelt in 1942. While the practice continues in parts of the world to this day, it remains a controversial and highly debated topic.
You may be wondering: do all states in the U.S. observe daylight saving time? Actually, no. The states of Hawaii and Arizona (excluding Navajo Nation), do not, according to USA Today. (Arizona doesn't participate because of its desert climate.) Furthermore, the following U.S. territories don't, either. This is largely because they lie relatively close to the equator, where a time change wouldn't radically affect the amount of daylight each day.
Puerto Rico
The U.S. Virgin Islands
Guam
American Samoa
The Northern Mariana Islands
How to Change Your Smoke Detector Battery
With that being said, the fact remains: you should change your smoke detector batteries twice a year. And since the majority of us change our clocks about every six months, it is good practice to change the batteries in our smoke detectors at the same time. The good news is, changing them is a pretty easy process. Just follow these steps from WikiHow to change your smoke detector batteries:
Check to verify you have the correct type of batteries on hand.
Remove the smoke detector from the mounting on the ceiling or wall.

Keep in mind, some smoke detectors are hard-wired into a property's power system, so you'll need to turn off power at the fuse box first.
The way you remove the detector from the ceiling or wall will vary by model. Some require you to twist or slide it, while others require you to remove the entire detector from the base.

Open the battery compartment. Make sure you install the new batteries correctly, as location and where to install will vary from model to model.
Test the new batteries by pressing the test button.
Return the detector to its home on the ceiling or wall.
Where Should Smoke Detectors Be Installed in Your House
According to the Texas Department of Insurance, you should place smoke detectors in the following places:
Every floor of your home or business.
Every bedroom.
Every hallway.
They also offer the following tips:
If your smoke detector is installed on the ceiling, make sure it is at least four inches from the wall.
If your smoke detector is installed on the wall, make sure it is between four and twelve inches from the ceiling.
Don't install smoke detectors near areas that can get drafty (for example, avoid placing them by windows or vents).
Consider adding strobe lights or bed shakers for residents who may be hard of hearing.
Smoke Detector Maintenance
The Texas Department of Insurance also offers these general smoke detector maintenance tips:
Test your smoke detector monthly by pressing the test button.
Keep an "ear" out for the telltale chirping noise a smoke detector will make, indicating the batteries need replaced.
Use a vacuum cleaner attachment to regularly clean dust, cobwebs, and general debris around smoke detectors, to help make sure they are free of obstruction.
SERVPRO® recommends developing an Emergency Ready Plan so you and your loved ones have an escape route, meeting point, and other need-to-know information planned in advance in case of a fire or other emergency.
SERVPRO's Fire Damage Cleanup Process
It is no secret smoke detectors help protect and warn against fires, giving you precious moments to escape a burning building. But what happens after? Once the dust settles and you find yourself facing fire damage after the fire department leaves, give your local SERVPRO franchise a call, and receive onsite care on a 24/7 basis. SERVPRO's fire damage restoration process follow seven steps:
Emergency Contact. The first step occurs when you reach out to your local SERVPROfranchise and describe the damage and cleanup required. A SERVPRO specialist will ask various questions to help determine necessary personnel and equipment to dispatch.
Inspection and Fire Damage Assessment. Upon arrival, SERVPRO technicians will survey the affected area, including adjoining rooms to the fire damage. Seeing the extent of fire, smoke, and soot damage helps build an appropriate plan of action.
Immediate Board-up and Roof Tarping Service. If necessary, board-up and roof tarping services are implemented, to help protect against animal entry, vandals, illegal access, weather damage, and help maintain security, as walls, ceilings, and other areas are inspected.
Water Removal and Drying (if water damage is present). Water removal begins when technicians first arrive. Dehumidifiers and air movers are employed to help with drying.
Removal of Smoke and Soot from All Surfaces. Using specialized equipment and techniques, ceilings, walls, and floors are cleaned of soot and smoke residue.
Cleaning and Sanitizing. It is SERVPRO's goal to clean all restorable items and structures damaged by the fire. This may involve deodorization, document restoration, and more methods.
Restoration. The final step involves bringing the job "full circle" to make it "Like it never even happened." This may involve full reconstruction of certain areas, installing new carpet, painting, or more.
SERVPRO is Here to Help® Around the Clock
Make sure you check your smoke detector batteries each year, but especially when daylight saving time rolls around, because your smoke and carbon monoxide detectors are important for the safety of your home or business. But, if a fire should happen, your local SERVPRO franchise will be ready to help with the cleanup, restoration, and construction of your home, business, or other property.
With 2180 locations across the United States and Canada, no matter if your fire damage occurs at three in the morning, on a holiday, weekend, or during the work week, SERVPRO technicians are here to help make it "Like it never even happened." Find your local franchise today and give us a call. We look forward to assisting you and providing elite cleanup, restoration, and construction services, no matter when.
For more information, please visit our FAQ and Glossary.
Sources:
https://www.history.com/news/why-do-we-have-daylight-saving-time
https://www.nfpa.org/News-and-Research/Publications-and-media/Blogs-Landing-Page/Safety-Source/Blog-Posts/2022/03/11/Change-your-clocks-check-your-smoke-alarm-batteries
https://www.tdi.texas.gov/tips/smoke-alarms-where-to-put-them-how-often-to-replace-batteries.html
https://www.usatoday.com/story/news/nation/2023/10/27/daylight-saving-time-states-arizona-hawaii/71302475007/
https://www.wikihow.com/Change-the-Batteries-in-Your-Smoke-Detector
---