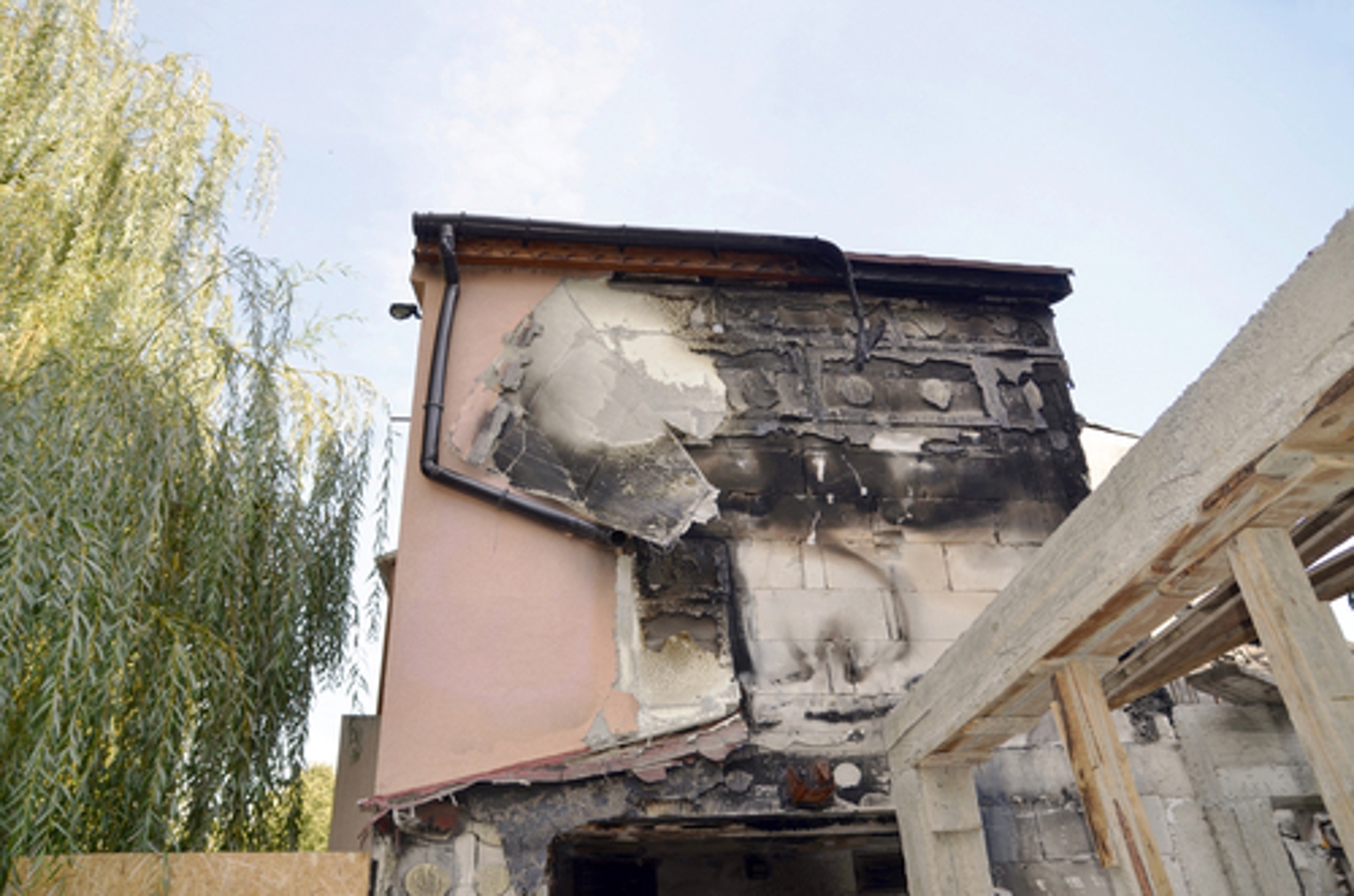 ---
Experiencing a fire in your home or business can be one of the most gut-wrenching moments of your life. Outside of safety concerns for your loved ones, pets, and/or employees, watching your belongings and memorabilia potentially go up in smoke is something you wish you didn't have to experience.
Consider this article your "guide" to what happens when SERVPRO® arrives to provide restoration and construction services from start to finish after a fire. We hope this brings you some peace of mind, so you know what to expect in the event of fire damage repair, reconstruction, and cleanup
What Happens When SERVPRO Comes to Your Home or Business After a Fire?
When SERVPRO arrives, technicians will begin implementing a fire damage reconstruction process. Whether you require smoke damage restoration for a single room, or full-scale construction services, SERVPRO technicians are prepared to implement the following fire damage andreconstructionprocess :
Emergency Contact. The first step occurs when you first call your local SERVPRO franchise. A specialist will ask a series of questions to determine the size and scope of damage and determine the appropriate personnel and resources to dispatch. Ultimately, SERVPRO professionals want to make sure they arrive with the proper tools and equipment specific to your fire loss.
Inspection and Fire Damage Assessment. Upon arrival, SERVPRO professionals will assess the property and damaged areas, including any adjacent rooms to the fire damage. This step is critical in developing a plan of action and can help determine the extent of not just fire damage, but that of smoke and soot as well.
Immediate Board-Up and Roof Tarp Service. Beyond damaging precious valuables and possessions, fire damage can also destroy roofing, walls, and ceilings. To protect against theft, animals, illegal entry, and other vulnerable points, and also to protect the work setup while SERVPRO professionals engage in fire damage restoration, roof tarping and board-up services may be implemented.
Water Removal and Drying (if water damage is present). Using air movers and dehumidifiers, the water removal process commences, if water is present. SERVPRO professionals will work to fully extract the water and dry the space so cleaning can begin.
Removal of Smoke and Soot from All Surfaces. Ceilings, walls, and floors affected by fire, smoke and soot will be cleaned at this stage. Depending on the level of fire damage, a variety of methods and techniques may be used.
Cleaning and Sanitizing. Deep cleaning takes place, including deodorization services, utilizing fogging equipment and industrial air scrubbers.
Repair and Reconstruction. The last stage involves reconstruction if required. Often, in the aftermath of fire damage, cleaning and reconstruction are only half the battle; construction services may be necessary to return the property to pre-loss condition. SERVPRO is equipped to rebuild minor areas such as a damaged countertop, or entire rooms or areas. Additionally, services such as painting, carpet cleaning, and more will take place during this step.
Fire Reconstruction and Restoration FAQs
Some common questions and answers SERVPRO fields when it comes to smoke and fire damage restoration include:
Can smoke damage be removed?

Yes. SERVPRO technicians are equipped with tools and equipment to remove even the most stubborn residues after a fire, including smoke and soot. Furthermore, SERVPRO franchises will coordinate with a third-party vendor who specializes in removing smoke and soot from specific items if necessary (although technicians make every effort to handle it themselves).

Can I stay in my home while cleanup occurs?

This depends largely on the layout of your home and the extent of fire damage. If safe, you may be able to stay. However, smoke and soot tend to seep throughout much of the property, even if the fire was contained to a single room. Check with your insurance agent to see what off-site or hotel provisions are provided in your policy, as that may be a more comfortable option than staying on the fire-damaged premises.

How long does the fire damage restoration process usually take?

This depends on many factors, such as the extent of fire damage, size of the property, and what belongings and rooms were affected. SERVPRO professionals will assess the property and provide a timeline that is unique to every job.
How to Help Prevent Fire Damage
Some common tips SERVPRO recommends, which you can implement to help decrease the chance of a fire, include the following:
Have heating systems and chimneys professionally inspected on a regular basis.
Stay in the kitchen when cooking, or by the grill when grilling. Do not leave stoves or grills unattended when they are in use. Visit our article on grilling safety for more recommendations.
When finished cooking, turn off burners and make sure materials are cleared from the area as soon as possible.
Keep flammable items at least three feet away from fireplaces.
Turn off and unplug heaters when you leave a room.
Have smoke detectors installed on every level of the property (and in every bedroom in homes).
Fire Reconstruction: Do's and Don'ts
While waiting for professional help to arrive, it is understandable you may want to begin the cleanup process yourself. SERVPRO advises the following:
Do:
Change your filters, including your HVAC filter.
Empty your refrigerator and freezer (particularly if electricity is out).
Wash plants on both sides of leaves.
Cover high traffic areas with old linen or clean towels.
Limit movement.
Don't:
Clean clothes. Sending soot-covered clothes to a standard dry clear may set the soot further into the fabric.
Turn on the lights, as the wiring may be damaged.
Eat soiled food.
Touch soot-colored items.
Clean electrical appliances.
Wash walls and/or carpet.
SERVPRO is Ready 24/7/365
After experiencing fire damage, time is of the essence. While safety is your #1 priority, handling subsequent cleanup, restoration, and construction efforts can seem daunting. SERVPRO professionals will handle everything during the cleanup job, from initial assessment to construction, helping to ensure the property is restored to pre-fire condition, "Like it never even happened."
With 2190 locations across the United States and Canada, technicians across the system have decades of experience, and operate with a commitment to help clean, restore, and reconstruct your property after fire damage wreaks havoc. With proprietary products, elite tools, and industry-leading equipment, SERVPRO employs top-tier methods of cleanup at every job. Whether your fire occurs in a residential space or multi-million square foot commercial property, SERVPRO operates with strategically placed Disaster Recovery Teams® around the country. Find your local SERVPRO today and give us a call to provide fire damage repair and reconstruction services right when you need them. We are Here to Help®.
For more information, please visit our FAQ and Glossary.
Sources:https://www.usfa.fema.gov/downloads/pdf/publications/fa_46.pdf
---