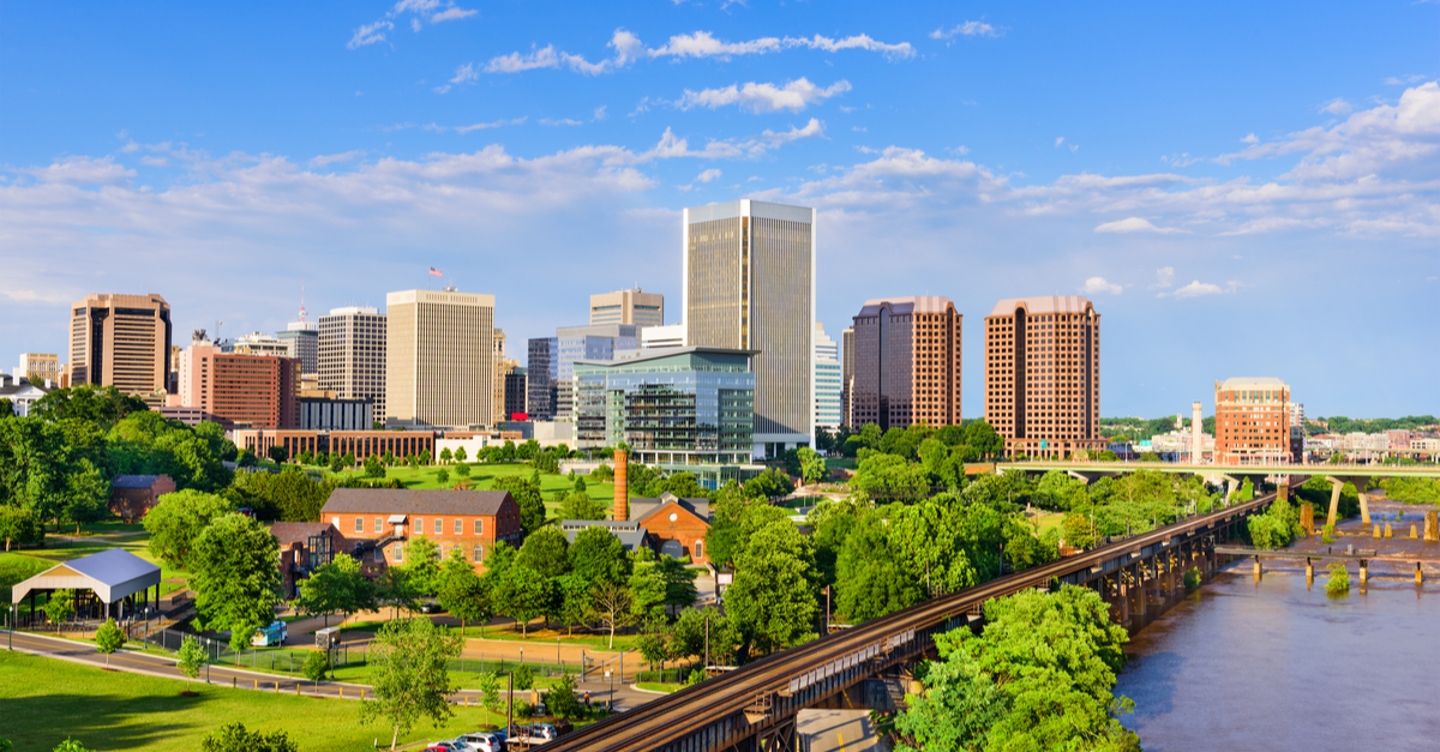 Richmond and Petersburg's Cleanup and Restoration
Commercial and Residential Damage Cleanup and Repair
When Water Damage, Fire, and Storms Happen in Richmond and Petersburg - We're Ready
The capital city of Richmond, Virginia, along with nearby Petersburg, are two independent cities with ties to both the Revolutionary and Civil Wars that are, as of today, thriving communities with attractive economies and costs of living. When it comes to American history, Founding Father Patrick Henry famously delivered his "Give me liberty or give me death" speech in Richmond's St. Paul Church in 1775. As for Petersburg, its network of early railroads became the predecessors to the modern-day CSX transportation system. Ultimately, these two cities are enjoyable not only from a weather perspective (they experience all 4 seasons), but from an activity perspective, as well; there is certainly no shortage of outdoor activities in this region of the world! Unfortunately, water and flood damage, fire damage, mold infestations, and biohazard dangers can strike at any time. That is why Richmond and Petersburg residents need a top-tier cleanup and restoration company available around the clock, and always nearby. And that is just what SERVPRO® provides. With nearly 2000 franchises across the United States and Canada, SERVPRO is available 24/7, 365 days a year. So, when disaster strikes, do not hesitate—give us a call, and we will be onsite within one hour of your call.
24-Hour Emergency Service
From its status as Edgar Allen Poe's childhood city to a culture rich in festivals and culinary delights, Richmond is abuzz with economic growth, an entrepreneurial spirit, and an affordable cost of living, which is why new residents continue to flock to the city year after year. As for Petersburg, its historical buildings and beautiful architecture, along with its temperature weather, are similarly valued by residents and tourists alike. When it comes to weather, Richmond and Petersburg experience hot, humid summers and relatively mild, cool winters. However, snow and freezing rain are known to cause flooding, while severe thunderstorms and wind can wreak havoc in other seasons, particularly spring. Although rarer, hurricanes traveling up the Atlantic coast have also caused devastating flooding to the region, as well.
Our highly rated specialists are:
Highly Trained Water, Fire and Mold Restoration Technicians
IICRC – Certified Restoration Specialists
Recommended by most Insurance Companies
Faster to Any Size Disaster
When water and flood damage strike, the trained professionals of SERVPRO will utilize our state-of-the-art, advanced equipment to clean and dry both standing and hidden water in your home or business. We will extract any type of water, from the aftermath of a burst pipe to flood and black water, from all affected areas, and document the drying process throughout. When it comes to mold damage, we understand your indoor air quality is important, as mold can cause health effects, and be found in places ranging from your crawl space to wet garbage bags. That is why we utilize HVAC systems to ensure all square feet, and all porous materials, are handled correctly, and your home or business is rid of all damaging mold. When it comes to fire and smoke damage, our emergency response includes specializing in fire restoration, as well as smoke odor removal. Whatever the case, we are prepared to restore your property to pre-loss condition.
Home and business owners in Virginia understand it's important to know expert restoration services are available when water, fire, or mold damage occurs. SERVPRO professionals are ready to help right now. Click now and have our team on-site in one hour to protect your property with board-up, tarping or begin the damage cleanup process and restore your property.
SERVPRO -The Best Restoration Services in the Greater Richmond Region
Locally Owned and Operated
Trusted Leaders in the Water Restoration Industry
Advanced Water Inspection, Extraction, and Drying Equipment
Whether you are in Amelia, Dinwiddie, Nottoway, Powhatan, or somewhere in between, our experienced professionals stand on more than 5 decades of experience. With the knowledge and equipment, our techniques have been refined and perfected to ensure a complete cleanup and restoration process.
Have Questions? We're Here to Help®
When homes and businesses require the best professional restoration and cleanup service provider, they contact SERVPRO.
Whether you are in Caroline County, Goochland County, or perhaps King William County or a surrounding area, SERVPROs are always Here to Help®. Whether 3 in the morning or 3 in the afternoon, whether holiday or weekend, do not hesitate when disaster strikes. Let us show you why we are #1 in the cleanup and restoration industry.
Our locally owned and operated SERVPROs are available 365 days a year, 24 hours a day. Give us a click or call, and we will make it "Like it never even happened." ®
Our commercial cleaning professionals are trained to follow CDC protocols for all types of specialty cleaning services for hazardous materials including the novel coronavirus, biohazard, and mold removal.
Click to contact your local SERVPRO for a free, no-obligation consultation with our team of IICRC certified damage restoration specialists. No matter the amount of damage, SERVPRO has over 50 years of experience and over 1900 franchises nationwide.
Recommended For You
Restoring your home or business after fire damage is our main goal. As a leading fire dama...

Mold can grow anywhere. Trust SERVPRO® for reliable mold remediation, abatement, and resto...

Keeping your commercial business looking its best is a priority. When your business requir...