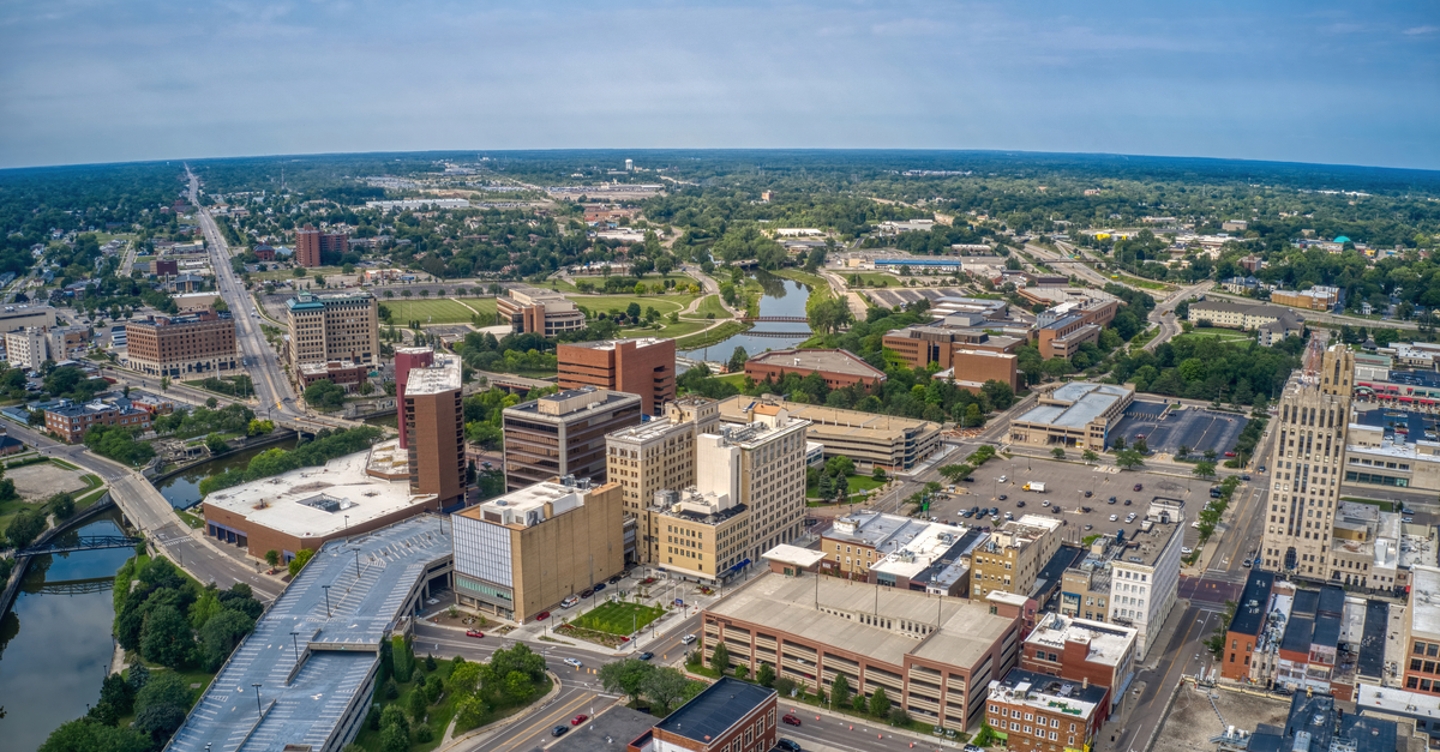 Flint, Saginaw, and Bay City's Cleanup and Restoration
Commercial and Residential Damage Cleanup and Repair
Flint, Saginaw, Bay City Water Damage Cleanup and Restoration Services
The three cities of Flint, Saginaw, and Bay City represent part of the Tri-Cities region in eastern Michigan, which is marked by a strong manufacturing presence and ties to the Great Lakes. The largest city in Genesee County, Flint is often called Vehicle City due to its extensive ties to the automobile industry. Beyond that, the city features distinct neighborhoods circling the heart of the city, including a mix of Greek housing, downtown buildings, and additional automobile facilities. And that is just the start of the intriguing delights of this region. Unfortunately, Mother Nature does not always cooperate; water and flood damage, fire damage, mold infestations, and biohazard dangers can strike at any time. That is why residents and business owners of these three cities need a premier cleanup and restoration company available at all hours of the day, and thankfully, that is just what SERVPRO® provides. With nearly 2000 franchises across the United States and Canada, you can rest assured one of our independently owned and operated franchises is never far away. So, when disaster strikes, do not hesitate, give us a click or call. We will be onsite within one hour of hearing from you.
24-Hour Emergency Service
From beautiful parks to historic buildings, Saginaw is a city worth exploring. There is also a rich art and theater scene ready and waiting for those who may want to step inside after exploring delights such as the Shiawassee National Wildlife Refuge or the city's many shops. As for Bay City, the birthplace of singer Madonna, this small slice of Michigan is full of history and museums, interestingly divided by the Saginaw River, and featuring numerous summer festivals that typically take place on its banks. When it comes to weather, this region of Michigan experiences warm summers and bitterly cold winters, with moderate snowfall due to nearby Lake Huron. Rain is consistent throughout the year, though somewhat more prevalent in the warmer months.
Our highly rated specialists are:
Highly Trained Water, Fire and Mold Restoration Technicians
IICRC – Certified Restoration Specialists
Recommended by most Insurance Companies
Faster to Any Size Disaster
With year-round rain, flood damage is certainly possible, and that is why our independently owned and operated franchises will use our state-of-the-art, advanced equipment such as floor coverings, to perform a complete water extraction. In fact, we can clean up and restore damages ranging from broken sump pumps to standing or hidden and black water. At the end of our water damage restoration process, our drying procedure will ensure all affected areas are fully cleaned and restored. When it comes to water and moisture, mold growth can often result in places like bathrooms and basements. That is why, if necessary, we will employ our mold remediation process by using mold cleaners and utilizing our equipment in all affected square feet, in order to restore your indoor air quality. In the heat of a Michigan summer, fire and smoke damage can occur as well. Your property's structural integrity is important, so you can rest assured we will not only restore your property to prefire condition but remove both smoke and soot odors as well. Ultimately, we will work with your insurance company throughout the restoration process, and ensure all parties are informed of the progress until completion.
Whether you are in Arenac, Gladwin, Iosco, Tuscola, or somewhere in between, our franchise professionals are always available, with the best in equipment and techniques. Give us a click or call when disaster strikes, and see our restoration process in action as we restore your home or business to pre-loss condition. We are always Here to Help.®
SERVPRO, The Best Restoration Services in the Eastern Michigan Tri-Cities Region
Locally Owned and Operated
Trusted Leaders in the Water Restoration Industry
Advanced Water Inspection, Extraction, and Drying Equipment
Whether you are in Bay County, Genesee County, or perhaps Saginaw County or a surrounding area, we have professionals on standby around the clock. Whether 3 in the afternoon or 3 in the morning, whether a holiday, weekend or just after work, we have the knowledge and experience to clean up and restore your property.

Have Questions? We're Here to Help®

Our locally owned and operated SERVPROs are available 365 days a year, 24 hours a day. Give us a call, and we will make it "Like it never even happened."®

Our commercial cleaning professionals are trained to follow CDC protocols for all types of specialty cleaning services for hazardous materials including the novel coronavirus, biohazard, and mold removal.
Click to contact your local SERVPRO for a free, no-obligation consultation with our team of IICRC certified damage restoration specialists. No matter the amount of damage, SERVPRO has over 50 years of experience and over 1900 franchises nationwide.
Recommended For You
Restoring your home or business after fire damage is our main goal. As a leading fire dama...

Mold can grow anywhere. Trust SERVPRO® for reliable mold remediation, abatement, and resto...

Keeping your commercial business looking its best is a priority. When your business requir...