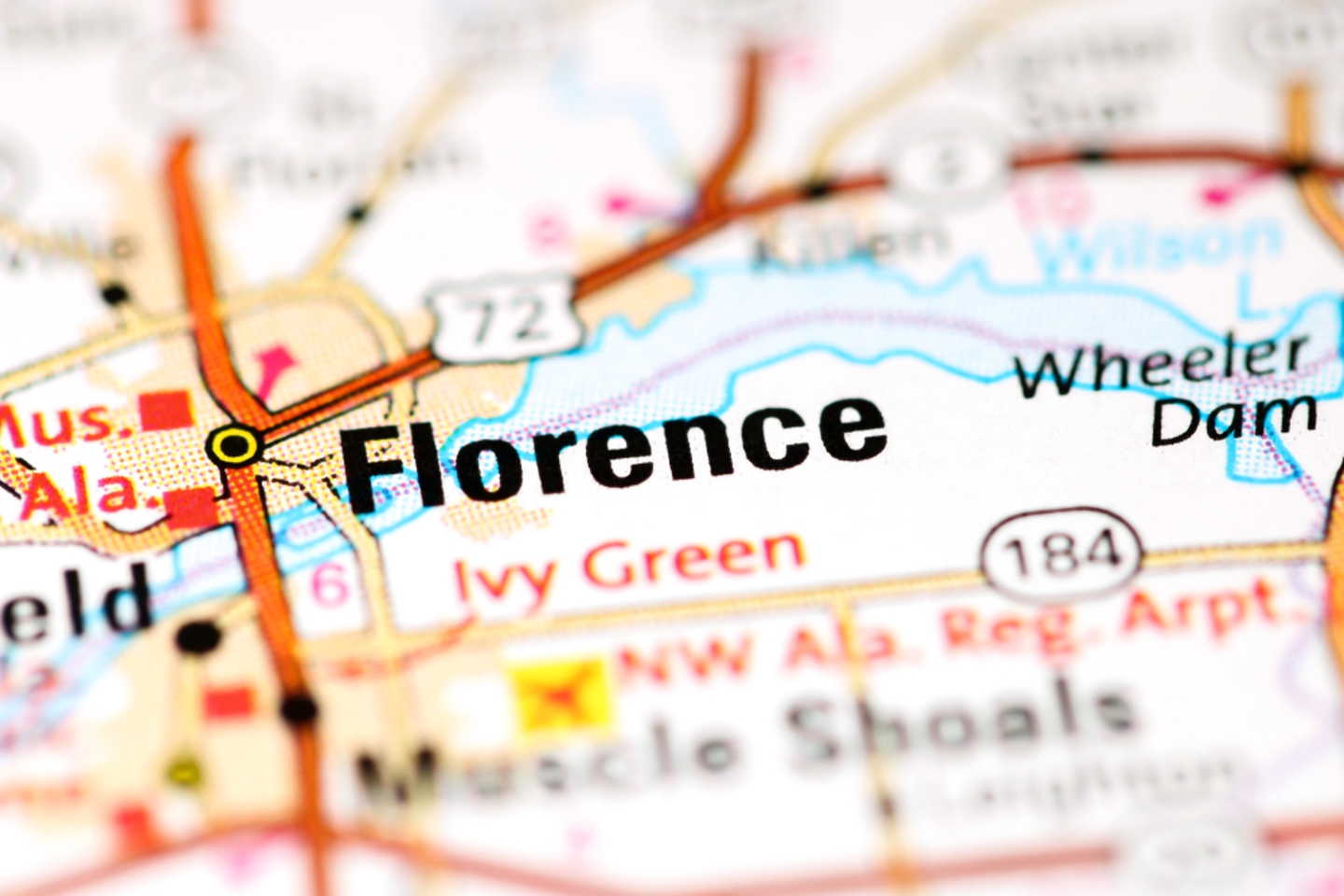 Florence's Cleanup and Restoration
Commercial and Residential Damage Cleanup and Repair
When you need Water Removal, Fire Damage, or Storm Cleanup and Restoration in the Florence area, We're Ready.
Whether you're looking for property restoration, cleaning, or construction services, our teams are here to help 24/7.
Florence, located in northwest Alabama, is a city not unlike its Italian counterpart. For one, it's filled with rich history, like the historic homes downtown, the Florence Indian Mound (one of the oldest surviving earthen mounds in the state, constructed sometime between 100 BC and 400 AD), and the University of North Alabama, the oldest college in the state. Additionally, it's a haven for beautiful scenery and outdoor activities, including fishing, tennis, walking trails, and more. Ultimately, Florence is quickly becoming a destination for Alabama visitors looking to check out the state's hidden gems, or perhaps relocate to "Alabama's Renaissance City" entirely.
24-Hour Emergency Service
Although Florence may be one of the south's lesser-known cities, it continues to thrive and draw yearly visitors for its unique sights and experiences. Locations like the Rosenbaum House, a famous home designed by renowned architect Frank Lloyd Wright, along with Pope's Tavern and Museum, make this city one prime for exploring. However, while Florence is beautiful and includes many fascinating sights, its residents are not immune to natural disasters like thunderstorms, tornadoes, the residual effects of hurricanes, and more. Thankfully, with 2000 franchises across the United States and Canada, SERVPRO® franchise professionals are always nearby, ready to lend a helping hand. No matter the job—from minor damage to full reconstruction—give us a call. Our team will make it "Like it never even happened." ®
Our highly rated specialists are:
Highly Trained Water, Fire and Mold Restoration Technicians
IICRC – Certified Restoration Specialists
Recommended by most Insurance Companies
Faster to Any Size Disaster
Florence's weather includes hot and muggy summers, with short, cold, and wet winters. It is cloudy throughout the year; additionally, spring and fall can see heavy precipitation, including hail and sleet if it becomes especially cold. Tornadoes have also occurred in this region, and given its location in Alabama, the residual effects from hurricanes can strike Florence residents during hurricane season, if the storm is especially strong upon landfall in the Gulf of Mexico.
When water damage strikes business owners and residents in Florence—perhaps from burst pipes, a faulty washing machine, or black water due to storms—SERVPRO franchise professionals will ensure the damage to your home or business is fully remediated. No matter the types of water present, our equipment will remediate everything from wet carpet to flash flooding. Furthermore, our drying process ensures that moisture is fully removed. Additionally, we understand that water damage may cause mold growth in your living space. To restore your indoor air quality to pre-loss condition, we will enact our mold remediation process by using our HVAC systems, which ensures your moldy materials and surfaces, such as ceiling tiles, air ducts, and more, are completely restored. When it comes to fire damage, our restoration specialists are prepared to remediate smoke and soot, as well as restore your property through our construction services. Lastly, we are prepared to work with your insurance company throughout the job, to ensure a seamless restoration experience.
SERVPRO, The best property restoration services in the Florence, AL area
Locally Owned and Operated
Trusted Leaders in the Water Restoration Industry
Advanced Water Removal, Water Extraction, and Drying Equipment
When homes and businesses require the best restoration service provider, contact SERVPRO.
No matter the time of day, a SERVPRO franchise is always available. Whether your damage occurs on a holiday, over the weekend, or just after midnight, our service professionals are ready to arrive on the scene and immediately begin the cleanup and restoration process. From Lauderdale County to Muscle Shoals, Tuscumbia to Sheffield, our technicians undergo continual training, so they come to each job with the knowledge, skills, and elite equipment to provide second-to-none cleaning and restoration services.
Water Damage Restoration
Professional Mold removal, mold remediation, and property restoration
Storm Damage Cleanup
Fire Damage Restoration
Commercial Remediation and Restoration
Residential and Commercial Cleaning, Biohazard / Crime Cleanup
Emergency disaster services 24/7/365
Our locally owned and operated SERVPRO franchises are available 365 days a year, 24 hours a day. Give us a call, and we will make it "Like it never even happened."®
Our commercial cleaning professionals are trained to follow CDC protocols for all types of specialty cleaning services for hazardous materials including the novel coronavirus, biohazard, and mold removal.
Contact your local SERVPRO for a free, no-obligation consultation with our team of IICRC-certified damage restoration specialists. No matter the amount of damage, SERVPRO has over 50 years of experience and over 2000 franchises nationwide.
Recommended For You
Restoring your home or business after fire damage is our main goal. As a leading fire dama...

Mold can grow anywhere. Trust SERVPRO® for reliable mold remediation, abatement, and resto...

Keeping your commercial business looking its best is a priority. When your business requir...