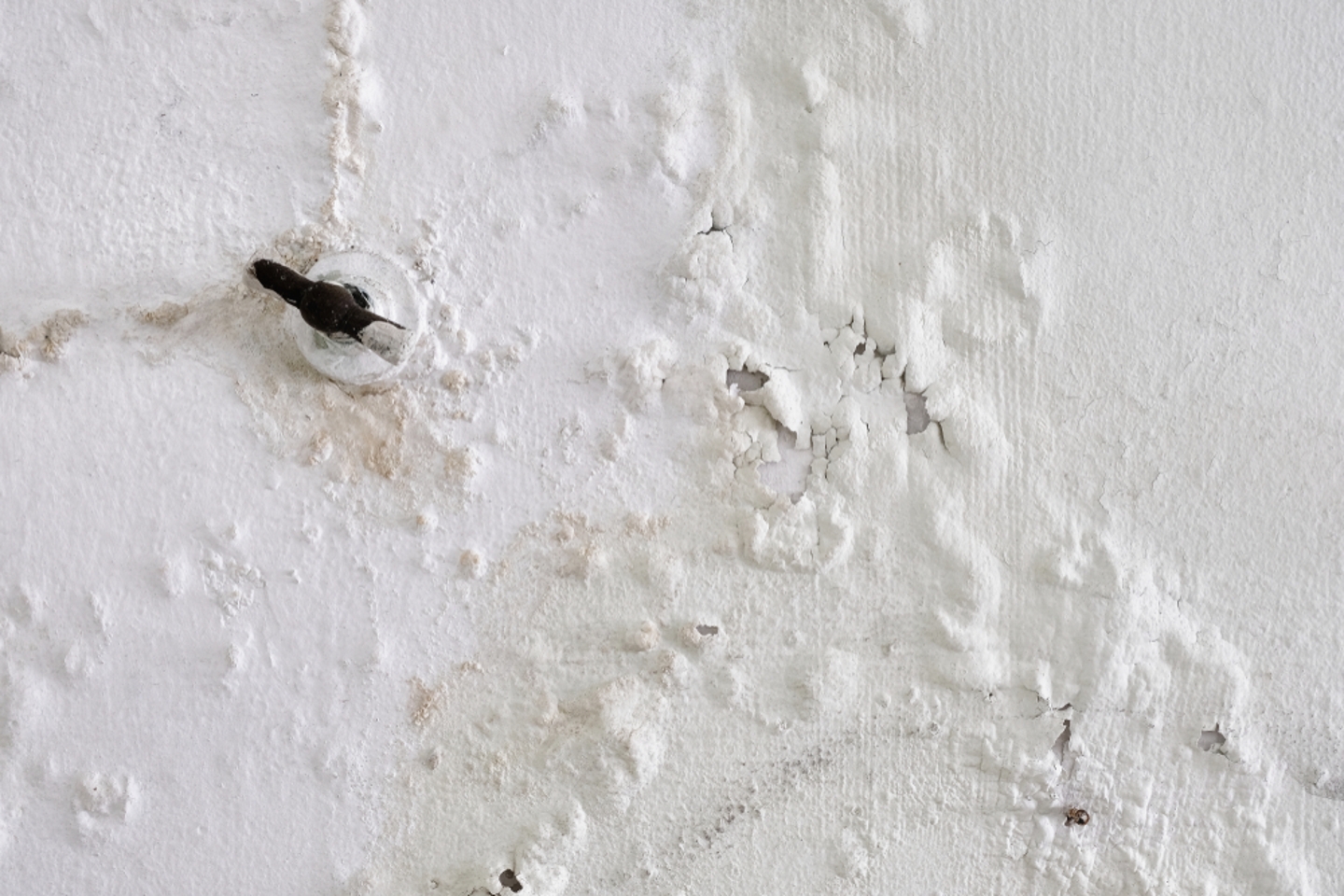 ---
Water damage can come from many different sources, including hurricanes, severe thunderstorms, local flooding, burst pipes, and leaking appliances. It also has many different signs. It can appear quickly or slowly and make its way into your ceilings, floors, and walls, all of which have slightly different signs of damage. If a water leak is left unattended or not noticed immediately, water damage can occur. Wet rot can cause wood damage, structural issues, pose mold and other health effects, and become a financial headache down the road. Look for these water damage signs when trying to detect water damage in your ceiling: 
 Peeling, bubbling, or flaking paint
Small hairline cracks or a larger, spiderwebbed pattern of cracks
Water rings, usually a light brown color
 Mold growth, especially in corners where walls and ceilings meet, and often in humid rooms or locations such as basements
Sagging, bowed ceilings
Water stains, often a dark, yellow color, or similar in appearance to rust
Musty smells
When it comes to water damage on your walls, look for the following signs:
Softened drywall. If safe to do so, press on the areas where you suspect there's water damage. If the wall sinks inward or becomes depressed in some way, you likely have water damage on the inside, even if the exterior appears normal.
Discoloration, often appearing in the form of streaks that can be short or quite long, running down the wall in affected areas
Water rings, usually a light brown color
Cracked, bubbling, or flaking paint. When water damage occurs inside a wall, it can often stretch the paint on the outside, leading to bubbles of varying sizes that can pop and cause even more damage.
Musty smells
When it comes to water damage on your floors, look for the following, remembering that hardwood flooring is especially susceptible to water damage, and the areas surrounding the main point of damage can also display many of these signs:
Buckling, where the floor may separate from the seams and peel upward
Warping, including flooring that may be cracked or bubbling
Discoloration in the floor, which may indicate mold or mildew
Cupping, where plank edges curl upward, leaving the middle slightly depressed
Crowning, where a loss of moisture within the floor leaves the middle raised up and the edges lowered, with planks rounded
Musty odors and smells

Hidden water damage can be especially dangerous, so it's important you look for the following common signs if you suspect you have water damage but can't see it:

Mold growth, which tends to start in the seams of floors and ceilings
A sudden increase in your water utility bill
Stains or other discoloration
Musty odors and smells
Warped, buckled, or misshapen walls, ceilings, and/or floors
Peeling paint or wallpaper
Water or Termite Damage in Different Areas? These Signs will Assist and Distinguish:
You may also find yourself wondering about the differences between water damage and termite damage. While they both may cause paint to bubble and peel, their differences ultimately boil down to how the wood looks after the fact. As noted above, water damage will usually leave walls soft to the touch, or otherwise warped, buckled, and crumbled. It also tends to cause a musty smell and dark brown or yellow-tinted stains, lines, or rings in both ceilings and walls. Conversely, termite damage leaves wood much hollower on the inside than water damage. Termites will also leave grooves or tunnels in their wake, giving a honeycomb appearance to the wood.
Once SERVPRO professionals arrive, our inspection process involves several steps. First, we'll perform a detailed damage assessment of the property, determining the scope of the damage so an appropriate cleanup plan can be created. However, it's important we stop the source of water before we perform any cleanup. Once the source has been stopped, we'll identify the category type of water, based on a 3-tiered classification system; our restoration process will depend upon the category (1 through 3). Following that, we'll inspect the entirety of the property so we understand the extent of damage, noting any hazards such as asbestos or lead. Finally, we'll move and block furniture, so as not to cause rust or water stains on wet carpet.
With 2,000 franchises across the United States and Canada, SERVPRO technicians provide localized attention and support with the resources and training of a national brand. It's no wonder SERVPRO® is the #1 choice in cleanup and restoration. We're always nearby, and available 24/7, 365 days a year, ready with the equipment and expertise to make your water damage "Like it never even happened."®. If you're not sure you've come across water damage and need a second opinion or are certain your home or business has been hit with water damage where you require a professional cleanup and restoration company on-site as soon as possible, give us a click or call.
For more information, please visit these additional links, including an overview of our inspection process, our water damage cleanup process, our general water damage information page, as well as our storm damage and commercial services pages.
---