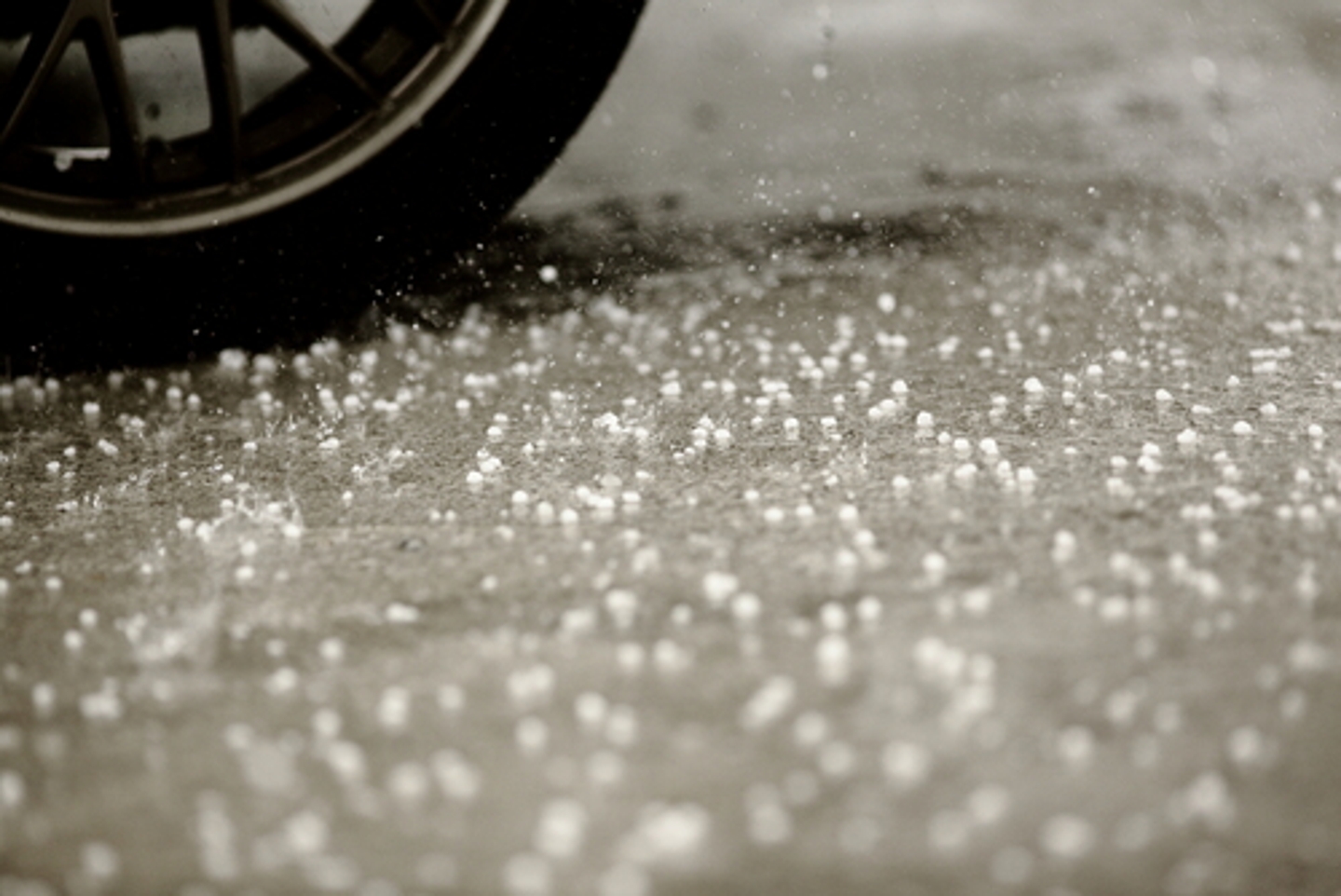 ---
Hail - it's a mark of strong thunderstorms and the one frozen precipitation that can occur in the middle of a summer heatwave. The National Weather Service reported that there were 4,436 hailstorms in 2022 alone – the majority of these events happening between May and September. We have compiled the most frequently asked questions to help you be more weather aware and better equipped should a hailstorm strike near you.
What is Hail?
Hail is a meteorological phenomenon characterized by the formation of ice pellets that fall from the sky during severe thunderstorms. These ice pellets, known as hailstones, are formed when updrafts in a thunderstorm carry raindrops into extremely cold regions of the cloud, where they freeze into ice. As the hailstones are repeatedly lifted and carried upward by strong wind currents within the storm, they accumulate layers of ice, creating larger and more complex structures. The hail falls when the thunderstorm's updraft can no longer support the weight of the hailstone, which can occur if the stone becomes large enough or the updraft weakens.
How Big can Hailstones Get?
Their eventual size depends on how long they can defeat gravity. According to the National Weather Service, upward wind speeds of 64 mph will support a hailstone as large as a golf ball, while a grapefruit-sized stone needs a 98-mph updraft. The largest hailstone on record was approximately 8 inches in diameter and weighed nearly 2 pounds!
The bigger these ice stones get, the harder they fall. Golf ball – Softball sized hail can reach speeds ranging from 44-72 miles per hour. The NWS has reported that larger stones can reach 100 miles per hour!
How Much Damage can Hailstones Cause?
Hailstones can cause a lot of damage to buildings, vehicles, and crops. Wind-driven hail can tear up siding on houses, break windows on homes or cars, and cause severe injury and/or death to people and animals. According to the National Oceanic and Atmospheric Administration (NOAA), hailstorms cause an average of $1 billion in damage to property and crops in the United States every year. A 2016 study by the Highway Loss Data Institute found that insurance companies paid $5.37 billion in total hail claims to automotive policy holders. If you experience damage to your home or business due to a hailstorm, call your local SERVPRO®!
What Areas Experience the Most Hail?
Although Florida has the most thunderstorms, Nebraska, Colorado, and Wyoming usually have the most hailstorms. The area where these three states meet is often referred to as "hail alley" and averages seven to nine hail days per year. Jonathan Belles, digital meteorologist at Weather.com writes that hail is most likely from the Dakotas to Texas during the course of the year - this is the location where the strongest thunderstorms overlap with cold air aloft and fast winds in the jet stream.
Who Should I Call if my Property was Damaged in a Hailstorm?
No matter your level of hail damage, SERVPRO is prepared to provide elite cleanup, restoration, and construction services after the storm. With strategically placed storm teams around the country prepared to handle both residential and commercial hail damage, your local franchise can be onsite quickly to help begin the remediation process.
In fact, our Disaster Recovery Team® is on standby year-round, prepared to assist with any type of storm damage. After the storm has passed and you can safely assess your property, contact SERVPRO as soon as possible to begin the cleanup and remediation process. We are prepared to work with your insurance company to provide a seamless and stress-free experience, so you can focus on what matters. With 2190 franchises spanning the US and Canada, there is a SERVPRO location near you that offers 24/7 emergency service and is ready to help!
SERVPRO is Ready, 24/7
Hail damage is no match for SERVPRO. With over 50 years of industry experience, SERVPRO professionals are ready to tackle any job, big or small. From initial assessment to complete reconstruction of damaged property, let SERVPRO be your one-stop shop for all manner of cleanup, restoration, and construction needs. Once the hail has safely passed, contact your local SERVPRO for immediate assistance returning your property to pre-loss condition. We are prepared to clean residential and commercial spaces, indoors and outdoors, and even cars or other damaged vehicles.
It is our goal to provide a smooth experience in every cleanup, restoration, and construction job. When you contact us, we will arrive promptly at each job with the appropriate personnel and equipment. We are also prepared to help coordinate insurance paperwork. When hail damage strikes, know SERVPRO is just a phone call away for all your cleanup, restoration, and construction needs. Find your local SERVPRO today and give us a call to help make it "Like it never even happened." We are Here to Help® and look forward to serving you.
For more information, visit our FAQ and Glossary.
Sources:
https://www.spc.noaa.gov/climo/online/monthly/2022_annual_summary.html
https://weather.com/safety/thunderstorms/news/2020-05-12-15-things-to-know-about-hail
https://www.foxweather.com/learn/7-facts-about-hail
---