---
Hail can cause serious damage. Ranging in size from a small pea to a grapefruit or larger, it can be destructive to property and deadly to humans and animals. In fact, the largest hailstone recovered in the United States (located in South Dakota in 2010) was an astounding 1.9375 pounds. But is it more likely to strike during a certain time of year? Does it depend on where you live? And ultimately, can SERVPRO® clean up in the aftermath? Turns out, there's a lot of good information to know about hail, and SERVPRO has compiled some useful information for you below.
What is Hail?
According to the NOAA National Severe Storms Laboratory, hail is defined as "…a form of precipitation consisting of solid ice that forms inside thunderstorm updrafts." In other words, when raindrops form in the freezing upper atmosphere during storms, they collide with liquid water droplets that freeze. Once they grow too heavy to stay in the air, they harden and fall to the ground in the form of hail.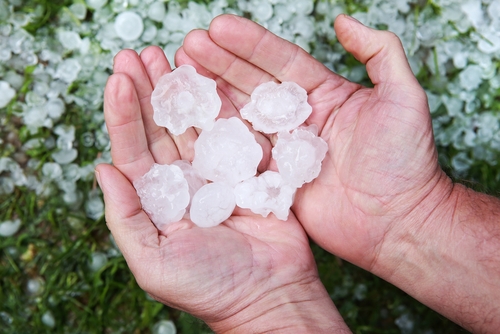 Where Does Hail Commonly Fall?
You may be surprised to learn there is a "Hail Alley." It is located where the states of Nebraska, Colorado, and Wyoming meet. But is there a common season when hail is more likely to fall?
Researchers at Weather.com note that the biggest hail is often associated with the Plains and Southeast regions of the United States from approximately February to July. However, the cooler season in the West Coast can still provide ample opportunity for hail to form, as severe thunderstorms tend to take advantage of this colder air.
Jonathan Belles, a digital meteorologist at Weather.com, states that hail is most common from the Dakotas to Texas during the entire year. That is because this stretch of land is where the most severe thunderstorms, cold air, and fast winds overlap.
Notably, researchers at the Insurance Information Institute indicate that the following states tend to receive the most hail damage: Texas, Colorado, Nebraska, Minnesota, and Kansas. However, this list fluctuates from year to year.
Hail Season: An Ongoing Debate
According to KECO Tabs, hail is most common during the spring season in the United States, specifically between April and September. This makes sense, given the high probability of thunderstorms during this period. However, determining a "hail season" is not an exact science; Weather.com indicates that hail can fall year-round.
SERVPRO Can Clean After Hail Damage
No matter your level of hail damage, SERVPRO is prepared to provide elite cleanup, restoration, and construction services after the storm. With strategically placed storm teams around the country prepared to handle both residential and commercial hail damage, your local franchise can be onsite quickly to help begin the remediation process.
In fact, our Disaster Recovery Team® is on standby year-round, prepared to assist with any type of storm damage. After the storm has passed and you can safely assess your property, contact SERVPRO as soon as possible to begin the cleanup and remediation process. We are prepared to work with your insurance company to provide a seamless and stress-free experience, and let you focus on what matters.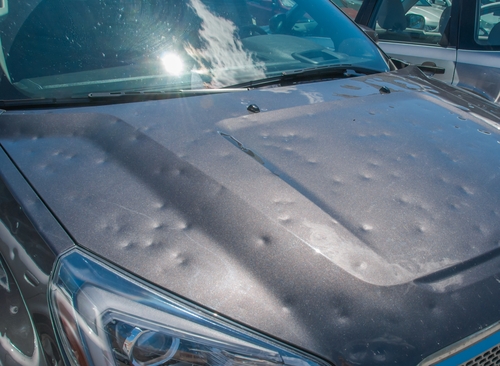 SERVPRO is Ready 24/7
Hail damage is no match for SERVPRO. With proprietary cleaning solutions and full-service offerings all the way from initial assessment to complete reconstruction of damaged property, let SERVPRO be your one-stop shop for all manner of cleanup, restoration, and construction needs. Once the hail has safely passed, contact your local SERVPRO for immediate assistance returning your property to pre-loss condition. We are prepared to clean residential and commercial spaces, indoors and outdoors, and even cars or other damaged vehicles.
It is our goal to provide a smooth experience in every cleanup, restoration, and construction job. When you contact us, we will arrive promptly at each job with the appropriate personnel and equipment. We are also prepared to help coordinate insurance paperwork. When hail damage strikes, know SERVPRO is just a phone call away for all your cleanup, restoration, and construction needs. Find your local SERVPRO today and give us a call to help make it "Like it never even happened." We are Here to Help® and look forward to serving you.
For more information, please visit our FAQ and Glossary.
Sources:
https://www.iii.org/fact-statistic/facts-statistics-hail
https://www.kecotabs.com/blogs/chasing-hail/hail-seasons-across-the-globe
https://www.nssl.noaa.gov/education/svrwx101/hail/
https://www.weather.gov/abr/vivianhailstone
https://weather.com/safety/thunderstorms/news/2020-05-12-15-things-to-know-about-hail
---