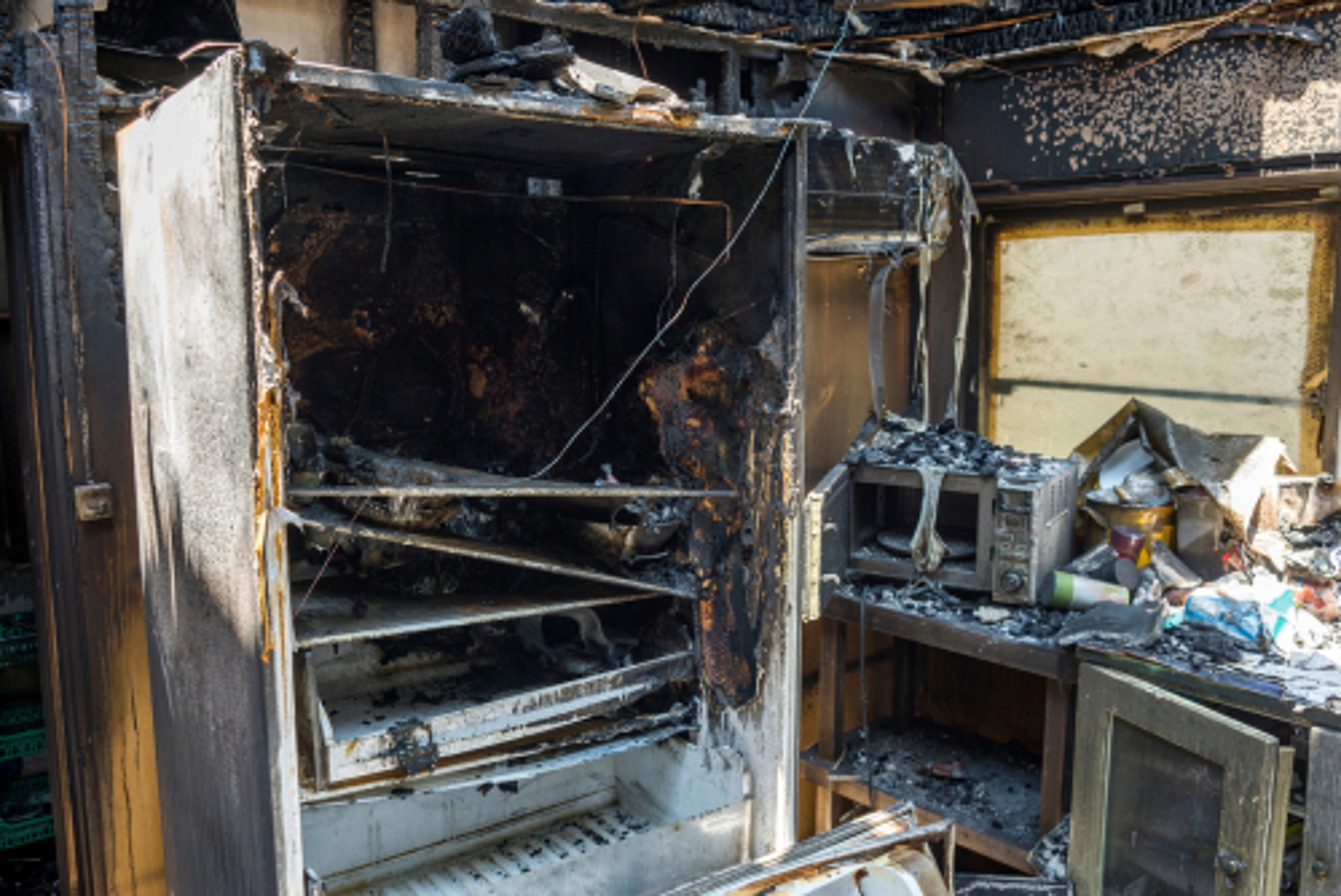 ---
The prevalence of greasy foods means it is important to keep a close eye on your cooking area. A distracting phone call or crying baby could be enough to pull you away from the kitchen, just as a grease fire erupts in the middle of dinner duty. The last thing you want is to inadvertently put yourself, family, or employees in danger through the simple act of cooking. If a grease fire occurs in your home or business, it is important to act quickly and contact SERVPRO® – a leading fire restoration company. Rest assured, our professionals will be there to make the damage "Like it never even happened."
This article will expand on what a grease fire is, how to safely extinguish a grease fire, tips to clean up after a grease fire, and how to get rid of the grease fire smell.
What is a Grease Fire?
Simply put, when cooking oils become too hot, a grease fire can occur. Three elements must be present:
Heat source.
A spark.
Oxygen.
Grease fires can occur in an instant. Four common causes include:
Leaving food unattended while cooking.
Wearing loose-fitting attire while cooking.
Placing combustibles too close to a heat source.
Turning temperatures too high.
A grease fire can occur when you least expect it. According to the U.S. Fire Administration, cooking fires are the leading cause of home fires and injuries. From 2017 to 2019, fire departments in the U.S. responded to an estimated average of 187,500 cooking fires in residential buildings. As a result, these fires caused some alarming statistics:
165 deaths.
3,325 injuries.
$444 million in property loss.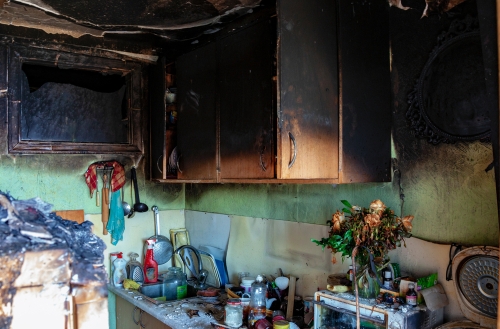 How Can I Safely Extinguish a Grease Fire?
It is vital to know how to safely extinguish a grease fire. Do you know how long it can take for a small flame to convert into a major fire? According to Ready.gov, less than 30 seconds.
According to ADT.com, below are some do's and don'ts for putting out a small grease fire.
Do's:
Turn off the burner as soon as possible. It is recommended youwear oven mitts to help protect your hands.
Put a metal lid or cookie sheet over the fire. Using a tight-fitting lid removes the oxygen the flame needs to survive. Leave the lid or cookie sheet on the fire until the metal is cool and the fire is extinguished. (It is recommended to use a metal lid since a glass lid can break.)
Smother the grease fire with another pan that nestles inside the pan on the stovetop. Like the lid method, this removes the oxygen and prevents the fire from spreading.
Pour baking soda or salt onto the fire. This method is the most effective for a small fire.
Spray the fire with a Class B or Class K fire extinguisher. Grease fires are considered Class B or Class K fires, so only spray the fire with one of those. Since it can contaminate your kitchen, this should be a last resort.
Don'ts:
Do not ‌extinguish a grease fire with water or a wet towel. This could potentially cause the fire to splatter and spread.
Do not use flour, baking powder, or sugar to ‌smother the fire. Flour and baking powder do not contain the same attributes as baking soda. Using either of those ingredients can ignite, which could make the fire worse. Sugar has a natural flammability, which can cause the fire to disseminate.
Do not ‌remove the pan from the burner or place it in the sink. The oil can splash and cause a burn hazard. Even if the fire is smothered, it is strongly urged to not maneuver the pan into the sink.
Do not remove the lid from the pan. If you try to remove the lid from the pan, it can cause the fire to re-ignite.
How Can I Get Rid of the Grease Fire Smell?
A grease fire can be dangerous and leave a pungent smell, so it is imperative to take prompt action and know how to get rid of the offending odor. RealSimple recommends the following at-home removal tips:
Maintain ventilation to the outside.
Pour distilled vinegar in bowls, and place around the vicinity to capture odors.
Wash all affected accessories immediately (pillows, clothes, etc.).
Sprinkle dry baking soda in affected areas to absorb the smell.
To ensure the grease fire is handled properly and professionally, it is important to contact fire damage restoration professionals. SERVPRO professionals have a successful track record at odor removal in homes and businesses. SERVPRO professionals use state-of-the-art products, equipment, and techniques to rid your home of pervasive odors. Getting to the source is key, so that your home or business is left smelling fresh and clean.
If you encounter a grease fire, while the at-home removal tips are good in the interim, it is vital to have the grease smell effectively removed from your living environment and/or contents of your home. What's the most effective way to achieve that? Contact SERVPRO professionals, who specialize in odor removal services.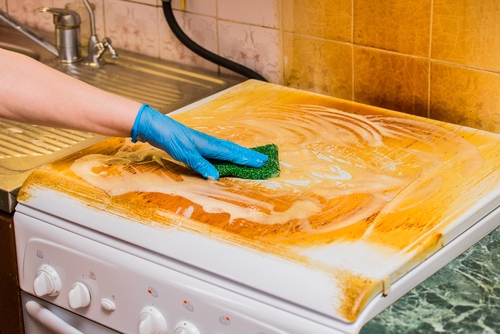 Tips to Clean Up After a Grease Fire
It is crucial to be equipped with tips to clean up after a grease fire. Ehow recommends the following tips:
Ventilate your home as much as you can.
Wipe down contents (cabinets, appliances, and other hard surfaces) with a damp towel submerged in vinegar to remove the smoky, burnt smell.
Don rubber gloves. Fill a bucket with one gallon of warm water. Add 4 to 6 tablespoons of trisodium phosphate (TSP) and one cup of bleach, then mix well.
Place a towel into the cleaning solution and use it to clean soot and smoke stains from walls, furniture, and ceilings. Repeat as necessary.
Saturate a second towel with clean water and wipe down any surfaces you cleaned with the solution to eliminate any evidence of the chemicals. Dry surfaces with a clean dry cloth.
This article by The American Red Cross provides tips on how to clean up after a fire. Some of these include:
Wet debris down to avoid inhaling dust particles.
Stuff shoes and purses with newspapers so they'll retain their shape.
Leave suitcases open.
Use soapy water, rinse, and polish kitchenware such as pots and pans.
Consult a professional (such as SERVPRO) for recommendations on replacing drywall, insulation, or other structural components of the property.
After implementing the above tips, if you still require the help of a professional cleanup and restoration company, give SERVPRO a call. Our benefits include:
We are the #1 choice in the cleanup and fire damage restoration industry.
We have highly trained fire and water restoration specialists.
We have an easier insurance claims process.
We have earned preferred vendor status.
We will work to make the damage "Like it never even happened."
When Should I Contact SERVPRO?
A grease fire can quickly grow out of control. If that's the case, it is incumbent on you to contact your local fire department immediately. Once the fire is safely extinguished, contact SERVPRO, your local fire and water cleanup and restoration company. Taking prompt action can help prevent secondary damage.
SERVPRO is faster to any size disaster. We have more than 2,000 locations nationwide serving 90% of all US zip codes within two hours. We are the #1 choice in cleanup and restoration for a reason.
If you're ever faced with grease fire damage, there's one company you can confidently rely on that knows how to professionally clean and restore the space. SERVPRO's fire damage restoration professionals are equipped with the right tools and resources to get your residential and/or commercial property back to pre-loss condition to help make the damage "Like it never even happened."
Visit our FAQ and Glossary to learn more.
Sources:
https://www.ready.gov/home-fires
https://www.adt.com/resources/grease-fire-safety-tips
https://www.usfa.fema.gov/prevention/outreach/cooking.html
https://www.usfa.fema.gov/prevention/outreach/extinguishers.html
https://www.usfa.fema.gov/downloads/pdf/publications/fa_46.pdf
https://www.redcross.org/get-help/how-to-prepare-for-emergencies/types-of-emergencies/fire/cleaning-up-after-fire.html
https://homeguides.sfgate.com/burntgrease-smell-out-kitchen-93260.html
https://www.ehow.com/how_2313138_clean-up-after-grease-fire.html
https://www.realsimple.com/home-organizing/cleaning/how-to-get-smoke-smell-out-of-house
---