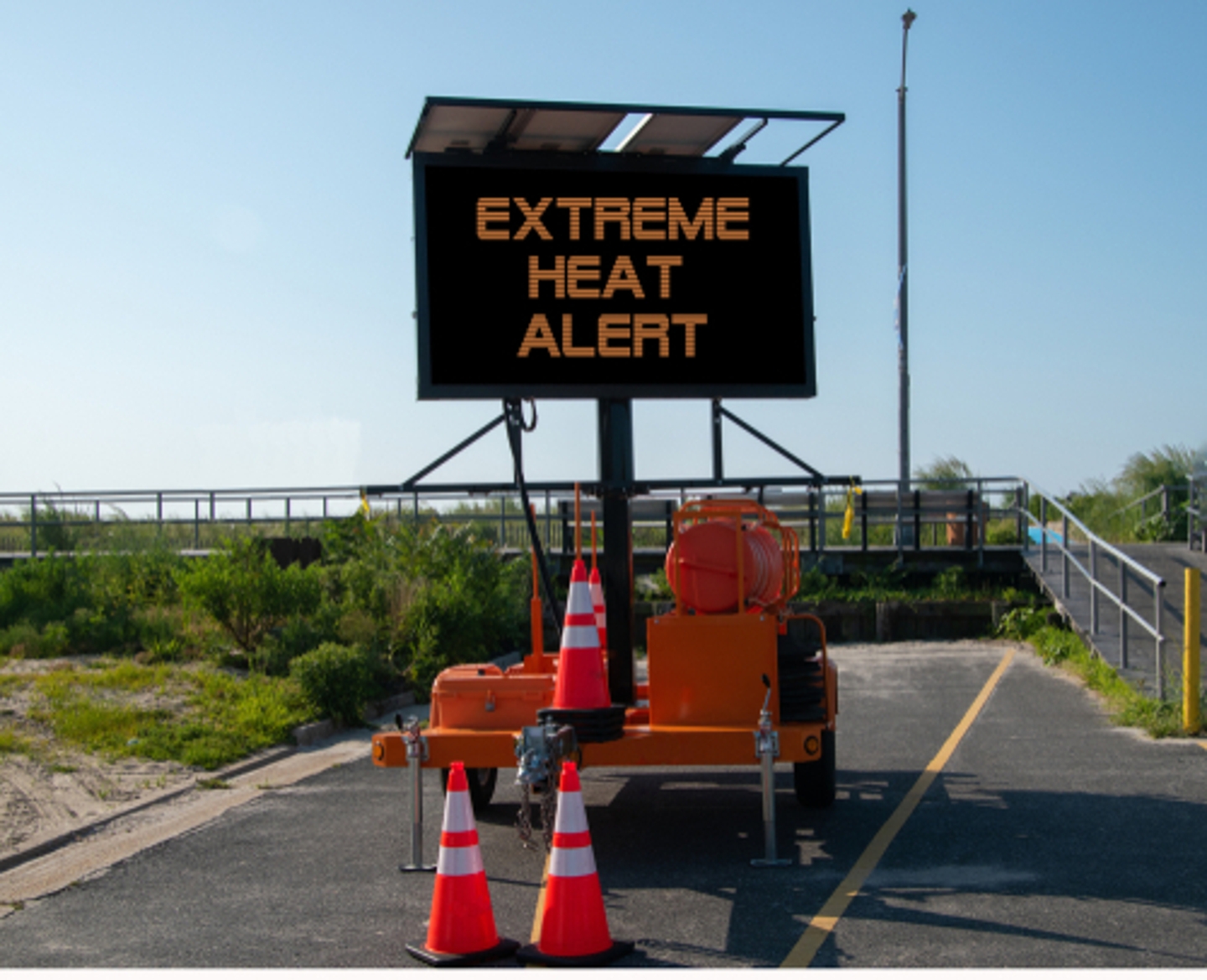 ---
Excessive heat can be a danger to you, your pets, and your property. But what, exactly, can happen to your property in the event of extreme heat? And is there any way to prepare? This article covers six parts of your property that can be affected by excessive heat, as well as suggestions that can help prepare you for the summer season or anytime your local weather spikes to extreme levels.
When is it Hottest in the United States?
While it depends on your specific state (keeping in mind each year can be slightly different), looking at the country as a whole, the hottest part of the year in the United States is the month of July. This is according to the Farmer's Almanac. However, there are some caveats:
The region in and around Texas and Louisiana experiences significantly high heat through August, due to its proximity to the Gulf of Mexico.
The Southern Plains and Western United States typically experience their hottest part of the year in late July and/or early August.
Some parts of the country, including the Pacific Coast, don't normally experience the hottest part of the year until the end of August or early September.
What about Alaska and Hawaii? Well, according to Alaska Collection, Alaska's hottest month is also July, while Hawaii is hottest typically in August or September, according to the National Weather Service.
When is it Hottest in Canada?
Like the United States, the hottest part of the year in Canada occurs in July, according to Canadian Train Vacations. However, some parts of Canada experience high temperatures outside of July, depending on their location in North America, and proximity to bodies of water such as the Pacific Ocean or Great Lakes. Researchers at World Atlas indicate the five warmest Canadian provinces are:
British Columbia
Ontario
Saskatchewan
Manitoba
Alberta
Six Areas of your Home or Business Impacted by High Temperatures
Excessive heat can have severe effects on your home or business property. Below, find six parts of your property that can be affected, according to RedFin and The Goodhart Group.
Pipes. Because water usage typically increases during periods of excessive heat, there is a higher likelihood of them leaking or bursting. SERVPRO® offers water damage cleanup and restoration services 24/7.water damage cleanup and restoration services
Floors. Extreme heat can warp and expand floorboards; hardwood floors are particularly susceptible to high heat.
Attic. Considering attics are the highest part of the home and generally lack sufficient airflow, excessive heat can bring about dampness and moisture, potentially causing roof shingles to deteriorate.
Roof. Roofs can expand and warp in high heat, causing shingles to crack. This can increase the likelihood of leaks in your property. Caulking around the flashing can also dry out in periods of excessive heat.
Foundation. When the ground heats up, soil shrinks, and moisture evaporates. This can cause the soil to separate from the footing of your structure, which may lead to foundational damage.
Paint. Excessive heat can cause paint to flake, bubble, and peel. Cracks or openings in paint can be doorways to moisture or even mold.
Protecting your Property Against Excessive Heat
When it comes to personal protection from heat, one of the main recommendations is to use sunscreen. But what about protecting your property? SERVPRO has rounded up the following five recommendations from Lennox to ensure your home or business is protected from excessive heat:
Caulk doors and windows. Consider weather stripping them to ensure they are properly caulked to ward off and minimize unwanted elements or heat from entering the property.
Insulate your attic. Proper insulation can ward off heat. Both blown in or installed rolls can be effective in proper insulation.
Install an attic door cover. Heat which flows from the attic throughout the rest of the property can be significantly reduced by installing a door cover in the hatch or stairway, that provides access to the attic.
Consider installing a multi-stage air conditioner. These handy devices can adjust their cooling output based on demand. Additionally, they can often run at lower speeds. This can reduce costs while still providing effective air conditioning solutions.
Install a programmable thermostat. This type of thermostat lowers its use during periods where cooling isn't needed, like nighttime or during the day when most occupants aren't at home. It is often ideal for reducing heat, as it can create significant energy savings.
Does SERVPRO Clean Up After Fires?
SERVPRO offers a robust, seven-step fire damage restoration process 24/7, year-round. If you're ever in doubt after fire damage and how to tackle cleanup, after firefighters leave, contact SERVPRO to implement this process and return your property to pre-loss condition.
Emergency contact. When you first contact your local SERVPRO, a dedicated professional will ask a series of questions to determine size and scope of loss, and dispatch appropriate personnel and equipment.
Inspection and fire damage assessment. During this step, SERVPRO technicians inspect and test adjoining rooms from where the fire occurred. This helps evaluate the extent of smoke, soot, and fire damage, and develop an appropriate plan of action.
Immediate board-up and roof tarping service. In this step, board-up and roof tarping services will take place, if needed, to protect damaged materials and prevent further damage.board-up and roof tarping services
Water removal and drying (if water damage is present). This step involves the use of extraction and drying equipment, as well as dehumidifiers, to thoroughly remove and dry any water that may be present.
Removal of smoke and soot from all surfaces. Using specialized equipment and techniques, SERVPRO technicians will remove smoke and soot from walls, floors, ceilings, and other affected surfaces.walls, floors, ceilings
Cleaning and sanitizing. This step involves the use of air scrubbing and deodorization techniques, as well as specialized cleaning methods, to remove items and structures damaged in the fire. It is SERVPRO's goal to restore your belongings and other valuable items to pre-fire condition. deodorization
Restoration. Lastly, final restoration occurs. This may include construction services large and small, like replacing drywall or reconstructing entire areas or rooms of your home or business.construction services
SERVPRO is Ready 24/7
With more than 2,100 franchises across the United States and Canada, rest assured there is a SERVPRO franchise nearby. As the #1 choice in cleanup and restoration, SERVPRO services 90% of all US zip codes within two hours. Technicians are dedicated to promptly arriving onsite to help return your property to pre-loss condition, "Like it never even happened."
Excessive heat isn't just a health hazard; it can also wreak havoc to your home or business. If you experience fire damage, or even water damage after sprinklers or firefighting efforts have taken place, SERVPRO can help. With 24/7 availability year-round, SERVPRO technicians are available in the middle of the night, on holidays, weekends, and more. SERVPRO is always Here to Help®, so give your local franchise a call today.
For more information, visit our FAQ and Glossary.
Sources:
https://www.alaskacollection.com/alaska/stories/alaska-weather-what-you-need-to-know/
https://www.almanac.com/when-hottest-day-year
https://canadiantrainvacations.com/blog/best-time-travel-canada
https://www.lennox.com/lennox-life/comfort-matters/tips-maintenance/protecting-your-home-from-extreme-heat
https://www.redfin.com/guides/climate-change-housing-impact/heat-risk
https://www.thegoodhartgroup.com/the-effects-of-excessive-heat-on-homes/
---