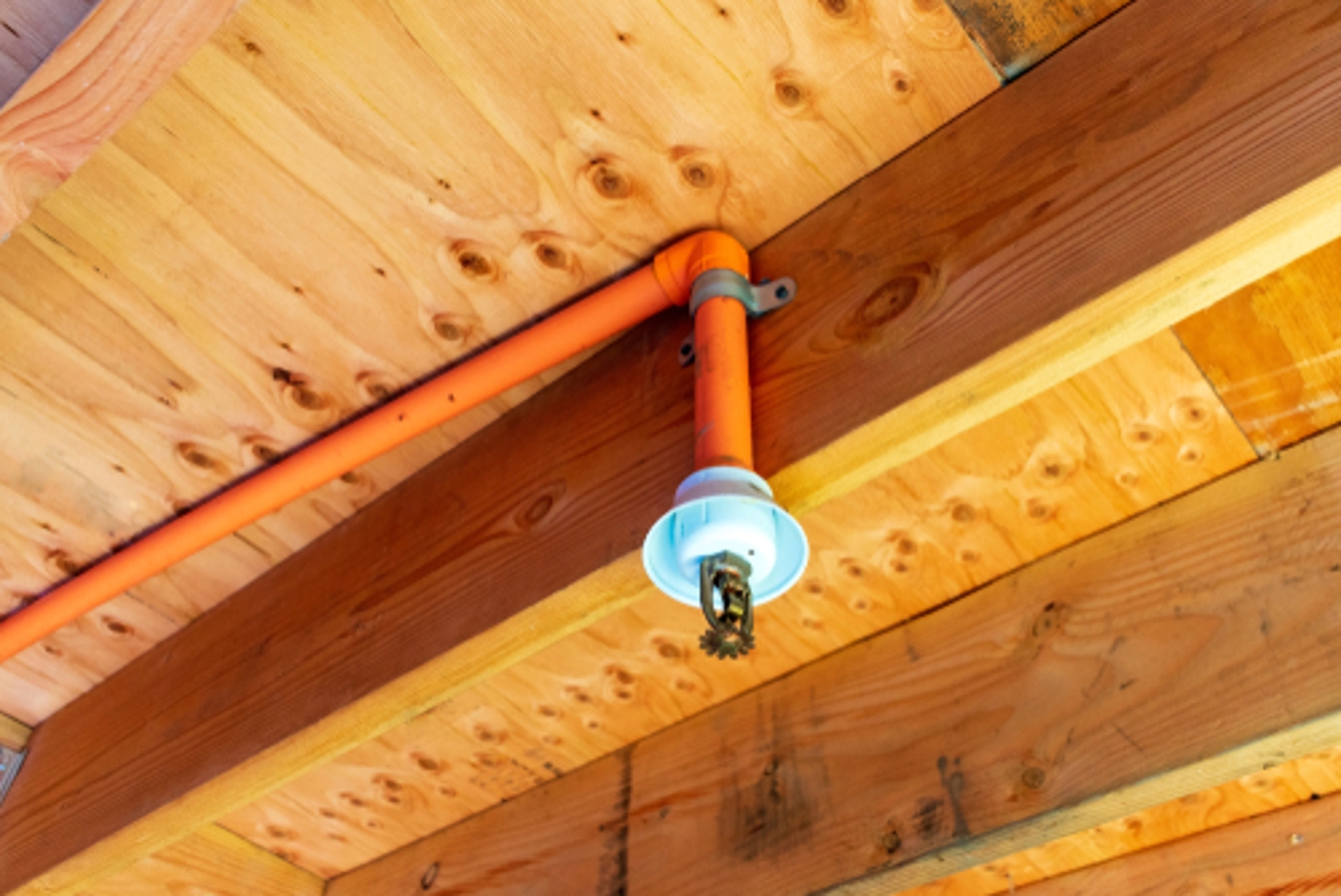 ---
Fire sprinklers are a great way to help ensure blazes are mitigated while you wait for firefighters to arrive. While putting out a fire as quickly as possible is a necessity, firefighting efforts or a sprinkler accident may leave your home or business with significant water damage, like soaked carpets, walls, and more.
But how can you tell if you're at risk of a fire sprinkler accident? If you experience water damage after fire sprinklers go off, never fear. Give SERVPRO® a call as soon as possible, and technicians will be there to help return your home or business to pre-loss condition, "Like it never even happened."
Signs You Might Be at Risk for a Fire Sprinkler Accident
Fire sprinkler accidents are unfortunate and can cause serious water damage. But what causes them? Quick Response Fire Supply and Complete Fire and Pumps highlight the following causes of sprinkler accidents and signs to watch out for: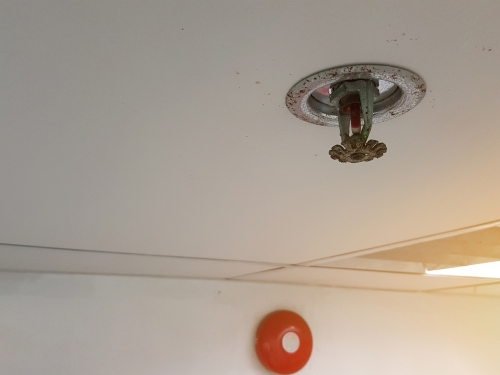 Common Types of Fire Sprinklers
The National Fire Protection Association indicates there are four types of sprinkler systems:
Wet pipe system. The most common type of fire sprinkler system, this type is also the most cost effective and reliable. These types of sprinklers are constantly filled with water; when the ceiling temperature reaches a defined point, the glass bulb or fusible link inside the sprinkler breaks, releasing water.

These sprinklers are best for locations where the temperature is guaranteed to never drop to freezing, or else the water inside will freeze.

Dry pipe system. Similar in operation to a wet pipe system, these sprinklers feature one crucial difference—they are not always filled with water. Instead, the water is held behind a dry pipe valve. When the ceiling temperature reaches a defined point, the glass bulb or fusible link inside the sprinkler breaks. But this time, air is released, causing a drop in pressure which opens the valve, releasing water.

Note: dry pipe systems are limited in size. Furthermore, these sprinklers are best for unconditioned spaces, or property where it cannot be guaranteed the temperature will never drop to freezing.

Preaction system. Arguably the most complicated of the four sprinkler types, this sprinkler has three different versions: non-interlock system, single interlock system, and double interlock system. To release water, each type must be triggered by a different series of events:

For non-interlock systems, the operation of detection devices or automatic sprinklers releasing must occur.
For single interlock systems, the operation of detection devices must occur.
For double interlock systems, the operation of detection devices or automatic sprinklers releasing must occur.
These sprinklers are typically best for museums or computer rooms, where a delay in sprinkler usage is preferred, as water damage would be especially devastating.

Deluge system. Similar in operation to preaction sprinkler systems, deluge systems use sprinklers or nozzles. Once water fills the whole system, all sprinklers, or nozzles, release water.

These sprinklers are usually best for areas protecting highly valuable items; the NFPA gives an example of an airplane hangar.
It is important to select the proper type for your home or business to avoid potentially costly replacement fees down the road. Keep in mind, you can use multiple sprinkler types in the same property.
Real Life SERVPRO Extreme Clean
In the summer of 2022, one Georgia SERVPRO was called in to take care of a mountain of foam. This "extreme clean" had foam towering 20 feet high, which covered 75,000 square feet of an airplane maintenance hangar after the fire alarm was accidentally set off. To clean up, SERVPRO used a water tanker and hose to spray the foam and break up the bubbles, as well as a bit of defoamer product. When the foam was gone, the remaining water was extracted, and all surfaces were wiped and cleaned.
View additional photos and details of this incredible cleanup here!
Fire Sprinklers: Busting Common Myths
Some notable myths about fire sprinklers include the following, according to the NFPA, the Home Fire Sprinkler Coalition, and Allegiant Fire:
Myth: If one sprinkler goes off, they all go off.

Home fire sprinklers operate independently of each other, so only the sprinkler closest to the fire will go off.

Myth: Sprinklers can leak.

Sprinkler leaks are exceedingly rare, given they are programmed to go off only if a noticeable heat change is detected. Keep in mind, they will not go off in the event of steam, smoke, cooking vapors, or the sound of smoke alarms.

Myth: Sprinklers will fully extinguish a fire.

Typically, a sprinkler will work to suppress the fire and prevent it from spreading, until firefighters arrive. Ultimately, a fire sprinkler's effectiveness depends on factors such as location and size of the fire.

Myth: Sprinklers will freeze in the winter.
Myth: I only need a smoke alarm.

While smoke alarms are useful for alerting residents to a fire, they do nothing to put it out. Ensure you have proper fire sprinklers installed in the event of a blaze.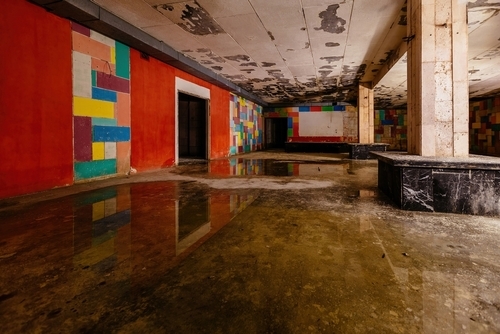 SERVPRO Provides Water Damage Restoration Services
Before SERVPRO arrives, review these water damage tips to tackle some items on your own while you wait for emergency services. Once you contact SERVPRO, technicians are prepared to employ the following eight-step process in the aftermath of water damage due to faulty sprinklers, or after firefighting efforts leave your home or business flooded.
SERVPRO follows the below steps:
Emergency contact, where a dedicated SERVPRO professional will ask you a series of questions to determine size and scope of loss, and determine appropriate personnel and equipment to dispatch.
Inspection and water damage assessment, where technicians will inspect and assess the damaged area upon arrival, and stop the water, if necessary.

This step also usually includes placement of drying equipment.

Water removal, where pumps and extraction units are employed to begin the water removal process.
Damaged material removal, where non-salvageable material will be removed from the premises to ensure the drying process proceeds efficiently.

This will be communicated to you.

Cleaning, sanitizing, and deodorization, where specialized techniques, equipment, and products are used to clean additional affected areas, such as ceilings and floors.
Drying, where industry leading drying equipment is placed to extract the water you can't see.

The type and scope of equipment are dependent upon each individual job. Additionally, drying equipment is typically placed during SERVPRO technicians' first visit.

Monitoring, where technicians will routinely visit the property to ensure the drying process is continuing as intended.
Repairs and construction, where additional services such as construction will be offered if needed, to make it "Like it never even happened."
SERVPRO is Ready 24/7
When you experience water damage after a sprinkler malfunction, firefighting efforts, or more, SERVPRO is Here to Help®. With over 2,100 franchise locations across the United States and Canada, there is a franchise near you. With the localized touch of a neighborhood restoration company but the resources of a national brand, look no further than the #1 choice in cleanup and restoration.
From water damage to fire damage, mold damage to biohazard cleanup, storm damage cleanup to construction services, SERVPRO is committed to providing elite cleanup and restoration services from beginning to end. With more than 50 years of experience across the SERVPRO system, let the specialists of SERVPRO help bring you peace of mind and restore your home or business to pre-loss condition, "Like it never even happened." Give your local SERVPRO a call today for 24/7 service year-round.
For more information, check out our FAQ and Glossary.
Sources:
https://www.nfpa.org/News-and-Research/Publications-and-media/Blogs-Landing-Page/NFPA-Today/Blog-Posts/2021/03/26/Sprinkler-System-Basics-Types-of-Sprinkler-Systems
https://www.nfpa.org/-/media/Files/Fire-Sprinkler-Initiative/Take-Action/Free-Downloads/Fact-Sheets/Sprinkler-Myths-and-Facts.ashx
https://www.nfpa.org/codes-and-standards/all-codes-and-standards/list-of-codes-and-standards/detail?code=13D
https://homefiresprinkler.org/fire-sprinkler-myths/
https://www.allegiantfire.net/news/top-3-myths-about-fire-sprinklers/https://blog.qrfs.com/213-fire-sprinkler-accidents-the-top-5-causes-of-discharges-and-leaks/
---