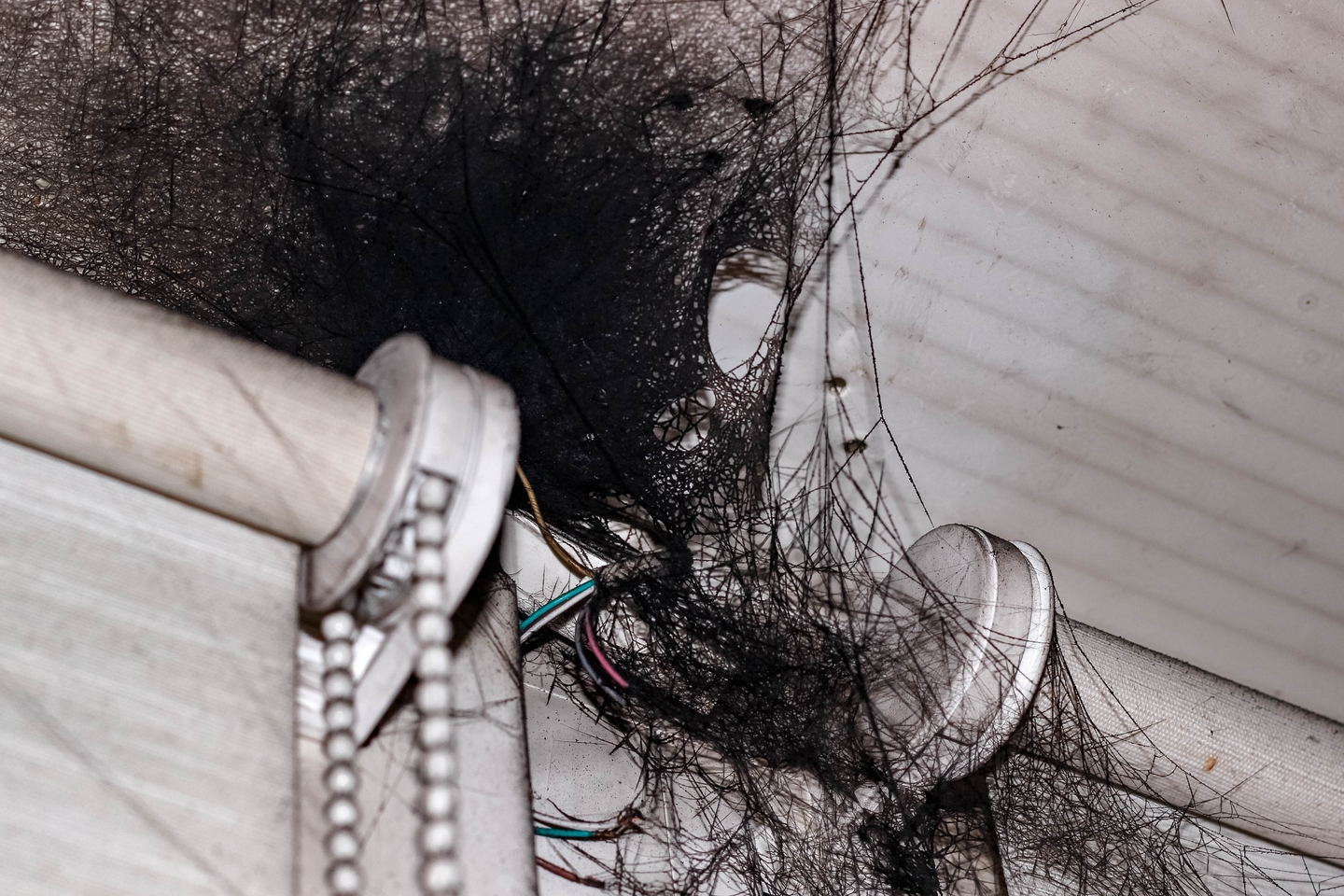 ---
We all know what soot is: that black smudge that often follows a fire, big or small, inside your house. You may have seen it after a candle loses its flame or the last ember dies out in your fireplace. However, when cleaning up an emergency fire's aftermath, you may notice a strange string of web-like chains across your wall.
At first glance, it may look like you might have a spider infestation on your hands. For those with arachnophobia, don't worry—these soot webs are actually strings of carbon and tar released from a fire called "soot tags." To help ensure you understand how to clean up a soot-related mess, here's a quick digest of everything you need to know about these fake spider webs or soot webs:
What are soot tags?
As fire restoration and remediation specialists, SERVPRO® professionals are used to seeing the unique and often creepy appearance of soot tags. More commonly called "smoke webs" or "smoke cobwebs," these patterns occur in low circulation areas after a fire. As the heat circulates into colder spaces, soot particles follow in chain-like formations and create webbed structures.
After a fire, you might think you have neglected to dust the house or the spiders have taken over your attic. But remember, soot tags are entirely new formations. In many cases, a fire will destroy any existing webs in your home. Though there may be the occasional exception, the mysterious nets are most likely created by soot.
How should I clean up soot tags?
Cleaning up after a fire can be tricky, and you probably want to get started right away. Still, the most critical thing to remember is to wait until professionals have cleared the space before entering.
The Hazards of Soot and Smoke
Spending any amount of extended time in an area that's recently had a fire can expose you to lingering soot and smoke. These particles can cause long-term damage to your health, among other concerns. Those with compromised immune systems or respiratory issues should take extra care to avoid these spaces. If necessary, a professional will provide you with the appropriate personal protective equipment to navigate the area safely.
After a fire, SERVPRO® team members will work with firefighters and other professionals to determine when it is safe for you and your family, colleagues, or friends to reenter a building. A thorough inspection by professionals before cleanup begins will help give you the peace of mind that the environment is safe and ready for entry.
Cleaning Up Soot Tags
Now it's time to get rid of those pesky soot webs. In many cases, it's recommended that you enlist the help of professionals to get rid of your soot damage—but we'll get to that in a moment. For a small, soot web, try the following:
Basic cleaning: use a mixture of dish soap, warm water, and a soft sponge to gently work away the soot webs. Soot tends to feel greasy, and excess agitation can cause more damage or stains.
Melamine sponges (Magic Erasers®): known as the magic tool of cleaning, melamine sponges are an inexpensive tool that helps remove tricky stains.
Remember to gently scrub as you clean: any harsh chemicals or movement can create an even greater problem.
When should I call professionals for help?
If the methods mentioned above aren't doing the job, consider calling in the professionals. At SERVPRO®, we offer comprehensive fire damage cleanup and remediation to get you back in your home or space as quickly as possible.
Though we approach each project with a plan to meet our client's specific needs, depending on scope, size, and severity, the process often follows these seven steps:
Emergency contact: once you give us a call, the restoration process begins. Our professionals will ask you a series of questions to better understand the fire damage you've experienced, helping ensure we arrive onsite with the proper resources and equipment.
Inspection and fire damage assessment: SERVPRO® professionals will inspect and test the affected spaces, along with adjoining rooms. We want to ensure we fully understand the extent of all fire, smoke, and soot damage. This is a critical step in the process of developing a plan and appropriate course of action.
Immediate board-up and roof-tarp service: walls, windows, and roofs are often affected by fire damage. That's why SERVPRO® professionals are prepared to provide board-up and roof tarping services to protect missing windows or damaged walls or roofs.
Water removal and drying (if water damage is present): the water damage remediation process is started almost immediately upon arrival. Once most of the water has been removed, we'll place our dehumidifiers and air movers to assist in completing the drying process.
Removal of smoke and soot from all surfaces: removing smoke and soot damage from ceilings, walls, and other surfaces requires specialized techniques and equipment, which we're prepared to employ during the remediation process.
Cleaning and sanitizing: all restorable items and structures will be cleaned using a multitude of techniques and equipment to restore these pieces to pre-fire condition. Our fogging equipment and industrial air scrubbers are also used to remove odors from affected spaces.
Restoration: the final step involves returning your loss to pre-fire condition, "Like it never even happened."® Restoration may involve smaller repairs such as replacing painting or repairing drywall and carpet, or large-scale fixes like complete reconstruction of certain areas.
How can I learn more?
If you want to learn more about soot tags, our fire damage services, or other commercial cleaning services, reach out to your local SERVPRO® team today.
---
---