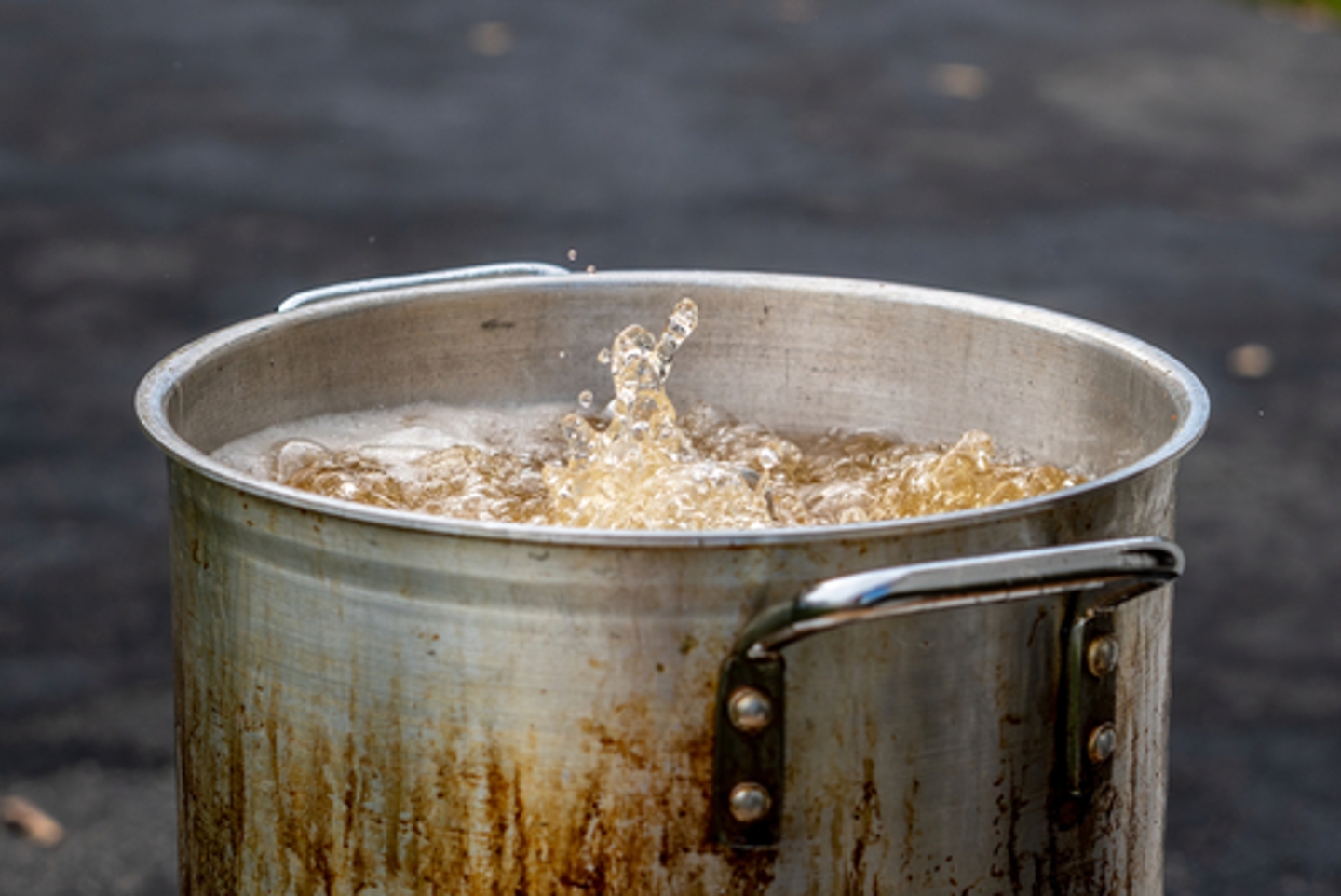 ---
Thanksgiving is a time to be together with friends and family, share stories, good food, and maybe even enjoy a nap afterward with a full stomach! For most people, the turkey is the centerpiece. In fact, approximately 45 million turkeys are consumed each Thanksgiving, according to the U.S. Department of Agriculture.
Outside of traditionally cooking a turkey in the oven, more and more folks have started frying their turkeys, giving them a unique flavor as each "chef" puts their own spin on this famous bird. The problem is, mixing oil and frozen turkeys can sometimes cause trouble. So, how do you avoid burning yourself or your property when frying a turkey? What are the recommended safety tips? You've come to the right place to find out.
Turkey Thanksgiving Fire Statistics
The numbers speak for themselves. According to the National Fire Protection Association, the Austin Fire Department, and State Farm:
More cooking fires take place on Thanksgiving than any other day in the year.

More than three times the daily average of home cooking fires occur on Thanksgiving (Christmas Day and Christmas Eve follow in second and third place, respectively, with both having almost twice the daily average).

On Thanksgiving Day 2021, approximately 1,160 home cooking fires were reported to fire departments across the United States. That's a 297% increase over the daily average.
U.S. fire departments respond to more than 1,000 fires a year involving deep fryers.
On average, deep fryers cause an average of five deaths, 60 injuries, and more than $15 million in property damage every year.
Unattended cooking is the leading contributor to cooking fires and fire deaths.
Cooking causes half (53%) of all reported home fires.
Almost two of every five (38%) home fire injuries are due to cooking; it is also a leading cause of home fire deaths (18%).
Seven Safety Tips to Avoid a Thanksgiving Fire
The good news is, there are ways you can help lessen your chances of frying a turkey incorrectly. According to the National Fire Protection Association, the following tips can help you be more prepared and lessen your chance of a turkey frying fire (these rules also apply to cooking and kitchen safety in general):
Regularly test your smoke alarms so they can alert you if a fire starts in your kitchen.
Don't leave the kitchen when cooking. It is important you are present so you can watch the food and react immediately if a pot overflows or an emergency happens.
The same rule applies when cooking or frying a turkey. Don't leave the area, and routinely monitor it.
Keep children away from stoves (at least three feet), especially when cooking.
Keep children away from hot liquids and food when cooking. Steaming or splashing from coffee, gravy, vegetables or more could cause severe burns.
Make sure electric cords from coffee makers, plate warmers, electric knives, mixers, and more aren't hanging off your counter. They could be inadvertently grabbed by a child.
Don't ever leave children alone in a room with a lit candle.
Make sure matches and utility lights are stowed high up in a locked cabinet, where children can't reach.
How to Safely Fry a Turkey
While the NFPA advises against frying a turkey yourself (since it can cause severe burns, injury, and death, not to mention severe fire damage to your property), a fire department chief in Charleston, South Carolina named Mike Julazadeh outlines the following tips if you still choose to fry turkey yourself, courtesy of PBS foods. The following are also turkey fryer fire safety tips from the Austin, TX Fire Department:
Set the fryer at least 10 feet away from your property: Ultimately, you'll want to stay a safe distance away from your home when you fry. Make sure the fryer is set up at least 10 feet away from your home, and never leave it unattended. Keep children and pets safely away. Don't use the fryer on a wooden platform or deck.
Fry on flat ground: When frying the turkey, it is important the oil is kept even and steady in the fryer. Make sure the area is flat and level so you can accurately use the right amount of oil.
Only use a defrosted, thawed, or fresh, dry turkey: In other words, never submerge a frozen turkey in hot oil, or you risk a severe fire. The turkey should be completely dried and thawed by the time you fry it.
Regularly monitor the oil temperature: While the turkey is frying, be careful when you touch any part of the fryer, as the lid and handle may be extremely hot. Keep in mind, most fryers don't have their own thermostat, so you will need to use your own to monitor the oil temperature.
Have a fire extinguisher ready: Always have a fire extinguisher on standby in the event the oil ignites, and call 911 immediately. The extinguisher should be dry powder, multi-purpose, and approved for grease fires.
Avoid putting too much oil in the fryer: Any extra water will make the bubbling oil spill over once you lower the turkey in. If this oil touches the burner, it could cause a fire. To help avoid a fire, use the fryer's owner manual to determine the correct amount of oil.
Water and oil don't mix (and remember, ice is frozen water): If a fire occurs, don't use water or ice to try extinguishing it. When ice and oil meet, the water vaporizes, causing steam bubbles to pop and spray hot oil.
Yes, SERVPRO® Will Clean Up After a Turkey Fryer Fire
Not only does your local SERVPRO franchise clean after turkey frying fires, but no type of fire damage is off the table. Since 1967, SERVPRO has cleaned and restored hundreds of thousands of properties struck by fire damage. With elite equipment, proprietary products, and decades of experience across the system, there is no job too big or too small. When you reach out to your local SERVPRO, a seven-step fire restoration process will be followed:
Emergency Contact: When you first reach out to your local SERVPRO franchise, a specialist will ask you various questions to determine the right equipment and personnel to send over.
Inspection and Fire Damage Assessment: When technicians arrive, they'll assess the area, including adjoining rooms to the fire event itself. This helps determine the extent of fire, smoke, and soot damage, as well as develop a plan of action.
Immediate Board-Up and Roof Tarping Service: In the aftermath of fire damage—even turkey fryer fire damage, which may have occurred in your garage—walls, windows, and ceilings can suffer significant damage. In this case, SERVPRO technicians will implement a roof tarping and board-up service to help protect against vulnerabilities and enhance security while restoration takes place.
Water Removal and Drying (if water damage is present): When fire wreaks havoc on your property, after firefighters leave, the property may have water damage. While water removal typically begins almost immediately, it is SERVPRO's goal to remove most of the water, then use dehumidifiers and air movers to fully dry the space.
Removal of Smoke and Soot from All Surfaces: Using specific tools, equipment, and methods, SERVPRO technicians will work to remove smoke and soot from walls, ceilings, and other surfaces.
Cleaning and Sanitizing: SERVPRO technicians will make every effort to thoroughly clean all restorable structures and items, returning them to pre-fire condition with a variety of cleaning techniques.
Restoration: The last step involves any minor repairs, like painting, carpet cleaning, or significant reconstruction of entire rooms or portions of the property, whether commercial or residential. SERVPRO franchises are equipped to provide elite service for jobs both big and small.
SERVPRO is Ready 24/7
As turkey frying becomes more and more popular for Thanksgiving, it is important to remember to practice fire safety before you dunk a bird into a boiling pot of oil. Unsafe turkey frying is known to cause fires and injuries.
Thankfully, SERVPRO is Here to Help® if your property suffers fire damage on Thanksgiving, or any other holiday. Since 1967, our professionals have been committed to helping with our proprietary products and top-tier cleaning equipment. SERVPRO franchises are equipped to provide a variety of services. This includes water damage cleanup, construction services large and small, document restoration, deodorization services, biohazard cleanup, and more. Operating year-round, SERVPRO is here for you on Thanksgiving and beyond.
Our FAQ and Glossary offer more information about SERVPRO, cleaning, and restoration. Please visit to read more.
Sources:
https://www.austintexas.gov/sites/default/files/files/Fire/Articles/TurkeyFryerFiresStats.pdf
https://www.nfpa.org/Public-Education/Fire-causes-and-risks/Seasonal-fire-causes/Thanksgiving
https://www.pbs.org/food/features/five-safety-tips-for-deep-frying-turkey/
https://www.usda.gov/media/blog/2017/11/22/tips-and-resources-bacteria-free-thanksgiving
---