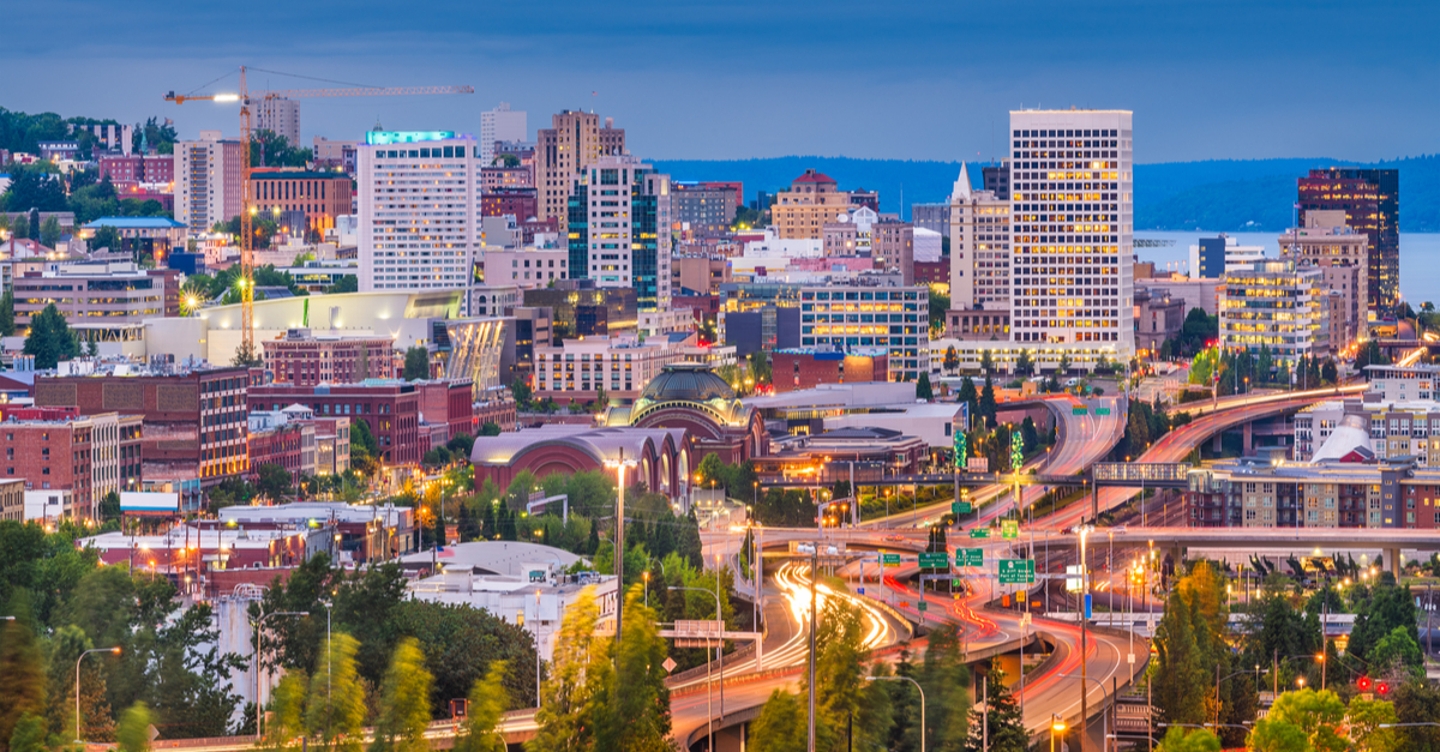 Tacoma's Cleanup and Restoration
Commercial and Residential Damage Cleanup and Repair
When Water Damage, Fire or Storms Happen in Tacoma, We're Ready.
Whether you're looking for restoration, cleaning or construction services, we're here to help 24/7.
Often called the "City of Destiny," Tacoma, Washington, located just south of Seattle on the Puget Sound, is rife with beautiful views, museums, and outdoor activities including hiking and cycling. From the Port of Tacoma to the mysterious and alluring Mount Rainier, to numerous historical landmarks scattered throughout the city, this region on the water is a beautiful sight to behold, one that makes you want to get outside and explore. Interestingly, Tacoma is also located in one of the rainiest regions in the United States, which means water and flood damage, mold infestations, and further disasters can occur at any time in your home or business. That's why residents and business owners of the Tacoma area need certified remediation professionals on standby, ready to service their cleanup and restoration needs at a moment's notice. And that's where SERVPRO® comes in.
24-Hour Emergency Service

Tacoma often sees the effects of a perpetually cloudy sky, including intense precipitation, storm damage, flood damage, mold infestations, and fire and smoke damage. From temperate springs and summers to winters bringing snowstorms and biting winds, Tacoma's 200,000 residents expect fast and efficient cleaning and restoration services after one phone call.
Thankfully, highly trained restoration professionals are available year-round, as many of our 1900+ franchises are somewhere nearby. When it comes to your residential or commercial space, SERVPRO is Faster to Any Size Disaster, equipped with the necessary advanced equipment. And they're available to help right now.
Our highly rated specialists are:
Highly Trained Water, Fire and Mold Restoration Technicians
IICRC – Certified Restoration Specialists
Recommended by most Insurance Companies
Faster to Any Size Disaster
Residents and business owners in the Tacoma area know disasters including water and flood damage can strike at any time. With the city getting nearly 40 inches of rain per year, those in low-lying neighborhoods know flooding is often imminent. That means having a water removal specialist on standby is paramount, being that the storm water pipes configured throughout the city flood more often than the Duwamish River. That's why, from Chelan to Douglas, Mason to Skagit, and everywhere in between, SERVPRO is prepared to be onsite within one hour, ready to clean up, restore, and mitigate any sized disaster, making it look "Like it never even happened." ® We're here 24/7/365, so contact us today.
SERVPRO, The Best Restoration Services in the Tacoma Area
Locally Owned and Operated
Trusted Leaders in the Water Restoration Industry
Advanced Water Inspection, Extraction, and Drying Equipment
Have Questions? We're Here to Help®
When homes and businesses across Island County, King County, Kitsap County, and Pierce County require the best water, fire, and mold restoration service provider, call SERVPRO. You can count on our area franchises to work with your insurance company and handle your water removal, water extraction, and storm damage restoration needs. And, should you fear mold growth has occurred, our teams are ready to inspect, assess and remediate your property. There is an independently owned and operated SERVPRO location near you. We are available 24/7, 365 days a year, so click now to let us help you.

When homes and businesses require the best restoration service provider, SERVPRO is ready.
Our locally owned and operated SERVPRO franchises are available 365 days a year, 24 hours a day. Give us a call, and we will make it "Like it never even happened."®
Our commercial cleaning professionals are trained to follow CDC protocols for all types of specialty cleaning services for hazardous materials including the novel coronavirus, biohazard, and mold removal.
Click to contact your local SERVPRO for a free, no-obligation consultation with our team of IICRC certified damage restoration specialists. No matter the amount of damage, SERVPRO has over 50 years of experience and over 1900 franchises nationwide.
Recommended For You
Restoring your home or business after fire damage is our main goal. As a leading fire dama...

Mold can grow anywhere. Trust SERVPRO® for reliable mold remediation, abatement, and resto...

Keeping your commercial business looking its best is a priority. When your business requir...