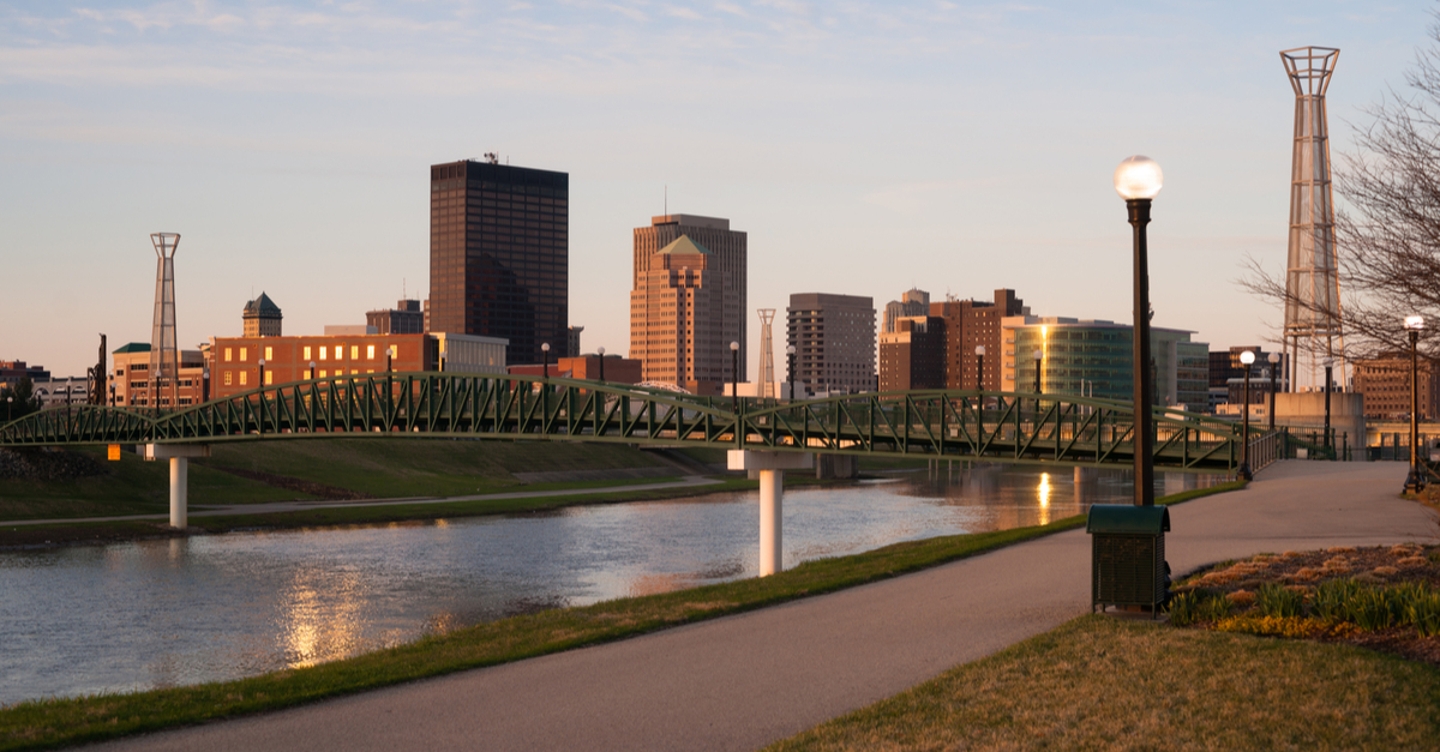 Dayton's Cleanup and Restoration
Commercial and Residential Damage Cleanup and Repair
When Water Damage, Fire, and Storms Happen in Dayton -- We're Ready
Currently the sixth-largest city in Ohio, Dayton is a relatively quiet city often overlooked by its larger siblings throughout the state, but still one that packs a punch. From its famous resident Orville Wright (of the Wright Brothers) to its major stake in the healthcare industry, this is a thriving city with a past rooted in powerful history, and a focus on the future. Unfortunately, water and flood damage, fire damage, mold infestations, and biohazard dangers can strike at any time. That is why the residents and business owners of Dayton require a top-tier cleanup and restoration company available at a moment's notice. And thankfully, that is just what SERVPRO® provides. With nearly 2000 franchises across the United States and Canada, you can rest assured one is never far away. So, when disaster strikes, give us a call. We will be there within one hour and would love to show you why one of our mantras is: Here to Help.®
24-Hour Emergency Service
The Gem City (or as it is otherwise known, the Birthplace of Aviation) is home to the National Museum of the United States Air Force, and features an attractive economy perfect for both recent college graduates, and others looking to find a new city to settle down in. From downtown's Second Street Market to long-standing venues like The Neon movie theater, this city is perfect for both younger and older crowds, one full of pride in their sports teams and love for their numerous, breathtaking bike trails and flourishing art scene. When it comes to weather, Dayton experiences bitterly cold winters and warm, muggy summers. Snowfall is moderate and typical from November to March (blizzards are known to happen in this region), while intense thunderstorms and tornadoes are common from spring to fall.
Our highly rated specialists are:
Highly Trained Water, Fire and Mold Restoration Technicians
IICRC – Certified Restoration Specialists
Recommended by most Insurance Companies
Faster to Any Size Disaster
When water and flood damage strike, our independently owned and operated franchises will perform a complete water removal and extraction process. Whether you have experienced burst pipes, or flood damage from melting snow, our drying equipment, and restoration services are prepared to remove both standing and black water from your home or business. When it comes to mold growth, your indoor air quality is of the utmost importance, which is why we will utilize our specialized equipment to ensure any mold spores and additional growth are mitigated. Where fire and smoke damage are concerned (often as a result of storms and tornadoes), our restoration process will restore your property to prefire condition and make sure that after the fire department leaves, all soot and smoke odor is fully remediated. Ultimately, we are prepared to work with your insurance company and keep all parties informed of the restoration process.
Whether you are in Auglaize, Clark, Logan, Preble, or somewhere in between, SERVPRO stands on more than 5 decades of experience and has the best equipment to ensure your property is fully restored to pre-loss condition. Our franchises are always Here to Help®, so when disaster strikes, know you can call us at any time, and we will be there to help give you peace of mind and provide the best in cleanup and restoration services.
SERVPRO, The Best Restoration Services in the Dayton Metro Area
Locally Owned and Operated
Trusted Leaders in the Water Restoration Industry
Advanced Water Inspection, Extraction, and Drying Equipment
Whether you are in Greene County, Miami County, or perhaps Montgomery County or a surrounding area, rest assured you can reach us at all hours of the day. Whether 3 in the morning or 3 in the afternoon, whether weekend, holiday or just after work, we are Faster to Any Size Disaster and would love to show you why we are the #1 choice in cleanup and restoration. Ultimately, when disaster strikes, do not hesitate to reach out.
Have Questions? We're Here to Help®
Our locally owned and operated SERVPROs are available 365 days a year, 24 hours a day. Give us a click or call, and we will make it "Like it never even happened."®

Our commercial cleaning professionals are trained to follow CDC protocols for all types of specialty cleaning services for hazardous materials including the novel coronavirus, biohazard, and mold removal.
Click to contact your local SERVPRO now for a free, no-obligation consultation with our team of IICRC certified damage restoration specialists. No matter the amount of damage, SERVPRO has over 50 years of experience and over 1900 franchises nationwide.
Recommended For You
Restoring your home or business after fire damage is our main goal. As a leading fire dama...

Mold can grow anywhere. Trust SERVPRO® for reliable mold remediation, abatement, and resto...

Keeping your commercial business looking its best is a priority. When your business requir...