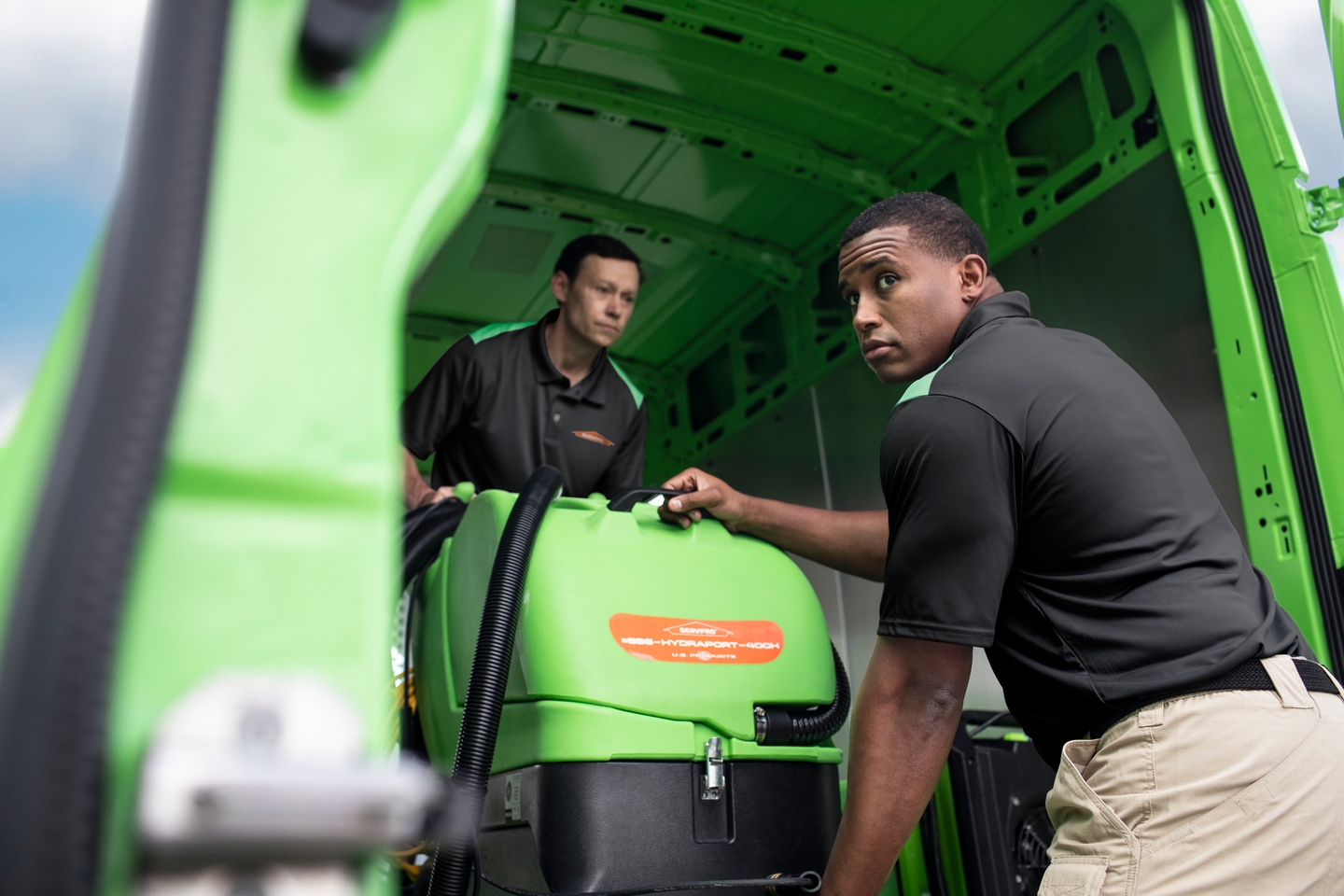 Stockton's Cleanup and Restoration
Commercial and Residential Damage Cleanup and Repair
When you need Water Damage, Fire or Storm Damage Restoration in the Stockton area, We're Ready.
Whether you're looking for restoration, cleaning or construction services, our teams are here to help 24/7.
Stockton, California is a city of rich history that sits between San Francisco and Sacramento. Due to its low cost of living and growing economy, many companies have set up shop in this unique city, and it continues to attract new residents year-round. A product of the California gold rush that saw to its rapid proliferation in the mid-1800s, Stockton continues to develop and thrive as one of the Golden State's premier cities. Unfortunately, even Stockton residents and business owners are not immune to the travails of water and fire damage, mold damage, biohazard dangers, and more. So, when you are struck by disaster, trust in SERVPRO® to make it "Like it never even happened." ® Our locally owned and operated franchises maintain 24/7 availability year-round, so we are always ready and here to help.
24-Hour Emergency Service
Located in upper-central California, Stockton (or, as it's often called, "Tuleburg") is filled with unique sights like the famous Miracle Mile, a mighty strip of businesses and restaurants which continues to grow each year. Other interesting facts about Stockton include the fact that the Stockton Symphony is one of the state's oldest performing art troupes. Furthermore, Stockton is home to numerous museums perfect for a rainy day, such as the Haggin Museum, which displays art from 19th and 20th century artists. When disaster strikes, Stockton residents and business owners require elite cleanup and restoration professionals, ready to service both small and large jobs at a moment's notice.
Our highly rated specialists are:
Locally Owned and Operated
Stockton's weather includes hot, dry summers and cool winters. Given Stockton's location, it fluctuates between milder, more Mediterranean-type weather and dryer, desert-like conditions. Additionally, Tule Fog is known to drape the area periodically, which can cause severely low visibility and prove quite dangerous. The period of October to April sees the most precipitation, while summers receive excessive sun, often above 100 degrees.
When water damage strikes homes and businesses in Stockton, whether from a burst pipe or flood damage due to excessive rain, our restoration services include locating the affected area, extracting the water, and using our drying equipment to ensure the damage to your property is fully remediated, and the water source is either stopped or no longer a threat (in the case of storms, for example). Unfortunately, water damage often causes mold growth because of excessive moisture. When mold spores grow in places such as air ducts, ceiling tiles, and on other porous surfaces, our technicians will employ our mold remediation process, which involves utilizing our HVAC systems to ensure your indoor air quality is restored. As for fire and smoke damage, our 24-hour services include complete commercial property restoration, as well as smoke, soot, and smoke odor removal. Lastly, remember we are always prepared to work with your insurance company, to ensure a smooth restoration experience.
SERVPRO, The Best Restoration Services in the Stockton Area
Locally Owned and Operated
Trusted Leaders in the Water Restoration Industry
Advanced Property Damage Inspection, Water Extraction, and Drying Equipment
No matter the time of year, residents and business owners in Stockton can experience water and fire damage, mold growth, biohazard dangers, and more. But SERVPRO® is always nearby and ready. From San Joaquin to Amador, Colusa to Plumas, and everywhere in between, our restoration technicians receive ongoing training at the SERVPRO® corporate training facility and arrive to each job with the knowledge and equipment to handle any size job. Leave it to us to return your space to preloss condition, "Like it never even happened." ®
Our locally owned and operated SERVPRO® franchises are available 365 days a year, 24 hours a day. Give us a call, and we will make it "Like it never even happened."®
Our commercial cleaning professionals are trained to follow CDC protocols for all types of specialty cleaning services for hazardous materials including the novel coronavirus, biohazard, and mold removal.
Contact your local SERVPRO® for a free, no-obligation consultation with our team of IICRC certified damage restoration specialists. No matter the amount of damage, SERVPRO® has over 50 years of experience and over 2000 franchises nationwide.
Recommended For You
Restoring your home or business after fire damage is our main goal. As a leading fire dama...

Mold can grow anywhere. Trust SERVPRO® for reliable mold remediation, abatement, and resto...

Keeping your commercial business looking its best is a priority. When your business requir...