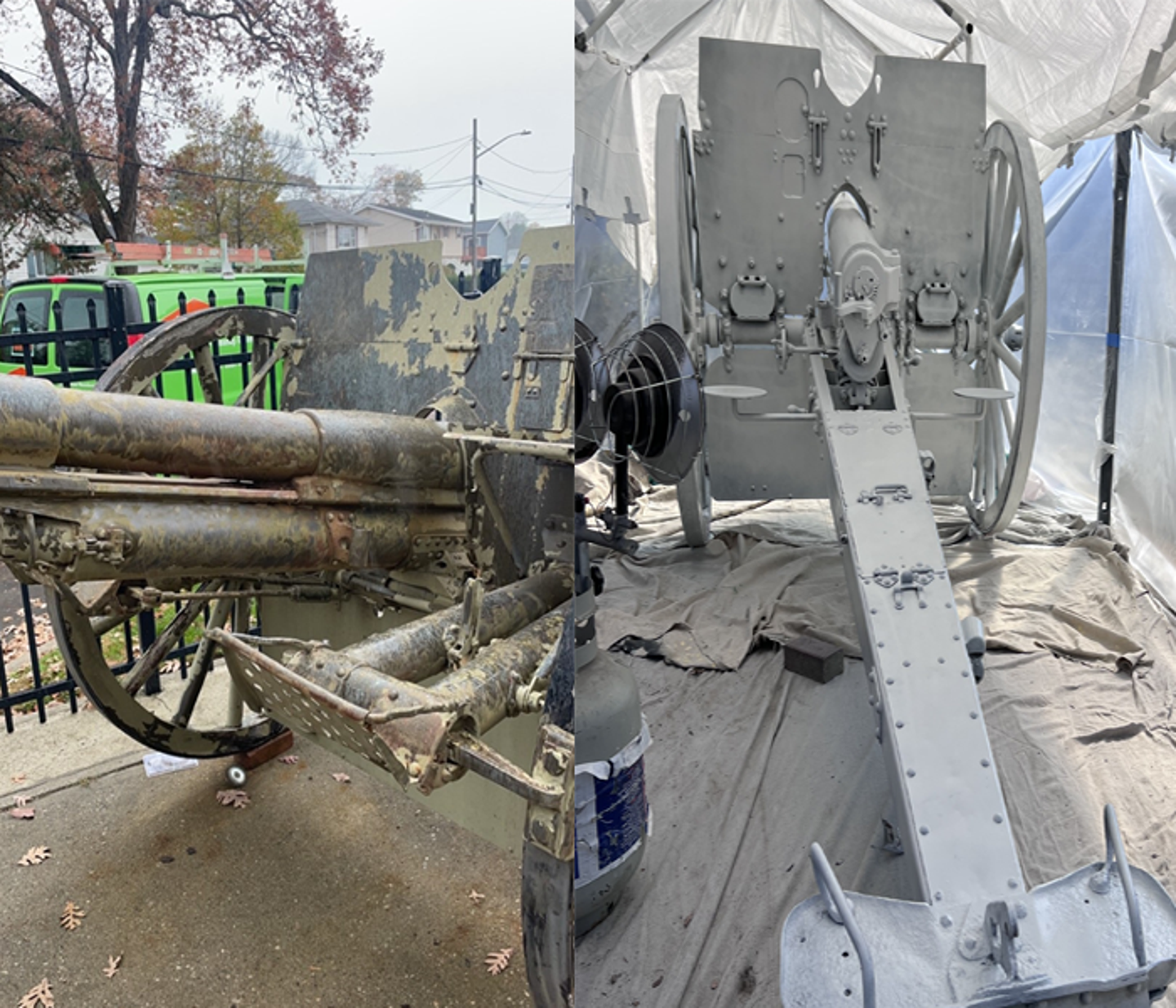 ---
There are common cleanup and restoration jobs that SERVPRO handles on a regular basis, such as water damage remediation, then there are unusual ones. So, what do you do if your home or business is hit with the latter? As the #1 choice in cleanup and restoration, SERVPRO is ready around the clock for common and uncommon kinds of jobs. In this article, we highlight some extreme jobs you may not see every day!
Historical Cannon Restored for Local Veterans
When veterans in New York needed a cannon restored, the local American Legion called SERVPRO of Babylon/Deer Park. SERVPRO restoration professionals successfully restored a 1901 Howitzer Cannon by first sanding the old paint off the cannon by hand, then removing the fencing that enclosed the cannon. Lastly, they set up a makeshift spray booth and painted it military green.
Check out their Facebook page to see the transformation.
New York Tunnel Restoration Caused by Car Fire
After a car caught on fire inside the Dwight D. Eisenhower Lock in Massena, NY, SERVPRO of Jefferson County was contacted and tasked with cleaning 600 feet of white subway tile.
Check out their Facebook page for more.
Military Hangar Covered in Fire Foam
In Georgia, crews at a military base were surprised to find something other than planes in a military hangar. A malfunction in the fire sprinkler system resulted in a flood of foam in the 75,000 square foot maintenance hangar, causing mountains of foam to reach 20 feet high.
After SERVPRO of Buford/Suwanee/Hamilton Mill was contacted, their cleanup and restoration professionals effectively and efficiently restored the space so that operations could resume as soon as possible.
Check out this work and more of their incredible photos of restorations on the SERVPRO of Buford/Suwanee/Hamilton Mill Facebook Page.
Extreme Mold Cleanup
In Arizona, after a homeowner discovered mold, they contacted SERVPRO of Central Phoenix to do an inspection. Despite the abundance of mold, their professional mold removal technicians were able to effectively and efficiently remediate the damage.
Mold damage can wreak havoc on residential or commercial property. Not only can it damage your belongings, but it can also cause health effects. When mold is present, it is crucial to take action immediately.
For your residential and commercial mold remediation needs, SERVPRO is Here to Help®. Rest assured, SERVPRO can handle any size job.
SERVPRO is Here to Help 24/7, 365
For over 50 years, SERVPRO has proven time and again there's no job too big or too out-of-the-ordinary for our cleanup and restoration professionals. Let our dedicated technicians assist with all types of cleaning services, including water damage, fire damage, storm damage, mold remediation, as well as construction services.
The life-changing and meaningful work we've done for over half a century is a testament to our reputation, who we are, the quality work we do, and what we represent. Our reputation is something we take pride in, that we've relentlessly and intentionally worked on and earned over the course of more than 50 years. SERVPRO is the #1 cleanup and restoration company for a reason.
With over 2,100 franchises across the United States and Canada, SERVPRO is here to help you and your family in times of dire need, 24/7, 365. No matter your location, there's a SERVPRO franchise nearby, with restoration professionals available year-round.
No matter if you need a stadium cleaned, an airport, a plane, a diesel truck bed, or more, SERVPRO has you covered. We are ready to deploy at any time to clean and restore your home or business. You can find a local SERVPRO near you by using our franchise locator tool. Contact us anytime for your cleanup and restoration needs.
For more information, visit our FAQ and Glossary.
Sources:
https://m.facebook.com/servproofcentralphoenix/photos/a.1329038207217100/3648049055315992/?type=3&_rdr
https://www.facebook.com/ServproBabylonDeerPark?fref=mentions&ref=embed_page
https://www.facebook.com/Servprobuford
---