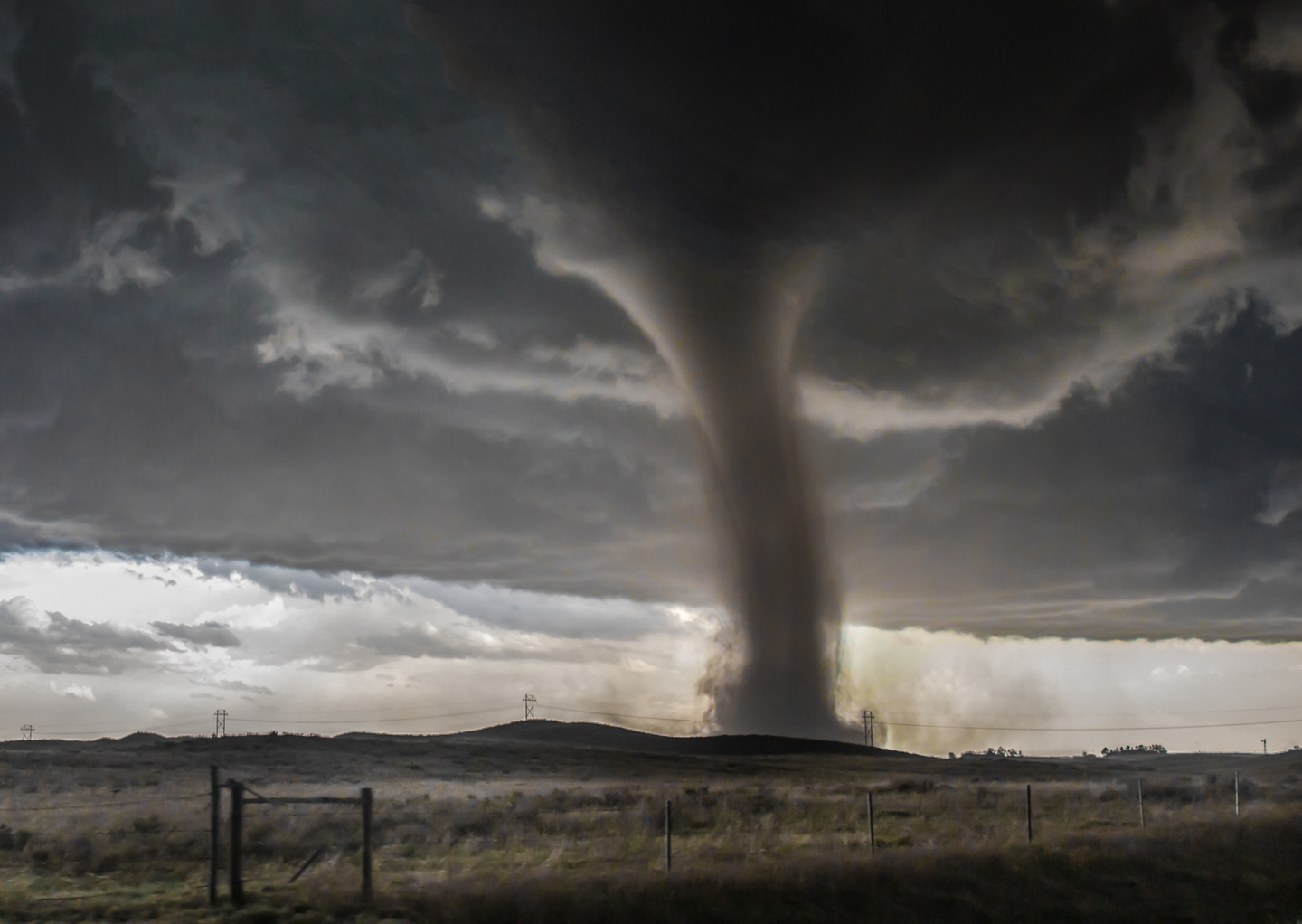 ---
Many of us are all too familiar with tornadoes and their associated thunderstorms, hailstorms, and the property damage these cause. In fact, it's common to learn at an early age how best to prepare for these frequent natural disasters. Some general tips include going into your basement (if you have one) or navigating to a room without windows, staying low, and covering your head. While these basic facts are certainly helpful to remember, there are many additional facts and helpful tips you may not be aware of when it comes to these potentially violent weather events and their subsequent damage.
Definition of a tornado
On a basic level, a tornado is a forcefully rotating column of air, descending from the clouds of a thunderstorm. This column of air is commonly referred to as a funnel cloud. The Enhanced Fujita scale measures the strength of a tornado's wind, from EF-0 to EF-5, with EF-5 being the strongest. Tornadoes have occurred in all 50 states, as well as Canada; while tornado season varies depending on where you live in the country, it most frequently occurs in the springtime for many states, specifically March through June. In an average year, over 1,000 tornadoes are reported in the United States.
Although tornadoes have occurred in all 50 states, they most commonly occur in an area known as "Tornado Alley." However, it's important to note that the states comprising Tornado Alley, as well as those outside it, experience tornadoes at different times of the year. For example, the southern plains, including Texas, Oklahoma, and Kansas, tend to experience tornadoes in late May and early June, whereas the northern plains and upper Midwest states, including North and South Dakota, Nebraska, and Iowa, tend to experience tornadoes in June or July. This serves as an important reminder to always stay alert for tornado warnings from the national weather service when it comes to your local weather, as tornadoes can strike outside their typical patterns.
Thunderstorms can bring hailstorms and tornadoes
Tornadoes are often accompanied or precipitated by severe thunderstorms, including hail. Hail is considered a form of precipitation, as it's solid ice that forms during thunderstorm updrafts. When raindrops are carried upward and freeze, they collide with liquid water droplets; this process compounds and increases the inches in diameter of the hail size before its weight can no longer be supported by the wind, so it falls to the ground. Hail can be especially dangerous during high wind events like tornadoes, as it can blow sideways and become a hazard to properties, vehicles, animals, and people.
Hail Alley
Just as there is a Tornado Alley and the Dixie Alley which encompasses Mississippi through Tennessee, and Kentucky into Southern Indiana, there is a Hail Alley. This area known as Hail Alley includes the states of Nebraska, Colorado, and Wyoming; the area where these three states meet receives approximately seven to nine days of hail per year.
Hailstorm Protection Tips for Your Home and Family
Start with your roof. If it's more than five years old, it may be time for an inspection. This can include reviewing your shingles and ensuring nothing is loose or open, allowing water, hail, or other debris to enter your living space, as well as making sure no nails are weak or missing.
If you live in an area that receives frequent hail, consider investing in a hail-resistant roof made from metal instead of asphalt.
Ensure your vehicles are safely protected by moving them into a garage or covered parking area. If this isn't possible, place car covers around them using straps.
Evaluate your home for points of vulnerability, especially windows and doors. It's important you pay close attention to bolts or hinges that may become loose or come off during strong winds and hail. If necessary, fully replace these items in advance of severe weather. Consider installing storm shutters for hail protection.
Stay up to date on local and national weather, using resources such as The Weather Channel, National Weather Service, and NOAA.
If you are outside, seek immediate shelter. If possible, stay away from sloping terrain and waterways, as well as locations that could be conducive to lightning, such as hilltops, tall trees, and open fields.
SERVPRO® franchise professionals are equipped with top-tier restoration and cleaning equipment, prepared to respond to both minor repairs or full-scale home or business construction. With over 2,000 franchises across the United States and Canada, we're committed to servicing your disaster at all hours of the day. Although tornadoes often strike in the evening, rest assured our franchises are open 24/7, 365 days a year. Whether you experience a tornado or hail damage at your residence or commercial property on a holiday, weekend, or after midnight, we'll be there to assess the damage and prepare a plan of restoration. And with service technicians that undergo continual training, we are prepared for any size disaster, along with water, fire, or mold damage that may have occurred because of a tornado or hailstorm. We are always Here to Help and will work with you and your insurance company until your damage is returned to its preloss state, "Like it never even happened."®
---
Sources:
https://www.weather.gov/shv/awarenessweek_severe_tornadoes#:~:text=However%2C%20peak%20tornado%20season%20is,occurring%20during%20this%20time%20period.
https://www.nssl.noaa.gov/education/svrwx101/tornadoes/#:~:text=The%20U.S.%20tornado%20threat%20shifts,reported%20in%20all%20fifty%20states!
https://www.redcross.ca/how-we-help/emergencies-and-disasters-in-canada/types-of-emergencies/tornadoes/tornadoes-information-facts#:~:text=Tornadoes%20are%20most%20common%20in,winds%20in%20June%20and%20July.
https://www.nssl.noaa.gov/education/svrwx101/tornadoes/
https://www.nationwide.com/privateclient/loss-prevention/articles/seven-tips-for-protecting-your-home-from-wind-and-hail-damage
https://www.cdc.gov/nceh/features/tornadosafety/index.html#:~:text=Go%20to%20the%20basement%20or,blanket%2C%20sleeping%20bag%20or%20mattress.
https://www.nssl.noaa.gov/education/svrwx101/hail/
---