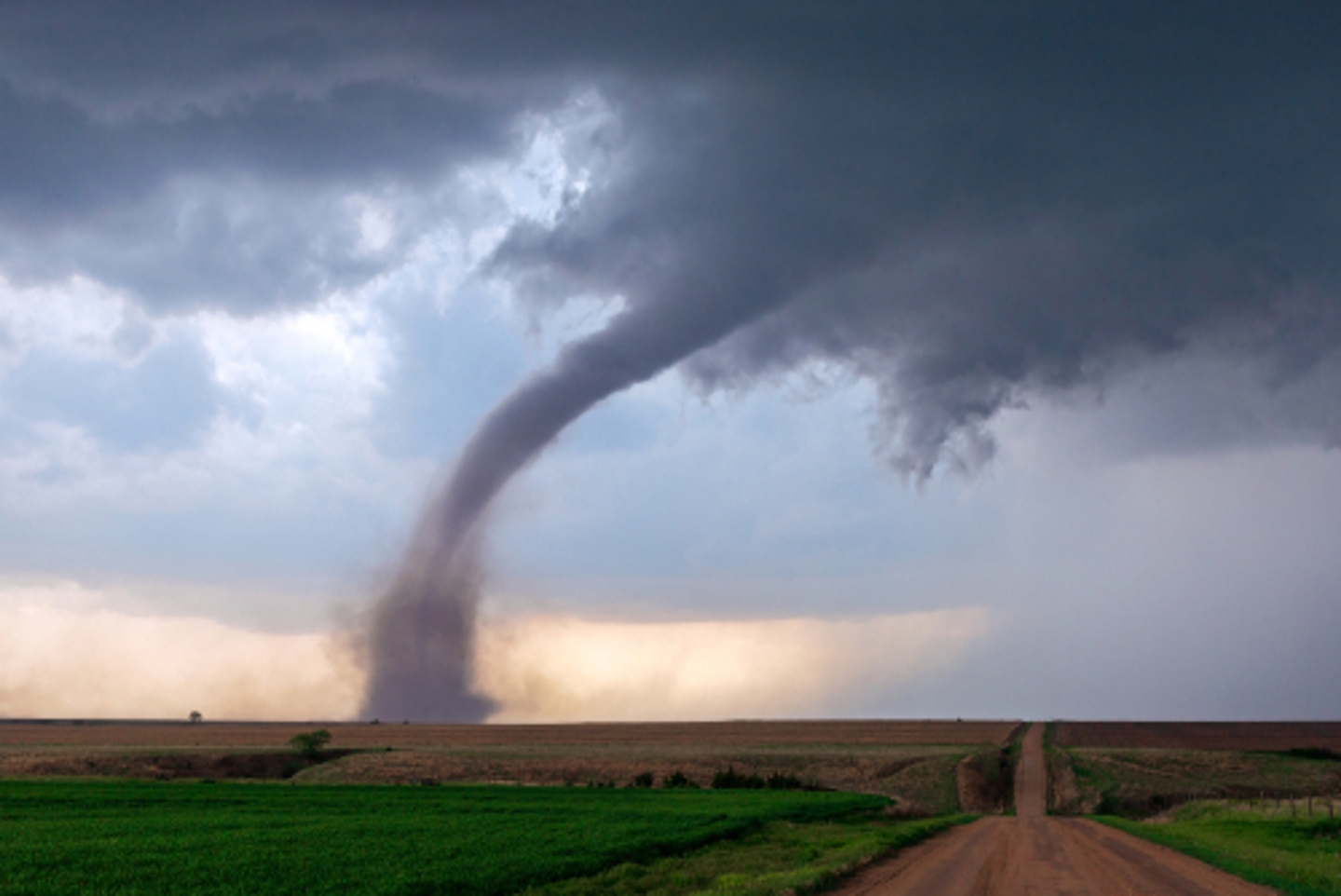 ---
Derechos and tornadoes are violent weather events that have the capability of causing intense damage to your home or business. But what defines these two events? In the wake of severe derechos across the United States, and continuous tornadoes throughout North America, this article breaks down the difference between the two events and outlines SERVPRO®'s services that can assist you in the aftermath.
Definition of a Derecho
According to the National Weather Service, a derecho is defined as "a widespread, long-lived wind storm that is associated with a band of rapidly moving showers or thunderstorms." Although they are like tornadoes in terms of wind, they tend to follow a straight path with a direct line of damage, whereas tornadoes are chaotic, more vertical, and "tighter" in nature, and can quickly move in different directions. Derechos are accompanied by "bow echoes," which are strips of quick-moving showers or thunderstorms (other terms for bow echoes include "quasi-linear convective systems" or "squall lines").
Experts at the Storm Prediction Center state that there are two types of derechos: serial and progressive. A serial derecho is often seen in the spring and fall. These derechos cover a large area, in both width and length, and are usually associated with strong, low-pressure systems. A progressive derecho is usually associated with a short line of storms or one singular "bow echo." They tend to remain narrower in length in comparison to serial derechos, although they may travel for hundreds of miles.
Further notable facts about derechos include:
They must reach wind gusts of up to 58 mph (or greater along its length) to qualify as a derecho. Gusts up to 130 mph have been recorded for derechos, which is equal to an EF2 tornado.

Derechos must extend either sporadically or continuously more than 400 miles in length, and 60 miles in width, to qualify.

The word "derecho" is Spanish for "straight ahead," "right," or "direct."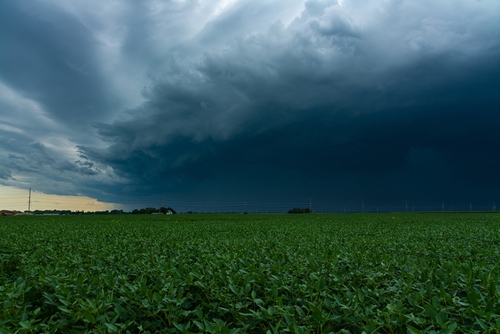 What is a Tornado
According to the National Weather Service, a tornado is defined as "a violently rotating column of air extending from the base of a thunderstorm down to the ground." They have occurred in all 50 states and can strike at all times of the day. However, they are most common in the southeast and Central Plains.
It is important to know the difference between a tornado watch and a tornado warning. A tornado watch means conditions are favorable for the development of severe thunderstorms capable of producing tornadoes. Conversely, a tornado warning means a tornado has been spotted by weather radar. In any case, preparation is necessary to ensure you and your family remain safe.
For information on the signs of tornadoes and how to prepare, visit our companion article.
How to Prepare for Derechos and Tornadoes
Given their similarities, there are general preparation tips that hold true for both derechos and tornadoes. While the following list is not all-inclusive, weather.gov offers the following tips:
Create a plan (such as the

SERVPRO Emergency Ready Plan

) so family members and/or employees know evacuation routes, methods of communication, and other high-priority information

Conduct thunderstorm drills regularly

Ensure loose gutters and shutters are secure

Trim tree branches away from your structure and power lines

Charge batteries for cell phones, radios, and other electronic items

Follow local news for need-to-know weather updates (consider listening to

NOAA Weather Radio

)

Sign up for local community weather alerts if they are offered in your area

Locate an interior room where you can take shelter

If you live in a mobile home, locate a sturdy building that offers shelter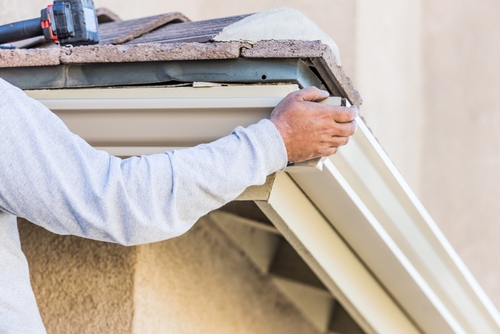 Does SERVPRO Clean After Derechos and Tornadoes?
SERVPRO is capable of cleaning after all manner of storm damage, large or small. This includes derechos and tornadoes. From water and fire damage to construction needs, SERVPRO technicians are trained and qualified to handle any size job. In fact, SERVPRO maintains a strategic network of storm damage teams across the country, available 24/7 for major weather events such as derechos and tornadoes.
We understand that oftentimes because of derechos, tornadoes, and other storm damage, secondary damage like water and fire issues can crop up. While safety is always top priority, after the damage passes, if you wish to safely begin the cleanup and remediation process while waiting for SERVPRO crews to arrive, we offer the following do's and don'ts.
Emergency water damage tips include:
Shut off the water source

, if safe to do so

Move paintings, art, and other valuable documents

to a safe, dry location

Hang furs and leathers

(at room temperature in a separate location)

Turn off circuit breakers

(in wet areas of the home, and only if you can safely access the power distribution panel)

Remove excess water

by mopping and blotting

Prop up wet upholstery

(remember, cushions should be propped up evenly for equal drying, and you should not put cushion covers in the washer)

Use aluminum foil for barrier

(or use wood blocks to place between wet floor and carpeting)

Do not enter affected areas

, as you run the risk of electrical shock

Do not use a household vacuum

for water removal; this can cause electrical shock or damage the vacuum

Do not turn on ceiling fixtures

if the affected room is wet or the ceiling is sagging
Emergency fire damage tips include:
Empty freezer and refrigerator

, and leave doors propped open to prevent odor

Wipe off soot
Limit movement

to avoid spreading and tracking soot particles throughout the property

Keep hands clean

to prevent further soiling of items

Do not wash walls

without consulting SERVPRO first

Do not shampoo carpet and upholstery

without consulting SERVPRO first

Do not clean electrical appliances

without consulting an authorized repair service first, or you run the risk of injury or further damage to the appliance
SERVPRO is Here to Help
®
With over 2,000 franchises across the United States and Canada, you don't have to worry if there is a location nearby. SERVPRO restoration professionals have over five decades of experience across the system and arrive to each job with the knowledge and equipment to tackle any size request. From minor storm damage cleanup to major construction jobs, SERVPRO has done it all. So, when your residential or commercial property is struck by a derecho, tornado, or any other manner of storm damage, and experiences water, fire, mold, or other damages, give us a call. We operate 24/7, 365 days a year, and are committed to returning your property to pre-loss condition, "Like it never even happened." It is our goal to restore the look, feel, and functionality of your property as efficiently and effectively as possible.
For more information, visit our FAQ and Glossary.
Sources:
https://www.weather.gov/lmk/derecho
https://www.weather.gov/safety/tornado
https://www.spc.noaa.gov/misc/AbtDerechos/derechofacts.htm
https://www.weather.gov/safety/wind-before
---