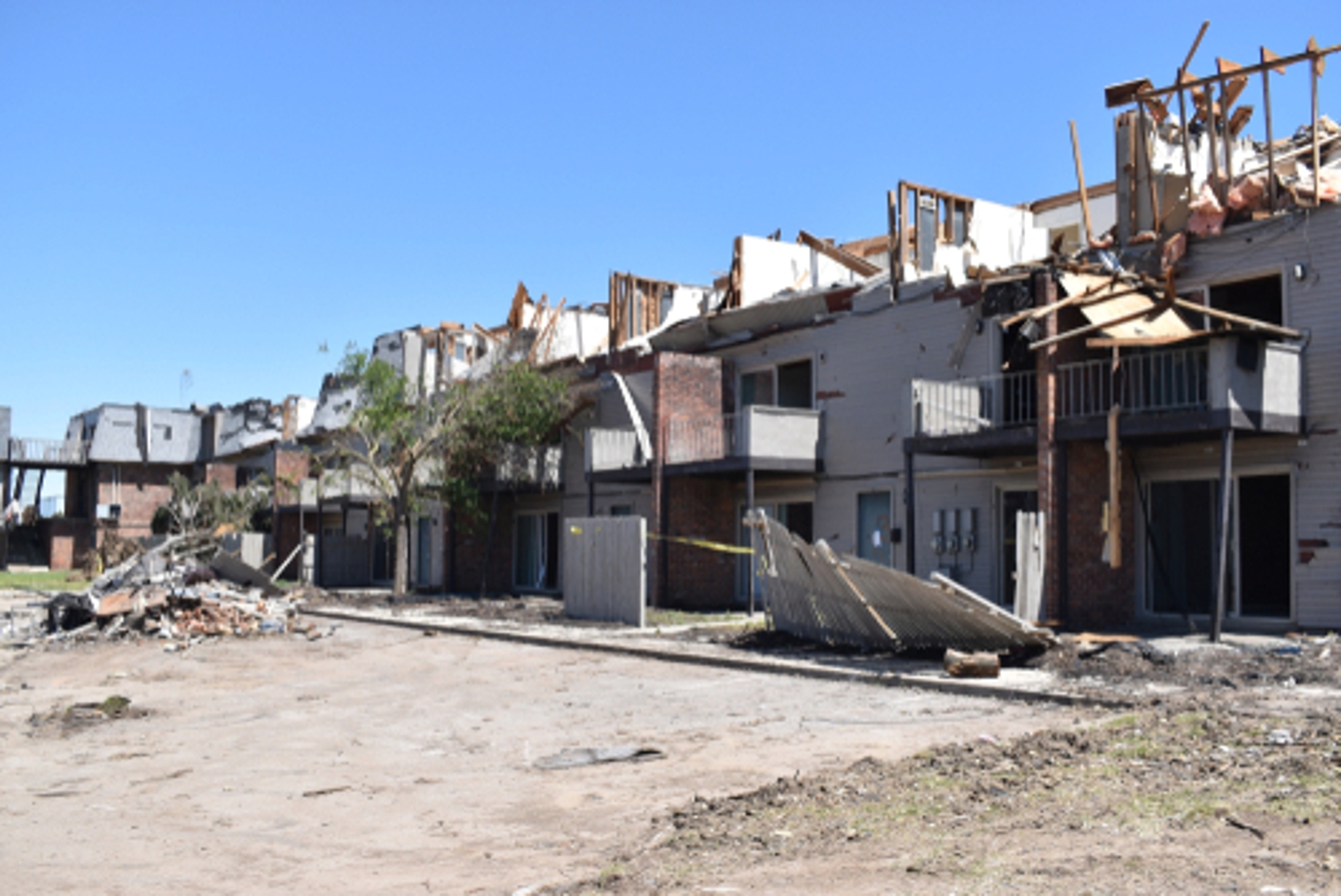 ---
Tornadoes are recognized as some of nature's most violent storms. According to the National Oceanic and Atmospheric Administration, the United States experiences an average of 1,200 tornadoes per year. These destructive funnels, born out of powerful thunderstorms, can result in fatalities and reduce communities to rubble in seconds. The aftermath of a tornado is frequently characterized by chaos and widespread destruction. The affected area becomes a fragile ecosystem where the necessities of life are disrupted. Power lines may lie mangled on the ground, rendering electricity inaccessible. Water supplies may be contaminated or disrupted, leaving residents without clean drinking water. Roads may be impassable, making it difficult for emergency responders and aid organizations to reach those in need.
When disaster strikes your home or business, SERVPRO® is Here to Help®. SERVPRO has professional storm teams ready to go immediately after a disaster. To help you stay better equipped, here are five initial measures to safeguard yourselves, your home, or your business in the aftermath of a tornado.
1) Stay Informed
Staying informed after a tornado is crucial for your safety and well-being. Local news updates, emergency alerts, and official instructions from local governments provide vital information about potential dangers, evacuation procedures, available resources, and the overall recovery process. Stay connected to local resources so you can increase your chances of staying safe and making informed decisions during the aftermath.
2) Evaluate Your Surroundings
After a tornado is over, it is crucial to assess and evaluate your surroundings to help ensure your safety and the safety of those around you. The Centers for Disease Control and Prevention makes the following suggestions:
Do not enter a damaged building until local authorities deem it safe. Leave your home or building if you hear shifting or unusual noises. Strange noises could mean the building is about to fall.
Beware of hazards from exposed nails and glass.
Carefully check your home or business's walls, floors, doors, windows, and staircases for damage. If you see structural damage, like cracks in the foundation or missing support beams, you may need to relocate to a shelter or another safe location.
Check gas, electrical, and water lines for damage. If you smell gas or see a broken line, shut off the main valve from outside.
Do not use matches, lighters, appliances, or light switches until you are sure there are no gas leaks. Sparks from electrical switches could ignite gas, causing an explosion.
If you see frayed wiring or sparks, or if there is an odor of something burning, you should immediately shut off the electrical system at the main circuit breaker.
3) Avoid Downed Power Lines
Staying away from downed power lines after a storm is crucial for personal safety. When dealing with a downed line, always assume the wire is live, even if there are no sparks or visible signs of electricity. Here are some important points to remember:
Call 911 to report the downed line.
Stay at least 30 feet away from all downed power lines. Additionally, avoid anything the line may be in contact with. It may still hold a charge from the downed line.Stay at least 30 feet away
Do not attempt to move or remove any objects, such as branches or debris, that are in contact with the power line.
Do not drive or walk over downed power lines.
4) Minimize Additional Damage Risk
When a storm or other emergency leaves your home or business open to the elements, it is important to act quickly to help prevent further damage. Once the structure has been deemed safe enough for you to enter, you can take some simple steps while waiting for help to arrive. Make sure to take measures to protect yourself during cleanup of your home or business. The American Red Cross suggests wearing thick soled shoes, long pants, and work gloves to reduce injuries. Here are some simple steps you can take to avoid additional tornado damage:
Cover any openings, such as broken windows or damaged roofs, with tarps or boards to prevent further exposure to the elements. This can help minimize water damage and protect against theft.
Move fabric and furniture away from windows or standing water.
Move any art, computers, documents, or other sensitive valuables to a dry place.
If you've lost power, empty the fridge and freezer completely to prevent odor.prevent odor
5) Contact a Professional
SERVPRO provides many of the services you may need after a storm strikes your area. SERVPRO professionals provide emergency roof tarping and board-up services to help prevent additional damage from the elements and provide security to your property. This service may be needed immediately if your property was damaged by falling trees, hail, high winds, tornado debris, or fire. A SERVPRO location near you offers 24/7 emergency service and is available to help. If you feel the damage is beyond your ability to handle, call your local SERVPRO professionals!
Here to Help 24/7
A tornado can be one of the most devastating events in your life. Trying to put back the pieces of your home or business after any destructive incident comes with fear, anxiety, and stress. That's where SERVPRO home or business construction comes in. Franchises are equipped with top-tier restoration and cleaning equipment, prepared to respond to any emergency situation. With over 2,000 franchises across the United States and Canada, SERVPRO is committed to servicing your disaster at all hours of the day.
When disaster strikes your property, know SERVPRO franchises are open 24/7, 365 days a year. If you experience a tornado at your residence or commercial property on a holiday, weekend, or after midnight, we'll be there to assess the damage and prepare a plan for restoration. And with service technicians that undergo continual training, we are prepared for any size disaster. We are always here to help and will work with you and your insurance company until your home or business is returned to its pre-loss state, "Like it never even happened."
For more information, visit our FAQ and Glossary.
Sources:
https://www.cdc.gov/disasters/tornadoes/after.html
https://www.firstenergycorp.com/help/safety/downed-power-lines.html
https://www.nssl.noaa.gov/education/svrwx101/tornadoes/
https://www.ready.gov/tornadoes
https://www.redcross.org/get-help/how-to-prepare-for-emergencies/types-of-emergencies/tornado.html
---