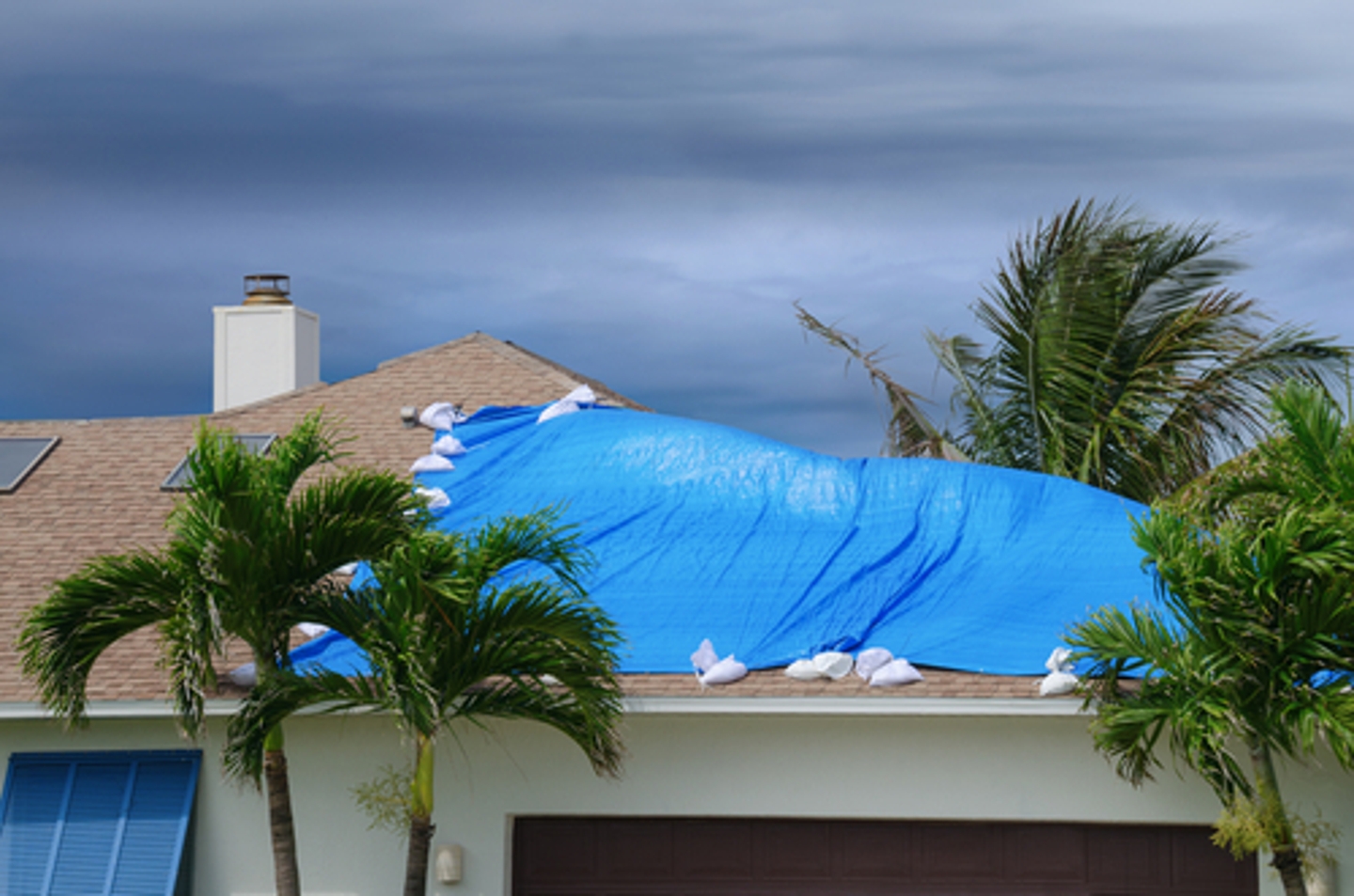 ---
Your roof is one of the most important parts of your property, and appropriate maintenance can go a long way in extending its life and ensuring you stay safe from the elements, leaks, and other unwanted damage. But tarping a roof is not as easy as throwing a tarp overtop it and calling it a day. There is a recommended process that will help ensure your roof is properly cared for.
Types of Roofs
Believe it or not, according to Homedit, there are 15 types of roofs. The style you have is usually dependent on budget, climate, architectural style, and location. It is important to know your roof type, so a cleanup and restoration company like SERVPRO can be well prepared when arriving onsite to provide roof tarping services.
Visit Homedit's site for pictures of the 15 roof types listed below:
Gabel

One of the most common types; two sloped sides form a triangle

Bonnett

Four slides and a slope at the bottom

Butterfly

Opposite of gable; two sloped sides go downward, forming a valley

Clerestory

Vertical row of windows at the top of the roof line; typically has a sloping roof above and beneath the windows

Gambrel

Two sets of symmetrically sloped sides

Hip

Four sloping sides that connect at a peak in the middle

Hip and Valley

Multiple hip sections meet in various valleys

Skillion

Single sloped surface that is flat

A-Frame

Resembles the letter "A" where two steeply sloped sides start at the ground and meet at the top

Mansard

Four hip sides, but each side has two slopes, so the roof looks curbed

Pyramid

Four sloped sides meet in a point at the top like a pyramid

Jerkinhead

Gable style, with clipped sections on the ends

Dutch Gable

Gable roof encompassed by a hip roof and four sloping sides

Shed

One sloping side

Lean-To

One steeply sloped side "leans" against the wall of an existing structure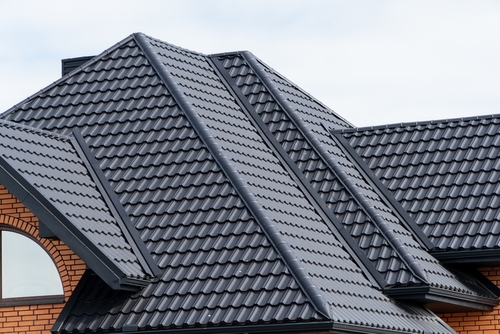 Why Do I Need a Roof Tarp?
Roof tarping is an important part of home or business restoration. Tarps help prevent leaks and protect the interior of your property from hazards like severe weather, which could cause further damage to the roof and indoor contents.
There are many factors to consider when deciding whether you need your roof tarped. If you've been affected by storm damage or find yourself debating whether you need to tarp your roof, look no further than the #1 choice in cleanup and restoration. SERVPRO technicians will assess your property and help get your questions answered.
Which Roof Tarps Are Waterproof?
Looking for durable roof tarps? According to professionals at Chicago Canvas and Tarps Now, waterproof tarps include those made of:
Polyethylene

These tarps are designed so rain slides off them and are usually lightweight
They are effective against mildew, UV rays, tears in fabric, and rot
Some polyethylene tarps are also fire retardant

Vinyl

These durable tarps will protect against mold, mildew, tears, abrasions, and severe weather
Some vinyl tarps are also fire retardant
It is important to note that canvas tarps are considered "water resistant," not waterproof; if standing water collects on them, it may seep through. Still, these types of tarps may be a worthwhile investment depending upon your needs, as they are built to withstand high temperatures and protect outdoor valuables.
SERVPRO's Roof Tarping Services
When you don't know where to turn after a storm affects your roof, SERVPRO knows just what to do. Our technicians are skilled in efficiently assessing your home or business and determining the best course of action for your roof and other possible damage. Need roof tarping after a tornado? We'll be there. Require our services after a hurricane? We'll be there.
SERVPRO restoration professionals have been returning homes and businesses to pre-loss condition for over 50 years; when you give your local franchise a call, you will receive knowledgeable service based upon tried-and-true techniques with top-tier equipment on hand.
Our roof tarping process follows six steps:
Evaluate the area

This ensures any hazards, such as downed electrical lines, are spotted in advance, and the area is properly prepped for tarping

Perform a needs analysis

Based on the level of damage, type and breadth of equipment, materials, and other tools is decided

Perform debris removal
Measure the area to be covered
Complete roof tarping (and board-up services if necessary)
Evaluate the interior

SERVPRO professionals will recommend next steps based on an evaluation of the interior of the affected property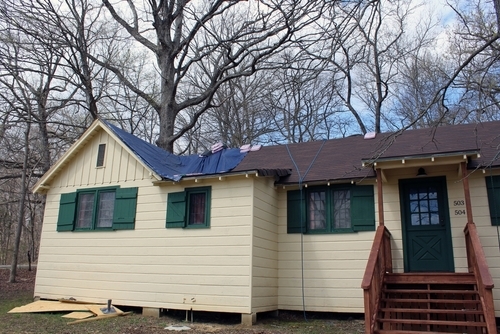 SERVPRO is Available Around the Clock
With more than 2,000 franchises across the United States and Canada, there is a SERVPRO location nearby. Our restoration professionals have over five decades of experience across the system and are prepared to handle any type of damage. From minor roof damage to major devastation requiring intensive cleanup and construction, let us handle your cleanup and restoration job from start to finish.
From roof tarping and board-up services to water and fire cleanup, mold cleanup, storm damage cleanup and more, SERVPRO is Here to Help®, dedicated to returning your property to pre-loss condition. Give your local SERVPRO a call today, and let us show you why we are the #1 choice in cleanup and restoration.
For more information, visit our FAQ and Glossary.
Sources:
https://www.bobvila.com/articles/how-to-tarp-a-roof/
https://www.homedit.com/roof-types/
https://www.chicagocanvas.com/what-kind-of-tarps-are-best-for-roofs/
https://www.tarpsnow.com/blog/the-best-roof-tarpshttps://tarpsamerica.com/pages/canvas-tarps-vs-vinyl-tarps-which-is-best
---