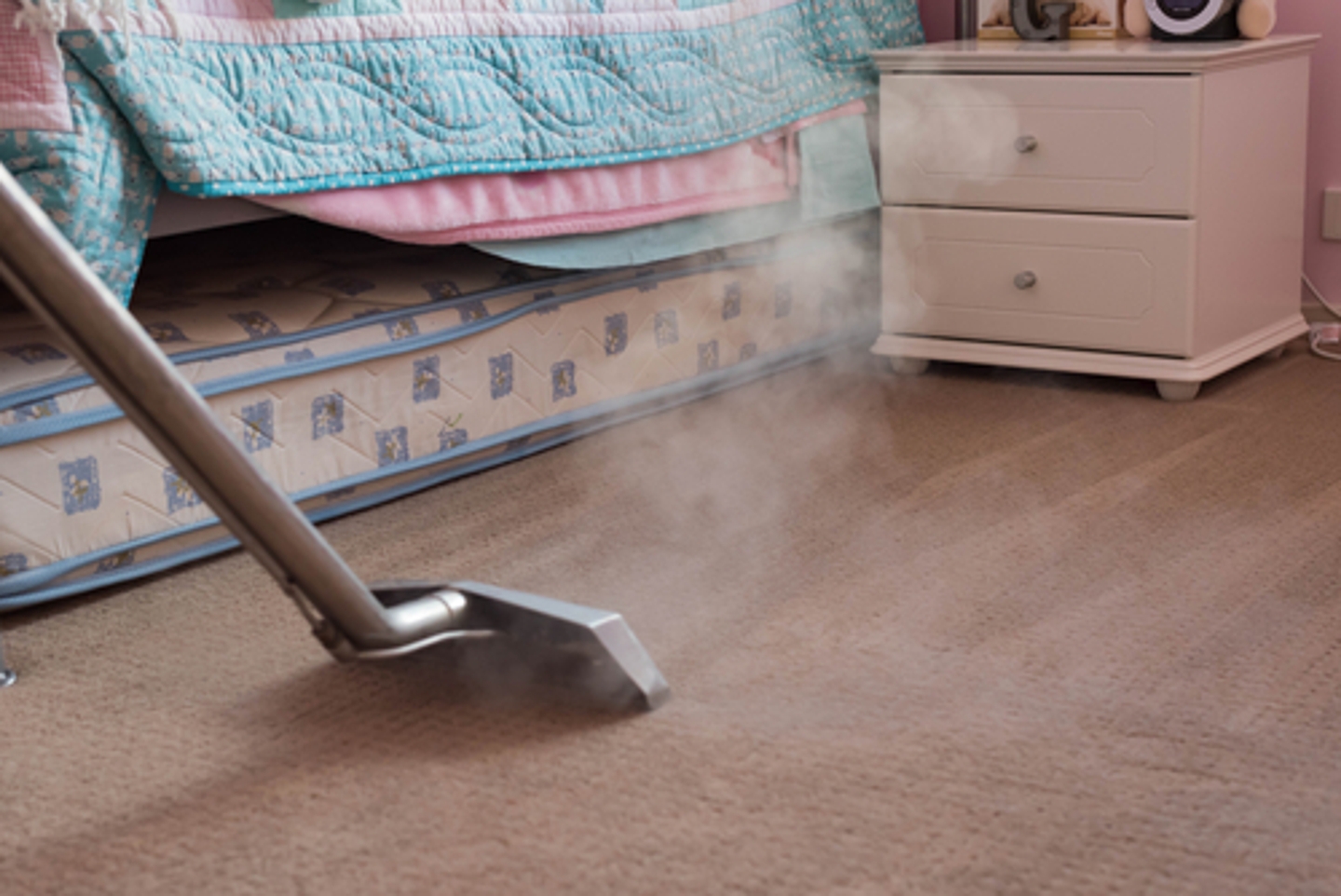 ---
Beyond vacuuming and spot-cleaning, you can clean your carpet a variety of ways. From steam cleaning to using shampoo and soap, the method can vary just as much as the carpet itself. A common question when it comes to carpet cleaning is whether steam cleaning or cleaning with shampoo is best. Lucky for you, you've come to the right place to find out, because SERVPRO® is Here to Help® settle this debate once and for all!
Common Types of Carpeting
Before diving into the differences between steam cleaning and cleaning carpet with shampoo, you might be wondering what the most common types of carpet are in the first place. According to HGTV, the following are popular types of carpet:
Nylon. Durable and resistant to everyday wear and traffic, this style of carpet is highly popular. However, some types of nylon aren't stain-resistant.
Wool. Uniquely, wool is the only natural fiber made into carpeting. Considered eco-friendly, it is stain-resistant and generally durable.
Acrylic. While not widely available, acrylic is often considered a cheaper alternative to wool.
Olefin. Tougher than nylon, but not considered as comfortable, olefin is ideal for outdoor spaces or potentially damp locations such as basements, given it is resistant to mildew, mold, and moisture.
Steam Cleaning Carpets: The Details
As the name implies, during a steam carpet cleaning, HGTV notes that water vapor is used to effectively and efficiently clean your carpet. (This method can even help kill bacteria and lift dirt from the carpet.) It is ideal for those with allergies or sensitivities, as this method produces no odor. While moisture is injected into the carpet during steam cleaning, much less moisture is used than if you were to shampoo your carpet with a shampooer, or scrub by hand. Ultimately, this method helps to quickly remove soils and stains.
Of course, steam cleaning has its drawbacks. For one, it generally requires powerful equipment that may be expensive to rent, not to mention unwieldy and heavy if you opt to do it yourself. It can also wear down carpets and may leave them damp for up to 24 hours as they dry. This method might also require several passes or attempts to really clean up deep, tougher spots.
Shampoo Carpet Cleaning: The Details
Shampooing carpet is different than steam cleaning according to WikiHow, in that you'll use a shampooer versus a steam cleaning device. Yes, you'll still need to move furniture, pre-treat the carpet with a stain remover, and vacuum the area beforehand. But this time, you'll be applying carpet shampoo to the area via the carpet shampoo machine. Ultimately, this method is a great option for heavily stained carpets.
Cons of shampooing carpet include time spent, and investment of products and equipment required. It can also take 10 hours or more for carpets to dry once cleaning is complete. Additionally, some carpet types made of natural fibers (like wool) aren't intended to be cleaned with shampoo, because fibers can shrink from the hot water.
What is the Best Method for Carpet Cleaning?
The truth is, many factors, including the level of damage to your carpet or rug, and the type of fibers in your carpet, will dictate the appropriate method of cleaning. In fact, SERVPRO offers six different methods of carpet cleaning, beyond simply steaming vs. shampooing:
Dry cleaning. By using equipment designed for oil-based products, dry cleaning is often implemented when color-fastness is an issue, or your type of carpet is sensitive to water-based products. This method may be performed by hand depending on the type of fiber present, size of damaged carpet, and dyes used.
Showcase premier cleaning. The most thorough carpet cleaning method in the industry, technicians will use a rotary scrubber to apply a shampoo solution. From there, soils are agitated and break free of the carpet. Then, the carpet is rinsed with a heated rinsing solution. Best for heavy soil conditions, and often used after fire damage.
Deluxe pre-condition and rinse. Best for moderate or heavily soiled carpets, this method uses a specialized cleaning product that is first placed on the carpet, then left for a period. After, carpet fibers are rinsed with a heated cleaning solution to thoroughly clean the fibers.
Rotary jet extraction. Ideal for moderate to heavy levels of soiling, and similar to the deluxe pre-condition and rinse, this method involves use of a strong rotary cleaning device that helps attack soils more aggressively.
Bonnett cleaning. The least aggressive method of carpet cleaning, a bonnet cleaning process is best used for low-cut pile, low-level loop, or lightly soiled carpeting. Given this process uses just a small amount of water, carpet is typically dry within 30 minutes to one hour.
Hot water extraction. Best for light or moderate levels of soil, technicians will use powerful cleaning tools to apply a heated cleaning solution and remove soils with a mobile or truck-mounted extraction machine.
What is SERVPRO's Carpet Cleaning Process?
SERVPRO adheres to a seven-step carpet cleaning process:
Evaluation. In the first step, SERVPRO technicians will evaluate the type of fibers in your carpet, and the level of soiling. This helps determine which cleaning method and products to use.
Preparation. Furniture is moved, and drapes are pinned or clipped so wet carpet doesn't touch these items.
Staging. Products and equipment are brought in and placed on protective floor coverings.
Pre-treatment and spot removal. Stains, high traffic areas, and heavily-soiled areas will be pre-treated and agitated prior to the chosen cleaning method being implemented.
Cleaning. The chosen cleaning method is implemented, and air movers are placed to help expedite the drying process.
Soil protection. Technicians apply protectants to the carpet or rug to help prevent soils from embedding into the carpet.
Wrap-up. In the final step, furniture pads or blocks are placed to help encourage airflow and prevent stains. Additionally, products, tools, and equipment are returned to work vehicles, and traffic lane paper and courtesy mats are placed in "intersections" or high traffic areas. This helps reduce the likelihood of slips and falls, and protects the carpet or rug while drying takes place.
SERVPRO Can Clean Your Carpets Anytime
Did you know SERVPRO maintains a network of 2190 locations in the United States and Canada? That's right. Better yet, each franchise is open 24/7 year-round. So, no matter when you need carpet cleaning—whether it is routine or an emergency—your local franchise will be there.
The good news is, SERVPRO also offers a variety of other cleaning services, too, including water damage cleanup, fire damage cleanup, construction services large and small, and even document restoration and deodorization services. SERVPRO franchises also service commercial properties, in addition to residential spaces, including schools, hospitals, restaurants, offices, and more. Call your local SERVPRO today to schedule a carpet cleaning, or ask about our 24/7 cleanup, restoration, and construction services.
For more information on SERVPRO and the cleanup and restoration industry, review our FAQ and Glossary.
Sources:
https://www.hgtv.com/design/remodel/interior-remodel/your-guide-to-the-different-types-of-carpet
https://www.hgtv.com/lifestyle/clean-and-organize/dry-carpet-cleaning-vs-steam-cleaning
---