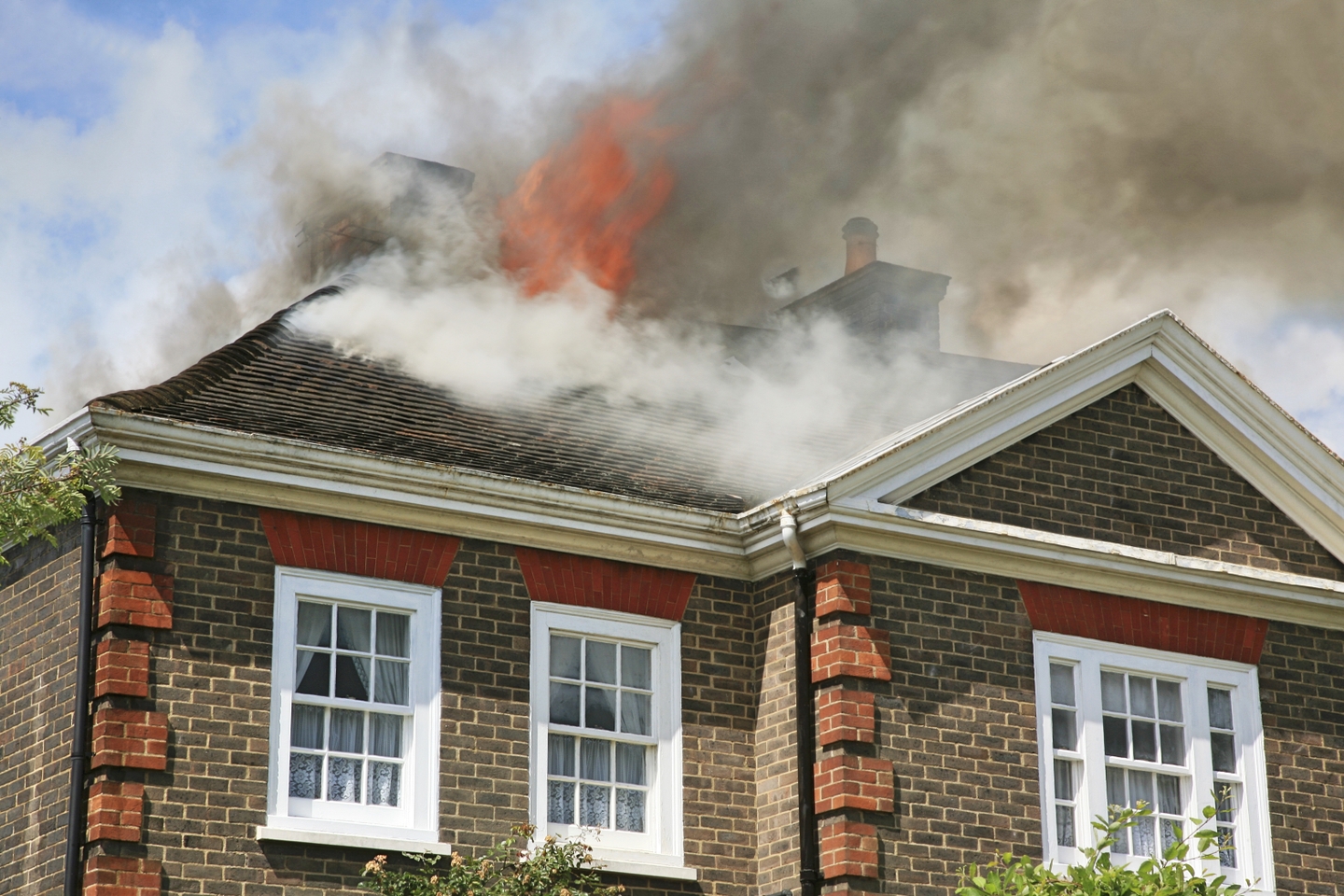 ---
The impact of a house fire can linger long after the flames are extinguished. Homeowners coping with loss and shock must juggle a number of tasks to get back to everyday life. If a candle, faulty wiring, or cooking accident causes the unthinkable, it helps to have a plan for your response.
What to Do After a House Fire
Your first priority after a house fire is to make sure all family members (pets included) are safe and accounted for. In some cases, you may need to find temporary housing until it is safe to return to your home.
1. Don't re-enter your fire-damaged home.
You might think it is safe to return home once the fire is extinguished, but you must wait until the fire department gives you the all-clear. The following are numerous potential hazards in a fire-damaged structure, therefore it is recommended that before entering a fire structure one should wear at least an N-95 safety mask:
Fumes and particles from smoke and soot
Mold and water damage
Structural issues, like a waterlogged ceiling, or a weak floor or ceiling joist system
Gas leaks
Electrical hazards in standing water (note: depending on the severity of the fire, the local Fire Department may have pulled the electrical meter and cut off the gas)
If you re-enter a space too early, you may become exposed to any of these items and risk your health and safety.
2. Call your insurance agent.
Most homeowners' insurance policies cover the cost of a hotel, short-term rental, or food if your home is damaged due to a fire. You'll also need to begin the claims process to cover home repairs and the replacement of damaged belongings.
3. Reach out to local organizations for extra support.
Suppose you don't have homeowners' insurance. In that case, other community resources (like programs, charities, or benefits) may be available to assist you after a fire. These additional resources can help fire victims get back on their feet faster. Some of these organizations that can help after a house fire include:
Salvation Army
American Red Cross
Public agencies such as the health department
Religious organizations
State or municipal emergency services office
If you're unsure where to start, connect with your community's town or city office for guidance.
4. Get an inspection and damage assessment.
Our seven-step fire damage restoration process begins with a call to our emergency service center. The SERVPRO® team will send an inspector to your home to assess the extent of the fire and create an effective remediation plan.
With more than 50 years of experience in cleanup and restoration, SERVPRO® has preferred vendor status with many insurance companies. We'll manage the homeowners' insurance claims process for a faster, more accessible experience.
Cleaning Up After a House Fire
Cleaning up after a house fire requires personal protective equipment (PPE) and specialized techniques to avoid harmful vapors from smoke damage and soot. Instead of doing the job yourself, tackle some of the smaller projects and use a professional service for the bigger tasks.
What Homeowners Should Do
Local fire officials will determine how long after a fire until you can re-enter your home. When it is safe to re-enter the home, here are a few ideas for what to do after a house fire while waiting for help:
Look for essential documents, such as birth certificates, social security cards, and passports; create a list of which documents need to be replaced if applicable
Open windows and doors to reduce smoke odors
Limit movement in the home to prevent soot particles from being embedded into carpets and upholstery
Place clean towels on carpet traffic areas
Empty the freezer and refrigerator and prop the doors open if the electricity is off
Discard any canned or packaged food, beverages, or medicine that came in contact with the fire or soot
Wash the leaves of houseplants on both sides
Avoid using any appliances or attempting to turn on the electricity. Until your home is restored to pre-loss condition, you may inadvertently cause another emergency.
What the SERVPRO® Professionals Should Do
Fire damage involves far more than property burned by flames. For example, you might notice water damage and possible mold growth in porous materials like upholstery, carpet, and drywall after a fire. Fumes and particles from soot and smoke can even linger in the air in areas of the house untouched by the blaze.
Whether the fire damage restoration is for a business or a home, SERVPRO® provides immediate help after a fire begins with an inspection and damage assessment.

The following steps in the process include:
Board up and tarp service: we will board up windows and tarp the roof if needed to protect your home from the elements.
Water removal and drying: a fire hose connected to a hydrant will spray from 500 to 1500 gallons of water per minute. If your home is left with standing water, we have specialized equipment designed for floods to extract the water. We use dehumidifiers and air movers to finish the drying process.
Soot and smoke removal: we use specialized techniques and equipment to remove smoke and soot from walls, ceilings, and other surfaces.
Cleaning, sanitizing, and odor removal: our technicians use industrial air scrubbers and fogging equipment to remove odors. We use various techniques and professional cleaning products to clean items that can be restored to the pre-loss conditions.
Restoration: this step could involve minor repairs such as replacing drywall, painting, and installing new carpet. You might be wondering, if your house burns down, do you have to rebuild completely? Not all the time. Depending on the damage incurred, some rooms may need reconstruction but may not require a new home.
Getting Help After a House Fire
A house fire is one of life's most stressful experiences. If you're currently working through the aftermath of an emergency, we hope your family members and pets are safe. Do not hesitate to reach out to our SERVPRO® team as soon as possible.
---
Sources: FEMA: https://www.usfa.fema.gov/downloads/pdf/publications/fa_46.pdf; AllState: https://www.allstate.com/resources/home-insurance/fire-insurance-coverage
---