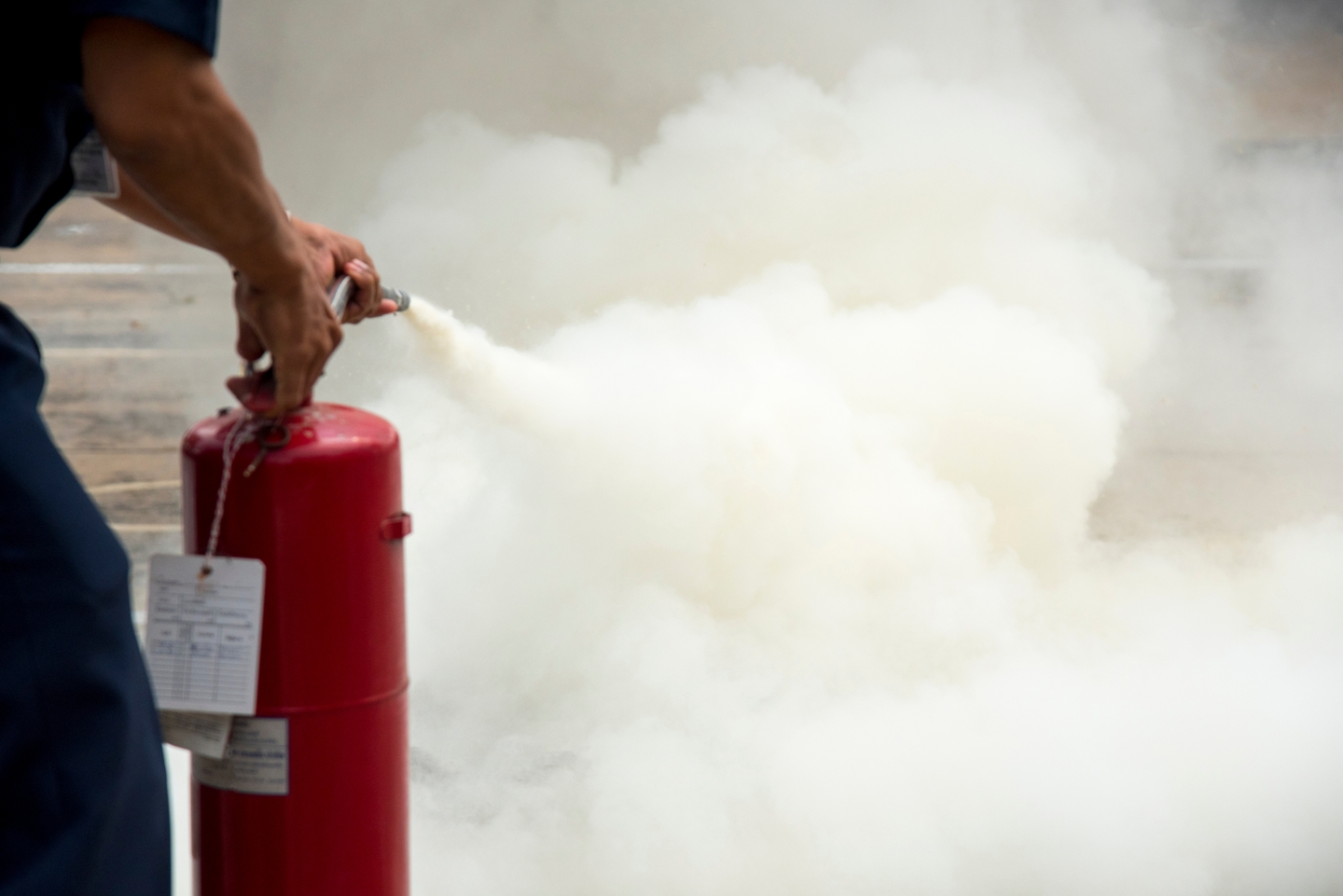 ---
After a fire, extinguisher residue needs cleaned as soon as possible; some types, depending on the extinguisher, can damage metal surfaces and electronics if left to sit. While SERVPRO® is always available to provide emergency fire damage cleanup services 24/7/365, you may wish to begin the cleanup process yourself. This article provides a step-by-step guide for cleaning fire extinguisher residue from different types of fire extinguishers.
What are the Components of Fire Extinguisher Residue?
According to CHEMGUARD, fire extinguisher foam is made of water, foam concentrate, and air. It is considered a stable group of small air-filled bubbles with a lower density than oil, gas, and water; when the ingredients are mixed, they create the homogeneous foam we're familiar with, that blankets spaces when aerated and discharged.
Tips for Cleaning Fire Extinguisher Residue
Fire Systems, Inc. outlines useful steps for cleaning fire extinguisher residue. Keep in mind there are different kinds of fire extinguishers. As you'll see below, the type of fire extinguisher used will dictate how to approach the cleanup process.
Remember, it is important to don a dust mask, goggles, and gloves before cleaning any fire extinguisher residue, as it may be hazardous.
For dry chemical extinguishers that put out class A, B, and/or C fires:
Vacuum or sweep up as much of the residue as possible.
Mix a solution of 50% warm water and 50% isopropyl alcohol, then spray the mixture to break up any leftover silicone. Allow the solution to settle for approximately five minutes, then rinse with warm water.
Treating sodium bicarbonate and potassium bicarbonate based dry chemicals is handled a bit differently. First, mix 2% vinegar and 98% hot water, then wash the affected area. Allow the solution to settle for approximately five minutes, then rinse with warm water.
Treating monoammonium phosphate solution requires a slightly different process as well. First, mix baking soda and hot water. Allow the solution to settle for approximately five minutes, then rinse with warm water.
Using soap and water, wash and rinse the affected area(s).
Lastly, use a fan to spot dry any remaining wet areas.
For wet chemical extinguishers that put out class K fires:
Turn off all fuel sources that may be connected to cooking equipment.
Using hot water and soap, scrub the residue away with a sponge or cloth.
Rinse affected areas and surfaces.
Lastly, let the area fully dry before you turn back on the equipment.
For dry powder extinguishers that put out class D fires:
Use a vacuum or brush to clean up the residue.
Sweep all the collected residue into a trash bag or other method of containment, then properly dispose of it in a trash can.
Lastly, use a damp cloth to wipe off any lingering powder from affected surfaces.
SERVPRO's Fire Damage Cleanup Process
After a fire strikes your home, business, or other property, you may find yourself with a severely damaged interior. Between fire extinguisher discharge, and partially or fully destroyed furnishings, walls, and precious materials, time is of the essence when it comes to fire damage cleanup. While you may be able to clean the initial residue for a small blaze using the steps above, the SERVPRO fire damage restoration process may be an ideal option for fires that are simply too hazardous or large to clean. It includes the following steps:
Emergency contact. The first step is to contact your local SERVPRO franchise. You will be asked a series of questions to determine size and scope of fire damage, and what resources and necessary personnel are needed.
Inspection and fire damage assessment. During the initial assessment, SERVPRO technicians will evaluate and test adjoining rooms to the fire damage; this helps assess smoke and soot damage and contributes to building an appropriate plan of action.
Immediate board-up and roof tarping service if necessary, to prevent further damage.
Water removal and drying (if water damage is present). Water removal begins as soon as possible; dehumidifiers and air movers are used to expedite the process and help ensure the affected space is properly dried.
Removal of smoke and soot from all surfaces. Using specialized techniques, ceilings, floors, and walls are cleaned of soot and smoke.
Cleaning and sanitizing. Odor removal commences, in addition to further cleaning and sanitizing of restorable items. It is SERVPRO's goal to return your belongings and the larger affected space to pre-fire condition, using fogging equipment and industrial air scrubbers.
Restoration. The last step involves returning the space to pre-fire condition. This may include minor repairs, such as painting or new carpet installation, or major reconstruction of certain areas.
SERVPRO is Ready Year-Round
With more than 2,100 franchises spanning the United States and Canada, there is a SERVPRO location near you. Founded in 1967, SERVPRO franchises across North America have decades of experience, and offer a unique blend of localized knowledge and national resources. With strategically placed large loss teams throughout the country, there is never a job too big or too small.
In addition to fire damage cleanup services, SERVPRO handles other restoration needs that may arise before or after a fire, including board-up and roof tarping services, document restoration, odor removal, construction services, and more. Our 24/7 availability year-round helps ensure you have professional teams on standby ready to service a wide range of cleanup and restoration needs. We are committed to restoring your home or business to pre-loss condition, so find your location today and give us a call. We will help to make it "Like it never even happened."
For more information, please visit our FAQ and Glossary.
Sources:
https://www.chemguard.com/about-us/documents-library/foam-info/general.htm
https://firesystems.net/2018/09/14/how-to-clean-up-fire-extinguisher-residue/
---