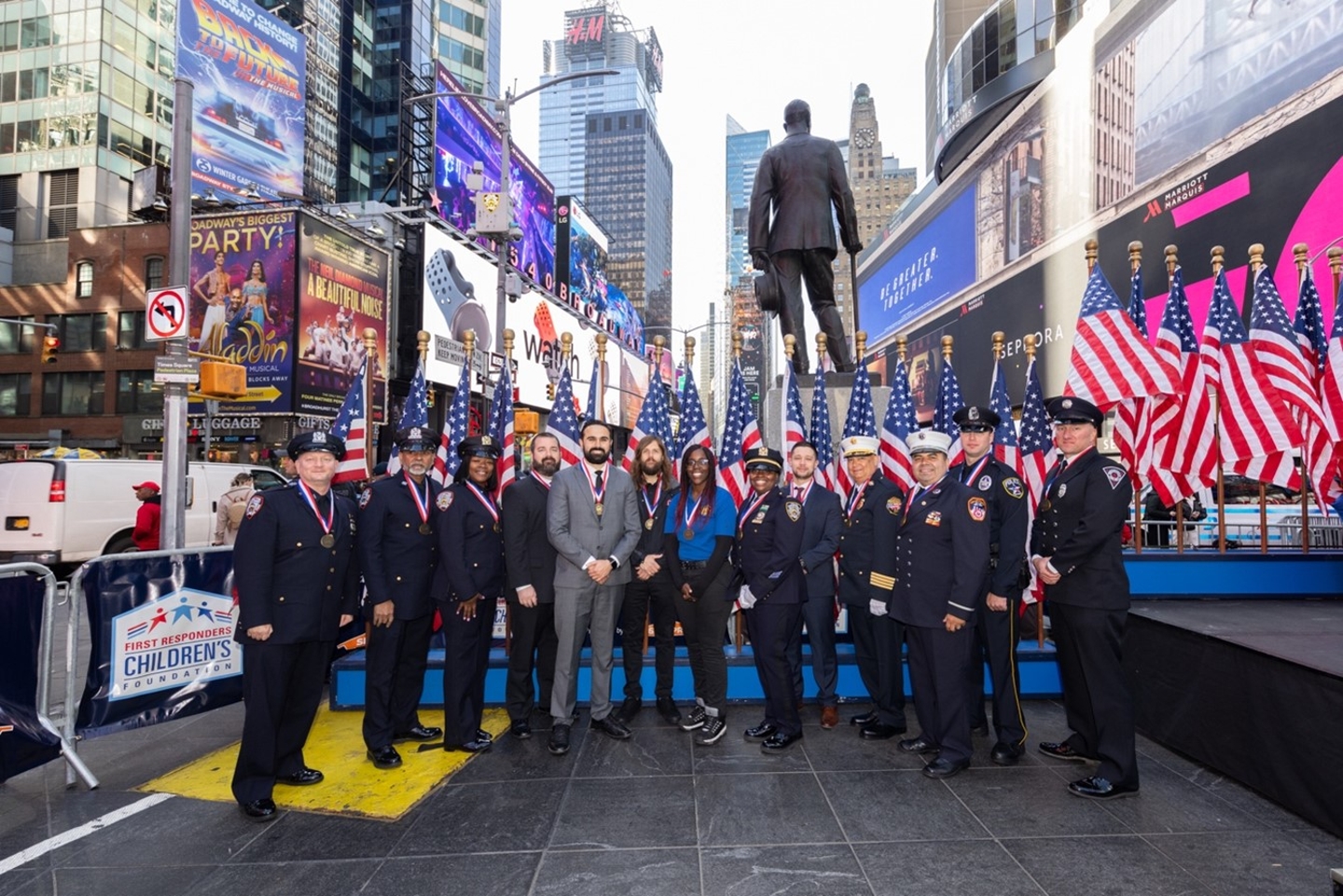 ---
First Responders Children's Foundation Commemorates National First Responders Day with a Ceremony in Times Square, Presented by SERVPRO®
New York, NY - October 24, 2023 – Today, First Responders Children's Foundation (FRCF) hosted its annual "Roll Call of Heroes" ceremony in the heart of New York City's Times Square to commemorate National First Responders Day, which will be celebrated nationwide on October 28th. In 2017, the U.S. House of Representatives officially designated this date as National First Responders Day with the aim of raising awareness about the invaluable contributions of first responders to our nation. FRCF has been working towards highlighting this important day nationwide since 2020.
The program was presented by FRCF's corporate partner, SERVPRO, and included the recognition of real-life heroes who represented each first responder category for their brave service in the areas of police, fire, EMS, 9/11 dispatchers, and corrections. A special tribute was paid to the heroes who responded to the tragic Covenant School Shooting, with awards presented by SERVPRO Vice President and Director of Marketing Chad Lewis and FRCF Board Member and SERVPRO Director of Communications, Allison Isaacson Beahm.
During the event, proclamations from 18 state governors recognizing October 28th as National First Responders Day were announced and displayed. It was also announced that President Joe Biden will provide a proclamation proclaiming October 28, 2023, as National First Responders Day. A photo gallery and the video recording from the ceremony are also available.
"National First Responders Day is a tribute to the dedicated and courageous heroes of our nation," said Jillian Crane, President and CEO of the First Responders Children's Foundation. "We urge everyone across the country to take a moment this week and on October 28th to honor those who work tirelessly to protect our communities. In times of danger, these selfless individuals run toward the unknown to ensure our safety. The heroes we recognize on this stage today represent just a small fraction of the over 4 million first responders who answer our call. We also want to acknowledge the profound sacrifices made not only by the first responders themselves but also by their families."
First responders from around the country were awarded medals at the Times Square ceremony, including:
FRCF "Hero of Honor" Award:
Nashville first responders who responded to the Covenant School shooting:
- Officers Michael Collazo, Jeffrey Mathes, Ryan Cagle, and Zachary Plese, Metro Nashville Police Department
- Paramedic Paul Gilmer, Nashville Fire Department and Medical Services
- Dispatcher Jeffrey Bolin, Nashville Department of Emergency Communications
FRCF's Hero Award:
- Lieutenant Paramedic Miguel Angel Flores, New York City Fire Department
- Firefighter Sam Fehrer, Indianapolis Fire Department
- Police Officer Andrew Hammett, Irving Police Department (Texas)
- Dispatcher Keara Duncomb, Moore City Police Department (Oklahoma)
FRCF's Community Hero Award:
- Lieutenant Julieann Stapleton, New York City Police Department
Distinguished leaders from the first responder community in attendance included Port Authority Police Superintendent Ed Cetnar; NYC Department of Correction Commissioner Louis Molina; MTA Police Chief John Muller; NYPD First Deputy Commissioner Tania Kinsella; FDNY Chief of EMS Michael Fields; Tom Harris, President, Times Square Alliance; Chad Lewis, Marketing Services Division Manager, SERVPRO; Allison Isaacson Beahm, FRCF Board Member and Director of Communications, SERVPRO; FRCF President & CEO Jillian Crane; FRCF Founder and Chairman Al Kahn;
ABOUT FIRST RESPONDERS CHILDREN'S FOUNDATION (FRCF)
First Responders Children's Foundation is a national foundation that provides programs and resources addressing the specific needs of children of first responders. The Foundation focuses on critical areas, including scholarships, financial assistance grants, bereavement assistance, mental health counseling for children, disaster relief, and community engagement programs to foster positive relationships between first responder agencies and the communities they serve. FRCF was founded over 22 years ago in response to 9/11 when 800 children lost a first responder parent. Additional information about FRCF can be found at www.1stRCF.org and on Facebook, Twitter, and Instagram @1strcf.
About SERVPRO®
For more than 50 years, SERVPRO has been a trusted leader in fire and water cleanup and restoration services, construction, mold mitigation, biohazard and pathogen remediation. SERVPRO's professional services network of more than 2,200 individually owned and operated franchises spans the United States and Canada, responding to property damage emergencies large and small – from million-square-foot commercial facilities to individual homes. When disaster strikes, homeowners, business owners and major insurance companies alike rely on SERVPRO to make it "Like it never even happened."
---