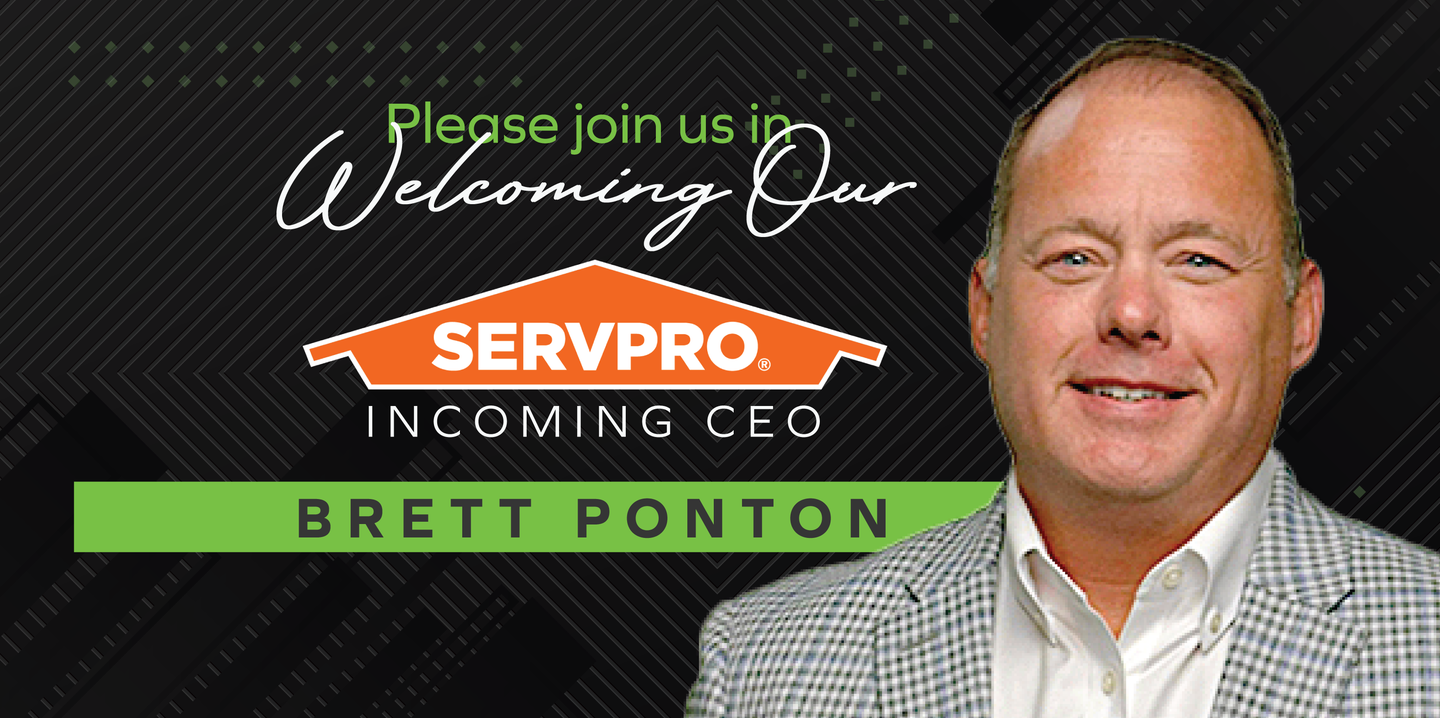 ---
Veteran CEO Brings Nearly Three Decades of Experience Driving Profitable, Global Growth, Including 20 Years at Premier Distributed Service Organizations and Franchisors
GALLATIN, Tenn. – July 27, 2023 – SERVPRO Industries, LLC ("SERVPRO"), a leading property restoration and construction franchise company, today announced Brett T. Ponton has been appointed its next Chief Executive Officer (CEO), effective October 2023. Mr. Ponton will succeed Rick Isaacson, who is retiring after a successful tenure as CEO and nearly 40 years of SERVPRO service. Mr. Isaacson will continue in his capacity as a member of the SERVPRO Board.
Mr. Ponton brings nearly three decades of experience delivering profitable growth, including 20 years at distributed service organizations and as CEO in adjacent sectors at both public and privately-owned franchise enterprises. Mr. Ponton currently serves as President and CEO, North America, of Rentokil Initial (NYSE:RTO), one of the largest business services companies in the world, following its 2022 acquisition of Terminix, at which he served as CEO. Prior to Terminix, Mr. Ponton was President and CEO of Monro, Inc. (NASDAQ:MNRO), the largest independent operator of tire and auto service retail stores in the U.S., where he helped drive expansion, profitability and customer service improvements across the 8,500-employee organization. He also served as CEO of American Driveline Systems and President and CEO of Heartland Automotive, the nation's largest operator of Jiffy Lube locations, where he executed a strategic M&A plan to scale and position the company for long-term success.
"Having led and worked with leading franchising operations throughout the country, SERVPRO has always stood out to me for the strength of its franchisee network and unwavering commitment to high-quality services during critical, high-stakes situations," said Mr. Ponton. "I congratulate Rick on his exceptional career and applaud the significant impact he and the Isaacson family have had on both the industry and the communities SERVPRO has served in growing the company into the market leader it is today. I look forward to continuing to build on this strong foundation alongside our incredible franchisees, the talented SERVPRO team, the Board and company's exceptional partners at Blackstone."
"Brett is uniquely qualified to lead SERVPRO in its next chapter of growth. He will bring the right mix of leadership experience and a deep understanding of the distributed service model and the important work our franchisees do each day," said Peter Wallace, Global Head of Core Private Equity at Blackstone. "His ability to drive both organic and inorganic growth and work with diverse stakeholders to create shared success has provided him with valuable insight that we believe positions him well to unlock new prospects for the company."
"I am excited to work with Brett and the rest of the Board to build on our significant momentum and continue to establish SERVPRO as the partner of choice for our customers' recovery and construction needs," said Nigel Travis, Chairman of the SERVPRO Board. "As SERVPRO continues to build on our growth trajectory and serve as a critical cleaning and restoration service to countless property owners during dynamic emergency situations, I am confident Brett is the right person to lead the business forward."
"I would like to thank the Board for its comprehensive process to identify a leader that shares – and will continue to enhance – SERVPRO's mission-driven focus," said Mr. Isaacson. "Brett has a great team to support him, including John Sooker in his new role as President and COO, our amazing Headquarters Team, and our incredible franchise owners who serve our clients and customers with exceptional professionalism. I am pleased to welcome Brett and continue to support the business moving forward in my role on the Board."
About SERVPRO®
For more than 50 years, SERVPRO has been a trusted leader in fire and water cleanup and restoration services, construction, mold mitigation, biohazard and pathogen remediation. SERVPRO's professional services network of more than 2,200 individually owned and operated franchises spans the United States and Canada, responding to property damage emergencies large and small – from million-square-foot commercial facilities to individual homes. When disaster strikes, homeowners, business owners and major insurance companies alike rely on SERVPRO to make it "Like it never even happened."
Blackstone (NYSE: BX) acquired a majority stake in SERVPRO in 2019 as part of Blackstone's Core Private Equity strategy, which helps companies in dynamic industries build with Blackstone to become stronger, high-performing businesses.
---