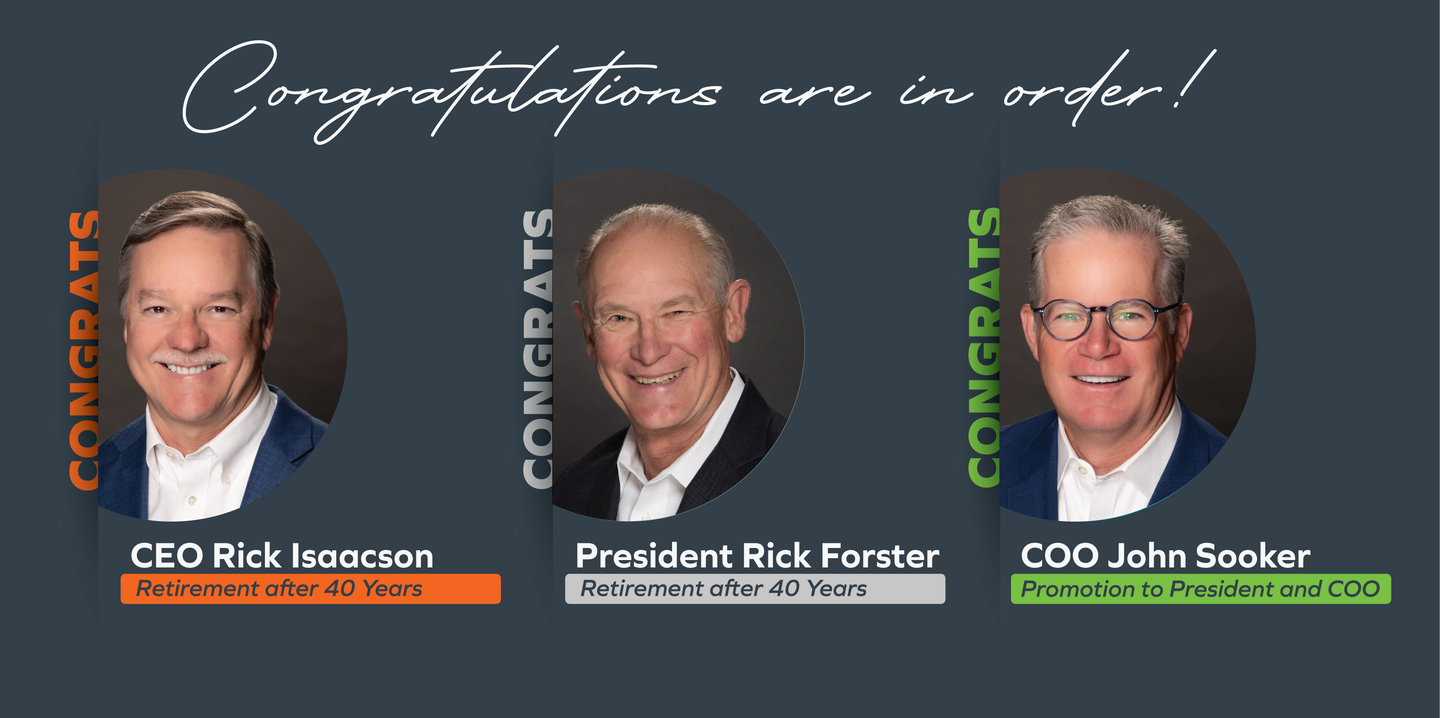 ---
CEO Rick Isaacson to Retire; Successor to be Announced in Summer 2023
John Sooker to Succeed Rick Forster as President, Will Remain COO
GALLATIN, Tenn. – JUNE 21, 2023 – SERVPRO, a leading property restoration franchise company, today announced two planned leadership transitions for early 2024.
After nearly 40 years of SERVPRO service and a successful tenure as Chief Executive Officer since 2019, Rick Isaacson will retire from his role as CEO by early 2024. Following his retirement, he will continue to support the company as a non-executive member of the Board of Directors. John Sooker, who has served as Chief Operating Officer since 2019 and has 13 years of leadership experience with the business, will be promoted to President. He will succeed Rick Forster, who will retire as President in the beginning of 2024. The company anticipates announcing its next CEO later this summer. Rick Isaacson will work alongside the new CEO throughout the onboarding process and in an ongoing capacity as a member of the Board of Directors to ensure a smooth transition.
"We have worked with Blackstone and the Board on an extensive search to identify a CEO who understands the franchising world and who has deep knowledge of service-based companies," shared Mr. Isaacson. "We look forward to announcing a new leader who will bring significant relevant experience and an extensive history of leadership at distributed service organizations."
"In his nearly five years as CEO, Rick's numerous contributions in support of the mission, vision and purpose of SERVPRO have been invaluable, and the company's strong performance is a testament to his leadership, our veteran HQ team and our incredible franchise owners," said Peter Wallace, Global Head of Core Private Equity at Blackstone. "We are confident the strong cultural foundation Rick helped instill, uphold and advance will enable the company to stay committed to its mission. We are grateful SERVPRO will continue benefitting from Rick's experience as a member of the Board."
"Both Rick Isaacson and Rick Forster have played instrumental roles in building the SERVPRO brand and in the success of the business throughout their nearly eight combined decades at the company," said Nigel Travis, Chairman of the SERVPRO Board. "With their support, SERVPRO has grown rapidly to serve thousands of new customers across the country and is well-positioned to build on its reputation as the partner of choice for critical cleaning and restoration needs. I wish both Ricks well in their retirements, and I look forward to continuing to work with Rick Isaacson on the Board to support SERVPRO's long-term, continued success."
"I am thrilled John will assume the role of President, succeeding Rick Forster, to whom I wish a happy and healthy retirement season and extend my deep gratitude for the impact he has had on our strategy, structure and organization," Mr. Isaacson added. "John's deep SERVPRO experience, strong franchisee relationships and leadership skills will make him an excellent partner to our next CEO and a key leader across our network. We have built a talented executive management group and an equally talented senior management team to steward SERVPRO through its next chapter of growth and success. I look forward to continuing to cheer on and support the business that is so close to my heart."
"I am truly humbled and blessed to know the thousands of people SERVPRO has helped succeed. I know many more will have opportunities in the future because of what we've accomplished. It's been an honor to serve for the past four decades, and it will be an honor to support SERVPRO's growth in a new capacity in the years ahead," said Mr. Isaacson. "Our focus has always been on building the culture of SERVPRO around our quality franchise owners and teammates. They take ownership of their roles to drive SERVPRO's success and make it the brand leader in cleaning, restoration, and construction. I am strongly bullish on this team. The Isaacson family will continue to advocate for this amazing brand, and our next generation of leadership is well positioned to extend the SERVPRO legacy."
About SERVPRO®
For more than 50 years, SERVPRO has been a trusted leader in fire and water cleanup and restoration services, construction, mold mitigation, biohazard and pathogen remediation. SERVPRO's professional services network of more than 2,200 individually owned and operated franchises spans the United States and Canada, responding to property damage emergencies large and small – from million-square-foot commercial facilities to individual homes. When disaster strikes, homeowners, business owners and major insurance companies alike rely on SERVPRO to make it "Like it never even happened."
Blackstone (NYSE: BX) acquired a majority stake in SERVPRO in 2019 as part of Blackstone's Core Private Equity strategy, which is designed to hold investments for much longer periods of time than traditional private equity.
---