---
Servpro Industries, LLC Named 2022 Top Workplace
Awarded designation seven of past eight years
Gallatin, Tennessee, June 28, 2022 — Servpro Industries, LLC has been awarded a Top Workplaces 2022 honor by the Tennessean. The list is based solely on employee feedback gathered through a third-party survey partner, Energage LLC, which anonymously and uniquely measures 15 culture drivers that are critical to the success of any organization, including alignment, execution, and connection, to name a few.
"SERVPRO's mission is 'to develop a quality team of people who focus on excellent service, fairness, and mutual respect,'" said SERVPRO CEO Rick Isaacson. "We are humbled and thankful our team can be a Top Workplace at the same time as we can work at a championship level of execution for our customers. That truly illustrates the mission-driven culture of our team."
In fact, the SERVPRO brand has continued its positive growth each year, posting record volumes, and it recently celebrated the company's 2,000th franchise.
"Like all companies, SERVPRO operated through a very challenging time over the past few years," Isaacson said. "We had many difficult decisions that were unprecedented from an employer standpoint. We did our best to adapt and respond to the needs of our team, while ensuring we maintained our focus on serving our clients. Our management team was instrumental in maintaining communication, collaboration, and engagement during these challenging times, and they deserve all the kudos for this recognition.
"Everyone at SERVPRO HQ in Gallatin, Tennessee, serves our franchisees, who didn't get to take off during the pandemic," Isaacson said. "They were on the frontlines, cleaning and sanitizing properties, helping make their communities safer and flattening the curve. Our HQ team found a way to safely support our franchisees while they continued to grow the brand and have some of the best years in the company's 50-plus-year history."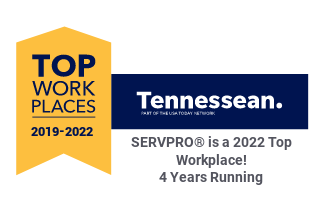 This is the seventh time the company has been awarded this recognition since 2015, which is based entirely on employee feedback.
"During this very challenging time, Top Workplaces has proven to be a beacon of light for organizations, as well as a sign of resiliency and strong business performance," said Eric Rubino, Energage CEO. "When you give your employees a voice, you come together to navigate challenges and shape your path forward. Top Workplaces draws on real-time insights into what works best for their organization, so they can make informed decisions that have a positive impact on their people and their business."
Servpro Industries, LLC offers a variety of programs and benefits to their employees, including:
Personal and professional development
Flexible hybrid and work-from-home opportunities
Culture of wellness
Comprehensive benefits packages
401 K retirement matching
Profit-sharing structure
On-site 24/7 fitness center
Employee appreciation events
Opportunities for community engagement
Conduct bi-annual employee/engagement survey and implement approved recommendations
Dress for your day policy
Generous paid time off package

Servpro Industries, LLC has been a member of the Middle Tennessee business community since 1988. SERVPRO specializes in the emergency cleanup and restoration of fire and water damaged homes and businesses, among other services. The Gallatin-based franchise company employs more than 450 at the corporate headquarters. For more information, contact Servpro Industries, LLC at (877) 313-5405.
---