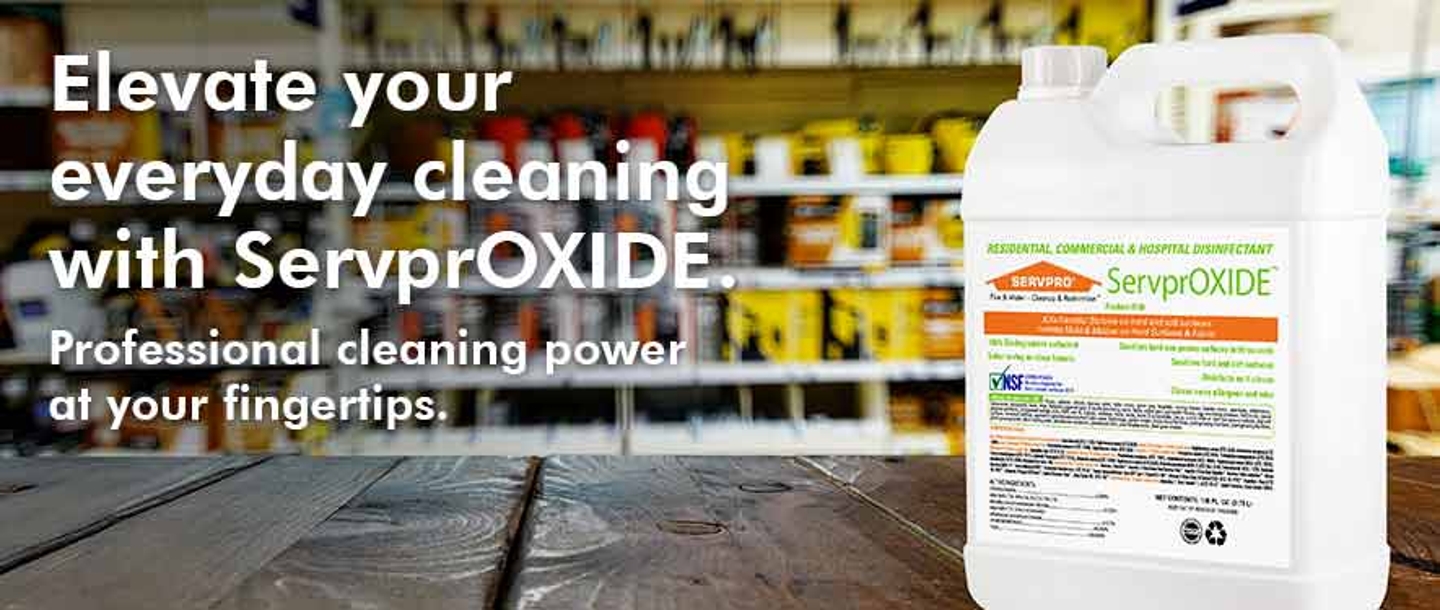 ---
ServprOXIDE™ is now available to Amazon Business customers in the United States
SERVPRO, the #1 professionals in disaster cleanup and restoration, announced the availability of ServprOXIDE™, a hospital-grade disinfectant proven to kill 99.999% of bacteria and viruses when used as directed, for customers on Amazon Business.

SERVPRO, a Blackstone portfolio company, partnered with Amazon Business and the Amazon Web Services (AWS) Digital Innovation Team because speed to market was critical as colder weather nears and COVID-19 cases rise. In under 60 days, AWS and Amazon Business helped SERVPRO develop the logistics and e-commerce capabilities needed to bring ServprOXIDE to the Amazon Business store.
From the beginning of the pandemic, SERVPRO franchise professionals have been on the front lines cleaning and sanitizing businesses, first responder vehicles, schools, hospitals, churches, cruise ships, and military facilities. With the launch of Certified: SERVPRO Cleaned in April 2020, SERVPRO defined professional pathogen cleaning standards for businesses and facilities fighting the spread of COVID-19.
"Since launching our professional pathogen cleaning service, our customers have been asking for support with their daily follow-up cleaning. We listened and started working with teams across Amazon to explore distribution opportunities for ServprOXIDE," said Mike Stahl, SERVPRO's Chief Marketing Officer. "ServprOXIDE can elevate everyday cleaning for business owners as they proactively clean registers, door handles, restrooms, counters, tabletops, or any other surface."
"The SERVPRO team developed their first product offering efficiently by combining innovation and speed-to-market in order to deliver ServprOXIDE conveniently to their customers," said Mark Crowther, Innovation Lead, Private Equity, AWS. "AWS works with a number of Blackstone's portfolio companies to help them develop innovative solutions on the world's leading cloud, and we are thrilled to partner with Amazon Business to help SERVPRO with this business launch."
The COVID-19 pandemic has opened the eyes of business owners and consumers alike to increased cleaning practices. According to a recent Harris Poll, 71% of consumers expect businesses to have higher cleanliness standards than they do in their own homes. Business owners, now more than ever, are publicly demonstrating enhanced cleaning protocols and the use of professional, hospital-grade products to show all they are doing to mitigate the spread of SARS-CoV-2, the virus that causes COVID-19, and other viruses.
When used as directed, ServprOXIDE disinfectant kills a wide variety of harmful pathogens while being safe enough for everyday cleaning. It carries EPA's lowest toxicity rating and is NSF-rated for use on food contact surfaces with no rinse required.i Designed to disinfect on hard surfaces, ServprOXIDE also effectively sanitizes soft surfaces and neutralizes odors on fabrics and carpets.

Now available on Amazon Business, ServprOXIDE is the first product SERVPRO has sold directly to customers in the company's 50-plus year history. Select product offerings will also include Cleaned with SERVPRO Disinfectants window sticker for businesses to display to provide additional safety assurances to their customers.
"Being 100% sure that our cleaning practices are effective, gives us the opportunity to focus on what we do. We make pizza!!! Anyone that works in a high-volume pizzeria knows what a whirlwind of chaos it can be. The fact that ServprOXIDE is ready to use, and requires no dilution, gives me peace of mind what we're using on our food surfaces as well as NSF and EPA registrations. I want our customers to know that we take their health seriously, and that's why we choose to use ServprOXIDE in our food truck. You trust us to make pizza, we trust SERVPRO to make our disinfectant. It's as simple as that. Also, pineapple DOES belong on pizza," stated Danny Bruckert, Owner/ Pizza Maker for Groundlings Pizza Co., Brooklyn, NY.
Amazon Business helps millions of customers worldwide reshape their procurement with cost and time savings, greater productivity, and insightful purchasing analytics with access to a variety of business-tailored features and benefits. For more information, visit www.business.amazon.com, www.amazonbusinessblog.com, and @AmazonBusiness.
ServprOXIDE disinfectant is available in one-gallon bottles and boxes of four. Visit amazon.com/Servpro to purchase. While using ServprOXIDE as directed will reduce the spread of pathogens on treated surfaces, Servpro recommends that businesses have a professional pathogen cleaning if they experience a COVID-19 event in their facility.
###
About SERVPRO®
Founded in 1967, the SERVPRO franchise system is a leader and provider of fire and water cleanup and restoration services, mold mitigation, and biohazard remediation. SERVPRO's professional services network of more than 1,900 individually owned and operated franchises responds to property damage emergencies ranging from small individual disasters to multi-million dollar large-loss events. Providing coverage in the United States and Canada, the SERVPRO system has established relationships with major insurance companies and commercial clients, as well as individual homeowners.

iNSF Registration No. 141392, Category Code: D2 (antimicrobial products not requiring rinse).
---