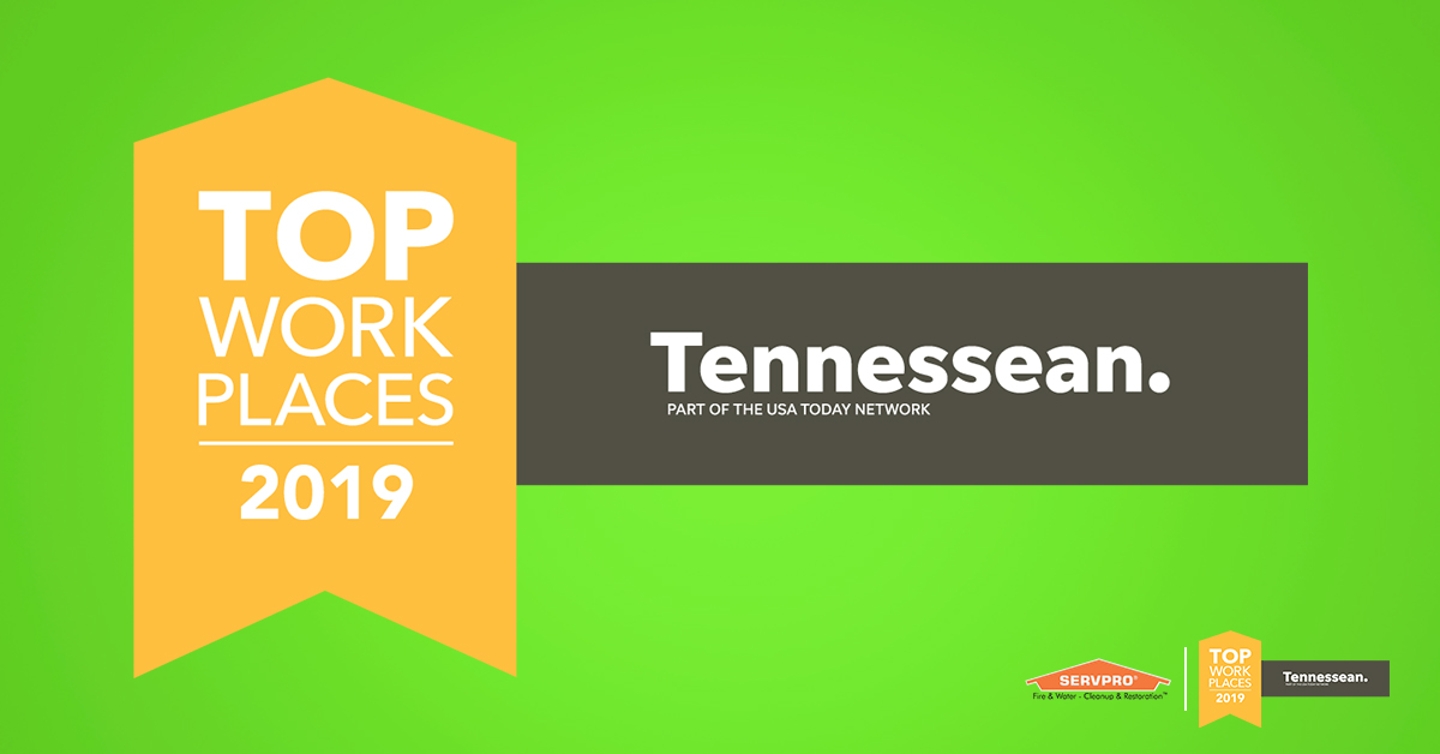 ---
Gallatin, Tennessee – June 23, 2019 – For the fourth time in the past five years, Gallatin-based Servpro Industries, LLC has been recognized as a Top Workplace in Middle Tennessee.
Sponsored by the Tennessean, the award is based solely on employee feedback gathered through a third-party survey administered by research partner Energage, LLC. The anonymous survey measures several aspects of workplace culture, including alignment, execution, connection, and benefits just to name a few.

"We are honored to be one of the select area businesses named a Top Workplace," said Rick Isaacson, chief executive officer of Servpro Industries, LLC.
"I am proud to serve the mission-driven team we have at Servpro Industries. The team spirit and service to one another are vital elements that make Servpro Industries a Top Workplace."

"Becoming a Top Workplace isn't something organizations can buy," said Doug Claffey, CEO of Energage. "It's an achievement organizations have worked for and a distinction that gives them a competitive advantage. It's a big deal."

This is the fourth time Servpro Industries, has been recognized as a top workplace in Middle Tennessee. Servpro Industries received previous designations in 2015, 2016 and 2017.
Servpro Industries, LLC offers a variety of programs and benefits to their employees, including the following:
Personal and Professional Development
Culture of Wellness
Comprehensive Benefits Packages
401K Retirement Matching
Profit Sharing Structure
On-site 24/7 Fitness Center
Employee Appreciation Events
Opportunities for Community Engagement
Conduct Bi-Annual Employee/Engagement Survey and implement Approved Recommendations
Regular Massage Appointments

Servpro Industries, LLC has been a member of the Middle Tennessee business community since 1988. SERVPRO® specializes in the emergency cleanup and restoration of fire and water damaged homes and businesses, among other services. The Gallatin-based franchise company employs more than 450 at the corporate headquarters. For more information, contact Servpro Industries, LLC at 1-800-SERVPRO or visit us on the web at www.servpro.com.

###
About SERVPRO®
Founded in 1967, the SERVPRO® Franchise System is a leader and provider of fire and water cleanup and restoration services, and mold mitigation and remediation. SERVPRO's professional services network of nearly 1,700 individually owned and operated Franchises responds to property damage emergencies ranging from small individual disasters to multi-million dollar large-loss events. Providing coverage in the United States and Canada, the SERVPRO® System has established relationships with major insurance companies and commercial clients, as well as individual homeowners.
---