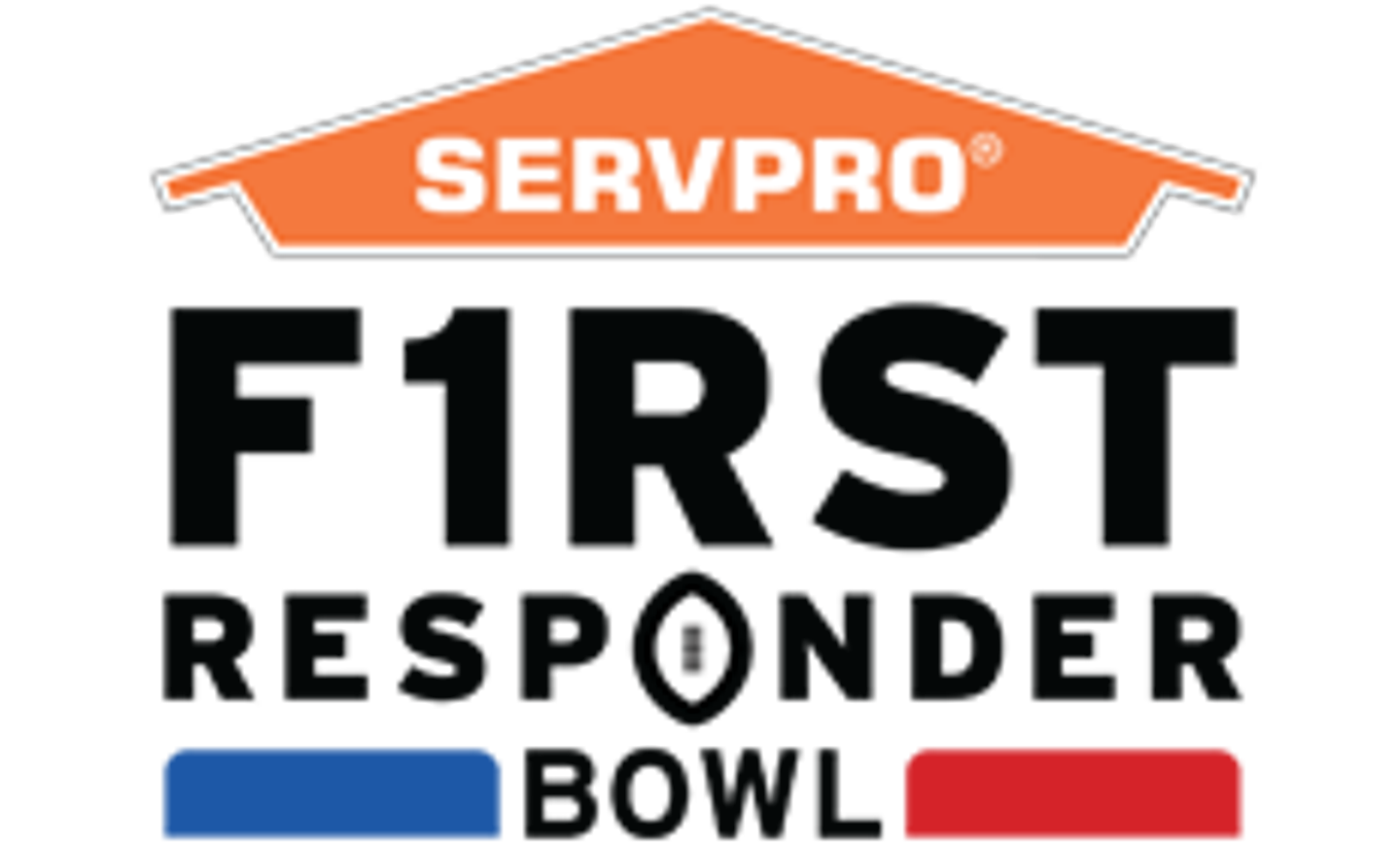 ---
DALLAS, TX, August 13, 2018 – In a joint effort to honor the service and sacrifice of America's First Responders, the annual college football bowl game played at Cotton Bowl Stadium in Dallas, Texas has been renamed the SERVPRO First Responder Bowl. The kickoff for the newly christened SERVPRO First Responder Bowl is set for December 26 at 12:30 p.m. CT (1:30 p.m. ET) and will be televised by ESPN. The agreement between ESPN Events and SERVPRO was brokered by Denver-based Impression Sports & Entertainment.
"We are truly grateful for all first responders' sacrifice and service," said Brant Ringler, Executive Director of the SERVPRO First Responder Bowl. "It is a tremendous privilege to honor these brave men and women who protect our communities 24/7/365. As this game continues to grow, so do our ties with first responders. Additionally, having a sponsor like SERVPRO who works alongside and supports these community heroes reinforces our goals of recognizing our first responders."
"We are proud to present the SERVPRO First Responder Bowl dedicated to honoring some of the hardest working men and women in our country," said Sue Steen, CEO of Servpro Industries, Inc. "We recognize the dedication and selfless acts of our First Responders and are honored to help highlight and celebrate the commitment of these everyday heroes."
The 2018 SERVPRO First Responder Bowl is the ninth edition of the bowl game, formerly known as the Heart of Dallas Bowl, and part of the 89-year history of games being played at Cotton Bowl Stadium on the grounds of Dallas' Fair Park, which features 227 acres of museums, attractions, history, art and performances located in the heart of the ninth-largest city in the United States.
First responders to be honored include police officers, firefighters, EMS workers, correctional officers, search and rescue, dispatchers, security guards, federal agents, border patrol agents, and military personnel who have specialized training and are the first to arrive and provide assistance at the scene of an emergency.
"This is an exciting change, and we are humbled by the fact that an actual bowl game has been named exclusively for the first responders of this country," Dallas Fire-Rescue Fire Chief David Coatney said.
"We are truly honored to have a bowl game here in Dallas named after the hard-working men and women serving and protecting communities across this country. It always feels great to be recognized, and I know our officers and firefighters are touched by this overwhelming show of support, "said Dallas Police Chief U. Renee Hall.
The SERVPRO First Responder Bowl tickets will go on sale in September. Tickets for First Responders will continue to be underwritten by our corporate sponsors. Planning for the First Responder Fan Fest in Cotton Bowl Plaza will begin immediately. Anyone wanting more information on the bowl game can visit www.firstresponderbowl.com.
The SERVPRO First Responder Bowl is one of 14 owned and operated bowl games by ESPN Events, a division of ESPN.
ESPN Events
ESPN Events, a division of ESPN, owns and operates a large portfolio of 32 collegiate sporting events worldwide. The roster includes three Labor Day weekend college football games; FCS opening-weekend game; 14 college bowl games, 12 college basketball events, a college softball event, and two college award shows, which accounts for approximately 300-plus hours of programming, reaches almost 64 million viewers and attracts over 700,000 attendees each year. With satellite offices in Albuquerque, Birmingham, Boca Raton, Boise, Dallas-Fort Worth, Honolulu, Las Vegas, Montgomery, and St. Petersburg, ESPN Events builds relationships with conferences, schools, and local communities, as well as providing unique experiences for teams and fans. ESPN Events also manages the Big 12 Corporate Partner Program.
Collegiate Football
Academy Sports + Outdoors Texas Bowl (Houston); AdvoCare Texas Kickoff (Houston); Bad Boy Mowers Gasparilla Bowl (Tampa, Fla.); Birmingham Bowl (Alabama); Cheribundi Tart Cherry Boca Raton Bowl (Florida); Camping World Kickoff (Orlando, Fla.); Celebration Bowl (Atlanta); Famous Idaho Potato Bowl (Boise); Frisco Bowl (Texas); Guardian Credit Union FCS Kickoff (Montgomery, Ala.); Hawai'i Bowl (Honolulu); Lockheed Martin Armed Forces Bowl (Dallas-Fort Worth); Makers Wanted Bahamas Bowl (Nassau); MEAC/SWAC Challenge (Atlanta); Mitsubishi Motors Las Vegas Bowl (Nevada); New Mexico Bowl (Albuquerque); Raycom Media Camellia Bowl (Montgomery, Ala.); ServPro First Responder Bowl (Dallas-Fort Worth); The Home Depot College Football Awards (Atlanta)
Collegiate Basketball
AdvoCare Invitational (Walt Disney World Resort near Orlando, Fla.); Armed Forces Classic (Fort Bliss, Texas); Charleston Classic (South Carolina); College Basketball Awards Presented by Wendy's (Los Angeles); Hawaiian Airlines Diamond Head Classic (Honolulu); Jimmy V Men's Classic presented by Corona (New York City); Jimmy V Women's Classic Presented by Corona (South Bend, Ind.); Myrtle Beach Invitational (Conway, S.C.); NIT Season Tip-Off (Brooklyn, N.Y.); Puerto Rico Tip-Off; State Farm Champions Classic (Indianapolis) and Wooden Legacy (Fullerton, Calif.)
Collegiate Softball
St. Pete/Clearwater Elite Invitational (Clearwater, Fla.)
For more information, visit the official website, Facebook, Twitter or YouTube pages.
About SERVPRO®
Founded in 1967, the SERVPRO franchise system is a leader and provider of fire and water cleanup and restoration services, and mold mitigation and remediation. SERVPRO's professional services network of more than 1,700 individually owned and operated Franchises responds to property damage emergencies ranging from small individual disasters to multi-million dollar large-loss events. Providing coverage in the United States and Canada, the SERVPRO system has established relationships with major insurance companies and commercial clients, as well as individual homeowners.
About Impression Sports & Entertainment
Impression Sports & Entertainment (Impression Sports) specializes in providing clients with full-service sponsorship sales representation, sponsorship consulting, and venue naming rights services. Founded in 2011, Impression Sports has established itself as one of the leading firms in the industry by working with top brands, including USC, the San Antonio Spurs, Auburn University, the Fiesta Bowl organization, USA Swimming, and ESPN Events among others. Its management team provides in-depth experience and results-driven success in venue naming rights, title sponsorships, and high-profile sales and sponsorship platforms.
Based in Denver, CO, Impression Sports is owned by Home Team Sports (HTS). HTS is a sales unit of FOX Sports that offers advertisers one-stop shopping for TV and digital media sponsorship of every MLB, NBA, and NHL home team across the U.S., reaching 90+ million homes with its platforms. For more information on Impression Sports, including a complete client roster and testimonials, visit www.impressionsports.com
---