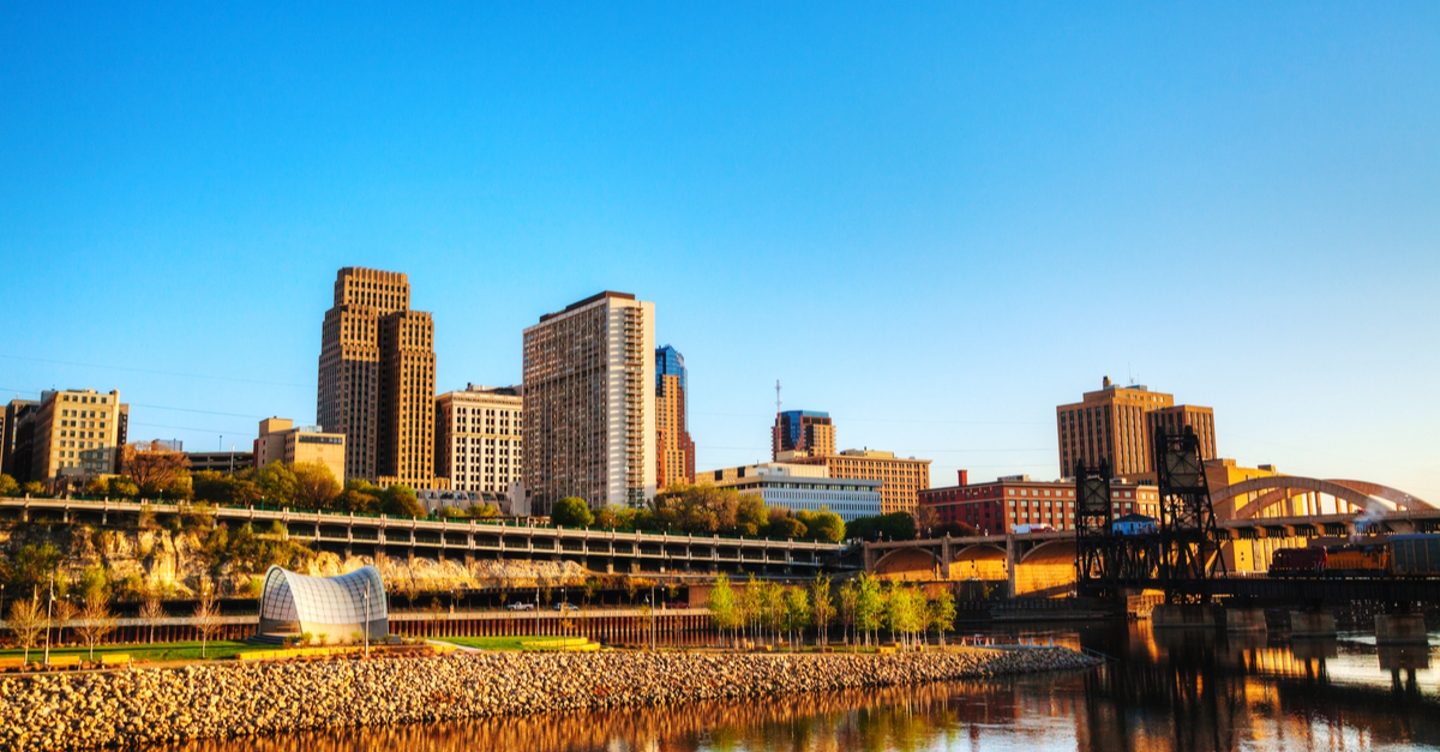 St. Paul's Cleanup and Restoration
Commercial and Residential Damage Cleanup and Repair
When Water, Fire, and Storm Damage Happens in St. Paul - We're Ready
Minnesota's capital of St. Paul is a lovely fusion of vintage architecture and modern sensibilities. Despite its status as the "quieter" of the Twin Cities (its sister being next-door neighbor Minneapolis), this timeless city still packs a punch. Perfect for those seeking a homey atmosphere, St. Paul is filled with beautiful suburban regions, a sweeping convergence of the Minnesota and Mississippi rivers, and a plethora of museums and history, giving this city, for many, a unique romantic identity. Unfortunately, disaster can strike even this beautiful city at any point. So when disaster comes knocking, whether water or flood damage, fire and smoke damage, mold infestations, or biohazard dangers, know that SERVPRO® franchise professionals are available to provide cleanup and restoration services 24/7/365.
Downtown St. Paul Restoration Services
While Downtown St. Paul is considered a neighborhood, it is so much more than that title suggests. Bordered by the Mississippi River at its southern edge, as well as notable streets such as University Avenue in the north, Highway 52 in the east, and Kellogg Avenue in the west, Downtown St. Paul is a mecca of innovation and education that continues to grow. In fact, it is commonly considered the entertainment center of St. Paul. The arts and culture scene in Downtown St. Paul is particularly notable, as this region is home to multiple theaters and museums, including the historic Palace Theatre and the Science Museum of Minnesota. Other historic landmarks include the St. Paul Public Library and the Landmark Center, a post office and federal courthouse for the Upper Midwest, first completed in 1902. Additionally, such sights as the Minnesota State Capital and CHS Field, home of the St. Paul Saints and the Hamline University baseball team, make their home in Downtown St. Paul. When disaster strikes, rest assured we operate in all 50 states and Canada, with over 2000 franchises. We service 90% of all US zip codes within two hours and are always ready to assist with any job large and small. If your Downtown St. Paul home or business needs cleanup, restoration, and construction assistance, give us a call 24/7. We are always Here to Help.
24-Hour Emergency Service
Located in Southeast Minnesota, St. Paul is both a business city with a sleek, metropolitan feel, home to many company headquarters and also a timeless walkthrough tradition. The Como Park Zoo and Conservatory is one particular sight to behold, along with the stunning St. Paul Cathedral. Of course, Midwest life often means accepting rapidly changing weather, along with intensely cold temperatures, especially in winter. Storms and flooding are also common as St. Paul moves through the wet and windy fall and spring seasons.
Our highly rated specialists are:
Highly Trained Water, Fire and Mold Restoration Technicians
IICRC – Certified Restoration Specialists
Recommended by most Insurance Companies
Faster to Any Size Disaster
Protecting Your Home or Business When Water and Flood Damage Occurs
When disaster strikes, including water and flood damage, SERVPRO® certified technicians are prepared to provide water damage restoration services, including the reversal of burst pipes and flooded basements. When moisture turns into mold growth, we're ready to remediate, clean, and dry the affected areas, and restore your indoor air quality. Nothing is a higher priority than your safety and ensuring your homes and businesses are returned to pre-loss condition. Let us assess the damage, then work with your insurance company to progress through the restoration process. We have advanced equipment ready to perform water extractions, smoke and soot restoration services, mold remediation, and more.
When homes and businesses in the St. Paul metropolitan area require the best in water-fire-mold restoration, we're Here to Help.®
Locals and residents of St. Paul know disasters can strike anytime, and having a top-tier cleanup and restoration company available is paramount. That's why SERVPRO® prides itself on being Faster to Any Size Disaster. From Douglas to Grant, Hennepin to Ramsey, and everywhere in between, you can count on SERVPRO® to make it "Like it never even happened."®
Contact us for a free, no-obligation consultation with our team of IICRC certified damage restoration specialists. Our teams work with your insurance company through the restoration process.
SERVPRO
®

, The Best Restoration Services in the Greater St. Paul Area
Locally Owned and Operated
Trusted Leaders in the Water Restoration Industry
Advanced Water Inspection, Extraction, and Drying Equipment
No matter the damages, whether in Wright County, Carver County, or somewhere beyond, no matter day or night, a SERVPRO® is always nearby, and always a phone call away. We're always Here to Help®, so don't hesitate. Give us a call today.
When homes and businesses require a top restoration service provider, they contact SERVPRO
®
.
Our locally owned and operated SERVPRO® franchises are available 365 days a year, 24 hours a day. Contact us, and we will make it "Like it never even happened."®
Our commercial cleaning professionals are trained to follow CDC protocols for all types of specialty cleaning services for hazardous materials including the novel coronavirus, biohazard, and mold removal.
Click to contact your local SERVPRO® for a free, no-obligation consultation with our team of IICRC certified damage restoration specialists. No matter the amount of damage, SERVPRO® has over 50 years of experience and over 2000 franchises nationwide.
Recommended For You
Restoring your home or business after fire damage is our main goal. As a leading fire dama...

Mold can grow anywhere. Trust SERVPRO® for reliable mold remediation, abatement, and resto...

Keeping your commercial business looking its best is a priority. When your business requir...