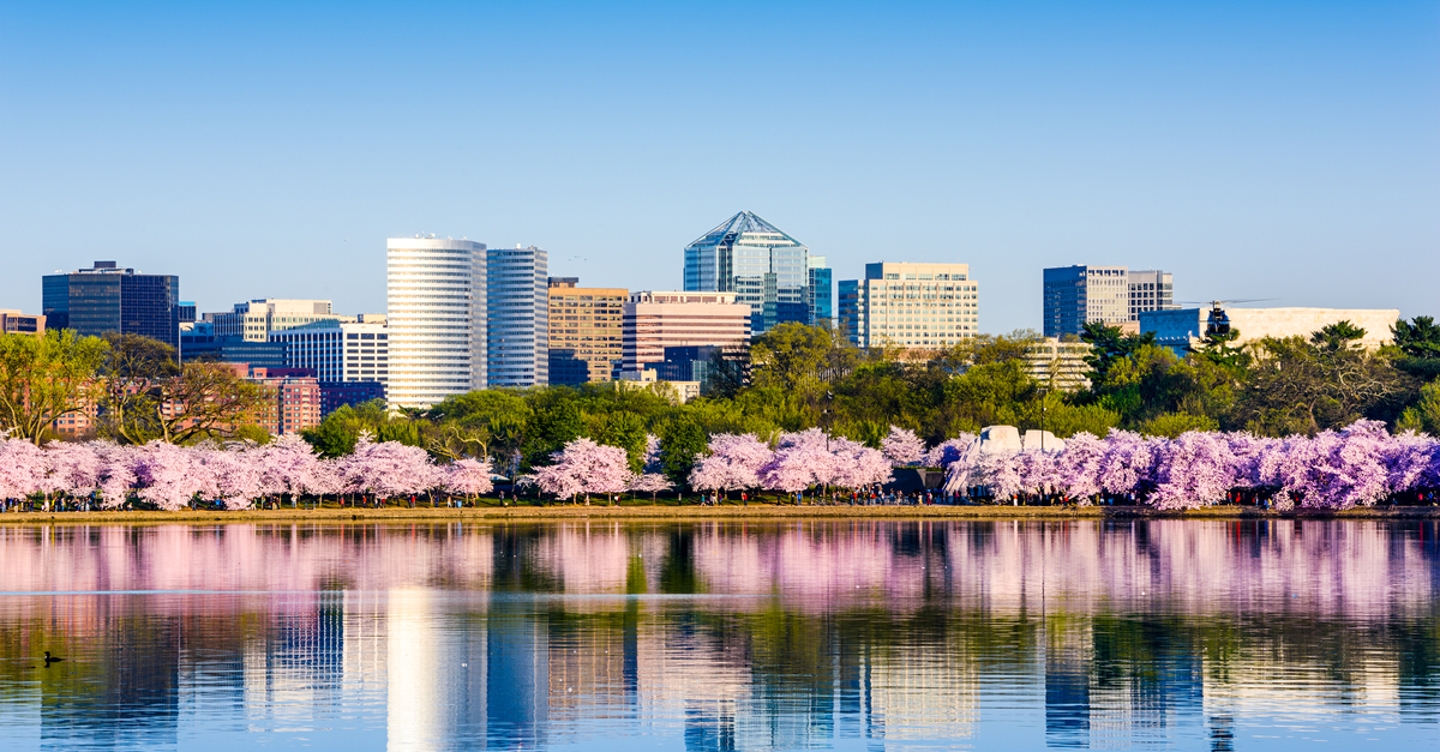 Washington DC's Cleanup and Restoration
Commercial and Residential Damage Cleanup and Repair
When you need Water Damage, Fire or Storm Damage Restoration in the Washington DC area, We're Ready.
Whether you're looking for restoration, cleaning or construction services, our teams are here to help 24/7.
Washington DC is known for its fierce politics, rich history, and many museums and landmarks, such as the Lincoln Memorial, Washington Monument, and White House. Furthermore, nestled near the renowned Tidal Basin, the world-famous Japanese cherry blossoms bloom each spring, attracting visitors from around the world to enjoy their beauty as the city wakes from its winter slumber. But beware—they bloom at different times each spring, so planning your trip around them can be a challenge! Did you know these trees were donated to the nation's capital from Mayor Yukio Ozaki of Tokyo City, Japan in 1912? But beyond the obvious sights, there is more to the United States capital city that makes it tick than meets the eye. For instance, the culinary delight known as "half-smokes" (typically a half-beef, half-pork sausage link sandwiched in a hotdog bun and dredged with chili sauce, herbs, cheese, and onions) is a DC staple one must try when visiting. Interested in literature? The Folger Shakespeare Library is just the thing, containing the most Shakespeare works of any library in the world. Unfortunately, Washington DC residents, business owners, and tourists can be struck by water damage, fire damage, mold damage, or biohazard dangers at any time. Thankfully, with over 2000 franchises across the United States and Canada, there is never a SERVPRO® franchise far away. Our service professionals service 90% of all US zip codes within two hours, so when you need your space returned to preloss condition, look no further. SERVPRO® will be onsite to make it "Like it never even happened." ®
24-Hour Emergency Service
Located on the east bank of the famous Potomac River and named after our nation's first president, this shining city is a fascinating history book come to life. From iconic sights like the Lincoln Memorial and National Mall, to architecture incorporating neoclassical and gothic styles, Washington D.C. is also home to places such as the Library of Congress and the legendary Maine Avenue Fish Market, one of the oldest operating fish markets in the country. While disaster can strike at any time, SERVPRO® franchise professionals are dedicated to returning your space to preloss condition. With the specialized knowledge of a local business but the resources of a national brand, rest assured SERVPRO® can handle any size job and be onsite at all hours of the day.
Our highly rated specialists are:
Independently

Owned and Operated
Washington DC's weather is typical of a city in the northeast, featuring cold winters with light to heavy snow, and hot, humid summers. Blizzards have been known to occur, while in the summer, excessive heat and humidity produce frequent thunderstorms, and even tornadoes. Nor'easters are also possible, given precipitation is consistent throughout the year. Furthermore, the Potomac River has flooded in the past, leading to property damage of the surrounding areas.
When water damage strikes DC residents and business owners, whether from a faulty washing machine, burst pipes, or excessive floodwater, rest assured SERVPRO® franchise professionals can help. First, they will locate the affected areas, then use proprietary extraction equipment to remove both standing and hidden water. Then, SERVPRO® restoration professionals will employ a drying process to ensure your space is devoid of any lingering moisture. Unfortunately, excessive wetness can lead to mold in your home or business, possibly compromising your indoor air quality. But rest assured our restoration professionals will clean up the mold using SERVPRO®'s HVAC systems, ensuring all affected square feet and your air ducts and crawlspaces are mitigated of mold. When it comes to fire and smoke damage, our franchise professionals are prepared to remove smoke odors and soot from your affected space, restoring your property after the fire department has left. Lastly, remember we are always prepared to work with your insurance company to ensure a seamless cleanup and restoration experience, with 24 hour a day services.
SERVPRO
®
, The Best Property Restoration Services in the Washington DC Area
Independently

Owned and Operated

Trusted Leaders in the Water Restoration Industry

Advanced Water Inspection, Extraction, and Drying Equipment
SERVPRO® professionals are always available and never far away, so whether you experience damage in Allegany or Frederick, Arlington or Stafford, or somewhere in between, let us help. We are Faster to Any Size Disaster and will work with your insurance company to provide a smooth restoration experience. Discover why we are the #1 choice in cleanup and restoration. Give us a call.
Our locally owned and operated SERVPRO® franchises are available 365 days a year, 24 hours a day. Give us a call, and we will make it "Like it never even happened."®
Our commercial cleaning professionals are trained to follow CDC protocols for all types of specialty cleaning services for hazardous materials including the novel coronavirus, biohazard, and mold removal.
Contact your local SERVPRO® for a free, no-obligation consultation with our team of IICRC certified damage restoration specialists. No matter the amount of damage, SERVPRO® has over 50 years of experience and over 2000 franchises nationwide.
Recommended For You
Restoring your home or business after fire damage is our main goal. As a leading fire dama...

Mold can grow anywhere. Trust SERVPRO® for reliable mold remediation, abatement, and resto...

Keeping your commercial business looking its best is a priority. When your business requir...