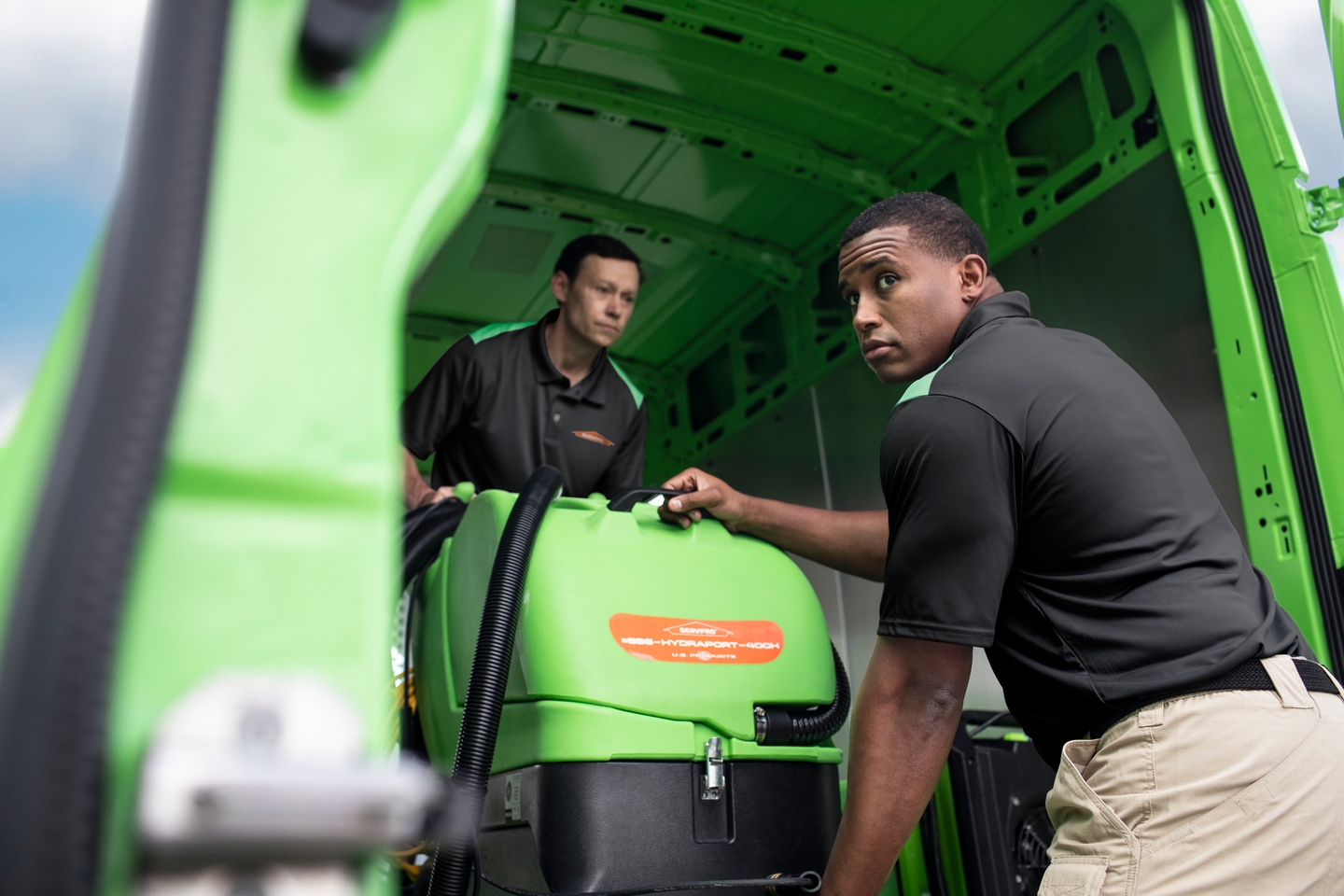 Colorado Springs' Cleanup and Restoration
Commercial and Residential Damage Cleanup and Repair
When you need Water Damage, Fire or Storm Damage Restoration in the Colorado Springs area, We're Ready.
Whether you're looking for restoration, cleaning or construction services, our teams are here to help 24/7.
Colorado Springs, Colorado is a beautiful city that is known for its outdoor activities and national parks. The city has a lower cost of living, slightly under the national average, attracting businesses and residents alike to settle here. The site of modern-day Colorado Springs was once apart of the great American frontier. The city was built in 1859 as a product of the Pike's Peak gold rush. Unfortunately, even Colorado Springs residents and business owners are not immune to the hardship of water and fire damage, mold damage, biohazard dangers, and more. So, when you are struck by disaster, rest assured there is always a locally owned and operated SERVPRO® franchise nearby.
24-Hour Emergency Service
Located in the middle of Colorado, Colorado Springs (or, its nickname, "Little London") is overflowing with beautiful parks and landmarks, such as the "Garden of the Gods." The U.S. Olympic and Paralympic Training Center is also located here and is open to the public for tours. Other interesting things to do in Colorado Springs would be to visit Pike's Peak or "America's Mountain." Exploring this mountain is a great way to see all the gorgeous views the Rockies offer. When catastrophe strikes, Colorado Springs residents and business owners can count on SERVPRO's elite cleanup and restoration professionals, that are always ready to make it "Like it never even happened".®
Our highly rated specialists are:
Locally Owned and Operated
Colorado Springs weather includes sunny, but pleasant summer months. While winter can be uncomfortable with the amount of snow Colorado Springs gets, if you love to ski it is great. Colorado Springs experiences all four seasons, as well as low humidity. In the summer months the average temperature hovers around 80 degrees, while the winter temperatures hover around 20 degrees.
When water damage strikes homes and businesses in Colorado Springs, whether from a burst pipe or flood damage due to immense amounts of snow/rain, our restoration team is ready. They will locate the problem area, extract the water, and use our top-of-the-line drying equipment to ensure the damage to your property is fully remediated, and the water source is either stopped or no longer a threat. Mold can be a problem when water damage occurs, due to the excessive amounts of moisture. Mold spores can grow in places such as air ducts, ceiling tiles, and on other surfaces. Our professionals will employ our mold remediation process, which involves utilizing our HVAC systems to ensure the air quality is restored back to normal. When it comes to fire and smoke damage, our 24-hour services include complete commercial property restoration, as well as smoke, soot, and smoke odor removal. Lastly, remember we are always prepared to work with your insurance company, to ensure a smooth restoration experience.
SERVPRO, The Best Restoration Services in the Colorado Springs Area
Locally Owned and Operated
Trusted Leaders in the Water Restoration Industry
Advanced Property Damage Inspection, Water Extraction, and Drying Equipment
Whatever season it may be, residents and business owners from Denver to Trinidad can count on SERVPRO whenever they experience water and fire damage, mold growth, biohazard dangers, and more. Our technicians receive ongoing training from our corporate facility and can show up when disaster strikes to take care of the job. Rest assured, our SERVPRO professionals are there for you to make it, "Like it never even happened."®
Our locally owned and operated SERVPRO® franchises are available 365 days a year, 24 hours a day. Give us a call, and we will make it "Like it never even happened."®
Our commercial cleaning professionals are trained to follow CDC protocols for all types of specialty cleaning services for hazardous materials including the novel coronavirus, biohazard, and mold removal.
Contact your local SERVPRO® for a free, no-obligation consultation with our team of IICRC certified damage restoration specialists. No matter the amount of damage, SERVPRO® has over 50 years of experience and over 2000 franchises nationwide.
Recommended For You
Restoring your home or business after fire damage is our main goal. As a leading fire dama...

Mold can grow anywhere. Trust SERVPRO® for reliable mold remediation, abatement, and resto...

Keeping your commercial business looking its best is a priority. When your business requir...