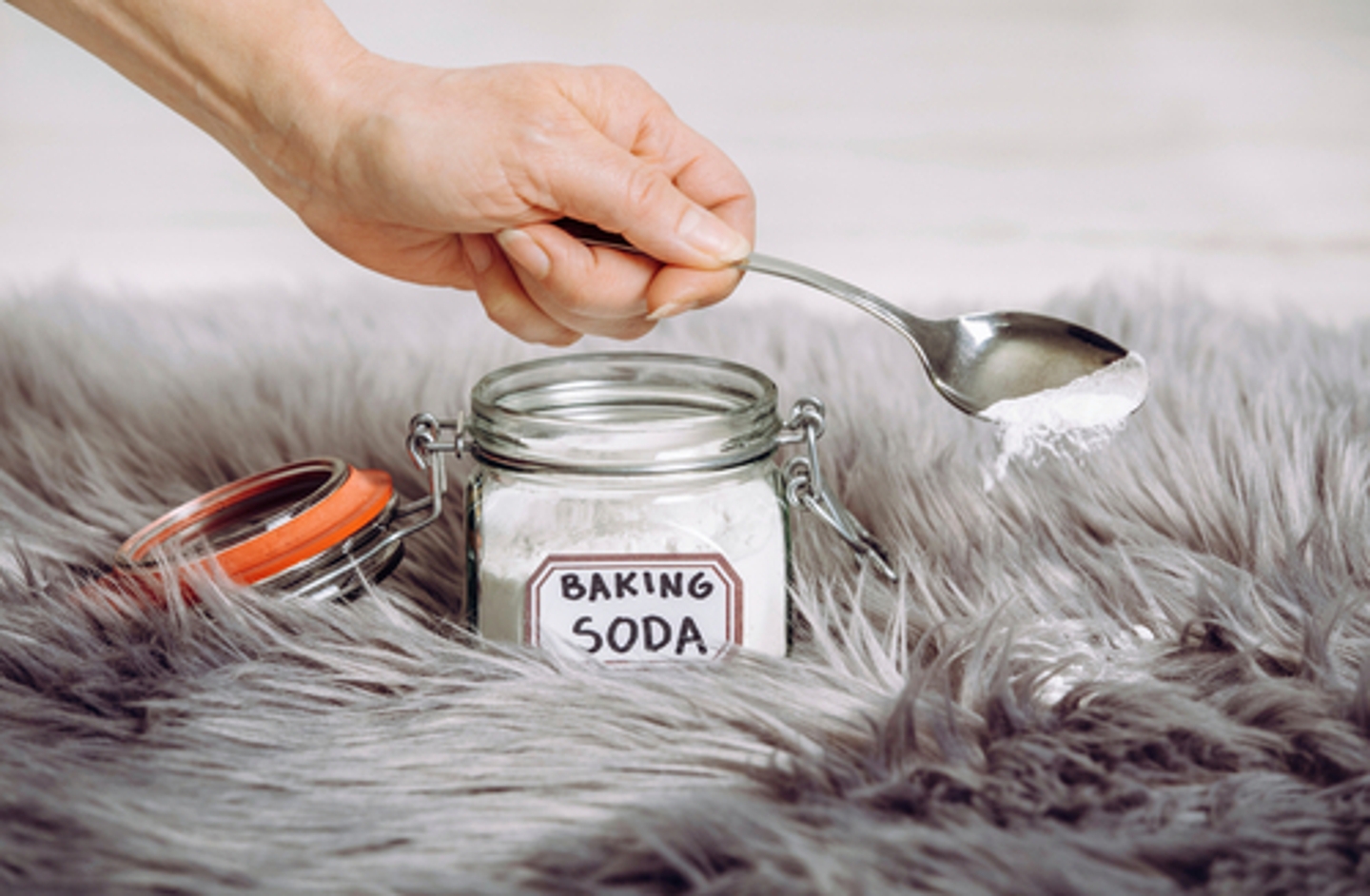 ---
After water damage, drink spills, rowdy pets, or more, you may find yourself with an all-too-common issue: a wet, mildew-like smell coming from your carpet. To add insult to injury, your carpet may be made of expensive material, or was a gift from overseas, like a Persian rug. Is the carpet ruined? And how do you get that wet dog smell out of your carpet? Thankfully, there are some tricks you can use to begin the process of remediation yourself. SERVPRO® has compiled some helpful tips below to remove the bad mildew smell from your carpet.
Common Types of Carpet
Carpet types are differentiated by two main factors: the fiber, and how those loops of fiber are attached to the carpet backing. According to The Spruce, the most common types of carpet are:
Polyester. This material is known for its ability to hold vibrant colors. However, it can flatten over time, making it optimal for low traffic areas. It is also prone to stains from oil.
Nylon. Durable, resistant to stains, and soft, this is one of the most popular carpet types. It can last anywhere from 12-15 years, and has a good resistance to mildew, mold, and other rot.
Acrylic. A good carpet type due to its resistance to staining, moisture, mildew, and static electricity. However, it does not hold up well in high traffic areas due to its low durability. It can also turn brown when it encounters certain alkaline chemicals.
Wool. A natural and long-lasting material that is incredibly soft. However, it has a high probability of staining, and can retain moisture and mildew in high humidity areas. It is also typically more expensive than other types.
Polypropylene. Commonly used in commercial spaces, this type of carpet is soft and relatively easy to clean. It is also stain-resistant. However, it is susceptible to soiling, and can hold onto dirt.
Tips for Getting the Wet Dog Smell Out of Carpet
While SERVPRO can handle any size carpet cleanup, when you first notice that telltale musty, wet smell, it is understandable you may want to try tackling the cleanup yourself. In that case, SERVPRO recommends the following tips to remove the wet smell from your carpet, recommended by WikiHow:
Gently sprinkle baking soda over the affected area, then massage it into the fibers with a broom or sponge. Let it sit overnight.
Thoroughly vacuum the carpet.
Use a commercial carpet shampoo in the affected area.

Consider that some products are meant to be used in a machine, and others can be used with a sponge. Be sure to read the directions before use.

Keep your carpet dry at all times.
Consider discarding moisture-laden carpet beyond repair.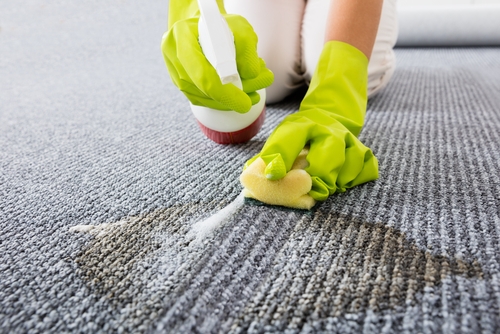 SERVPRO's Six Carpet Cleaning Methods
Did you know there are six different methods SERVPRO can use when cleaning your carpet? That's right. Beyond a standard steam cleaning, the following methods may be employed:
Bonnet cleaning. The least aggressive method and best for lightly soiled carpeting, this type of cleaning uses a small amount of water, allowing your carpet to dry within an hour or less.
Hot water extraction. A portable or truck-mounted extraction machine is used with a heated cleaning solution. Best for moderate soil levels.
Deluxe pre-condition and rinse. Best for moderate to heavily soiled carpets, a specialized cleaning product is first applied to the carpet. After, a heated rinsing solution is employed.
Rotary jet extraction. Like the deluxe pre-condition and rinse, and optimal for moderate to heavily soiled carpets, a powerful rotary cleaning device is used to aggressively clean carpet fibers.
Showcase premier cleaning. The most thorough of carpet cleaning methods, and often used for fire damage cleanup, this type of carpet cleaning involves a rotary scrubber using a shampoo cleaning solution, followed by a heated rinse.
Dry cleaning. Can be performed by hand or with specialized equipment to help ensure color correctness is handled properly. Best for carpets sensitive to water-based cleaning products, in which case oil-based products are used.
The SERVPRO Carpet Cleaning Process
If you find yourself requiring the assistance of a professional cleanup and restoration company for your carpet cleaning needs, look no further than SERVPRO. Technicians are educated and experienced in thoroughly removing the wet dog smell or musty mildew odor from your carpeting, following the below steps:
Evaluation. After identifying the type of fibers and soil present in the carpet, SERVPRO technicians will determine the best method and products for cleaning.
Preparation. Furniture is moved and drapes are pinned so they do not touch the wet carpet.
Staging. A protective floor covering is placed, and equipment and products are staged in the appropriate area.
Pre-treatment and spot removal. High traffic and particularly soiled or stained areas are pre-treated first.
Cleaning. The cleaning process begins. Simultaneously, air movers are placed to help ensure quick and efficient drying.
Soil protection. Technicians will apply protectants to the rug or carpeting to help ensure future soils do not embed into the fiber.
Wrap-up. Furniture pads and blocks are placed, along with courtesy mats and traffic lane paper. Products and equipment are removed from the area.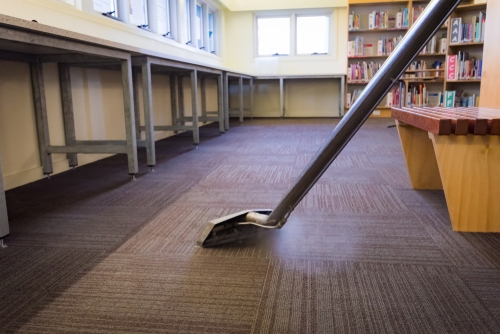 SERVPRO is Here to Help®
With over 2,100 franchises across the United States and Canada, there is a SERVPRO nearby, ready to service your carpet cleaning needs at a moment's notice. SERVPRO franchise professionals are educated and experienced in both large and small cleanup and restoration needs. From a single rug to an apartment complex with an extensive carpet issue, SERVPRO is here to help around the clock. Whether you experience water damage or a mildew smell in the middle of the night, on a weekend, or even on a holiday, your local franchise professionals will be there to help make it "Like it never even happened."
Beyond carpet cleaning, SERVPRO can provide elite cleanup, restoration, and construction services for water damage, fire damage, mold remediation, biohazards, and more. Take care knowing your local SERVPRO professionals can provide a one-stop-shop service for all your cleaning needs. Find your local SERVPRO today and give us a call.
For more information, please visit our FAQ and Glossary.
Sources:
https://www.thespruce.com/overview-of-carpet-choices-1315092
---