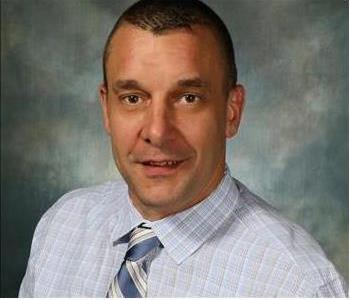 Sean McCabe, Michael McGrory
Owners of SERVPRO of Germantown
About Us
SERVPRO of Germantown is here for you 24/7/365. We are locally owned and operated and our staff is highly trained in property restoration. When disaster strikes we will stand with you and help get your property back to pre-loss condition as soon as possible.
Here to Help® 24/7.
SERVPRO of Germantown
About Us
SERVPRO of Germantown understands the stress and worry that comes with fire or water damage and the disruption it causes your life. Our goal is to help minimize the interruption and quickly make it "Like it never even happened."

SERVPRO of Germantown specializes in the cleanup and restoration of residential and commercial property after a fire, smoke or water damage. SERVPRO of Germantown can also mitigate mold and mildew, perform asbestos abatement, clean your air ducts or perform biohazard, vandalism and/or crime scene clean-up!

We specialize in disaster preparation and recovery from building emergencies. From initial and ongoing training at SERVPRO's corporate facility to regular IICRC-industry certification, rest assured our staff is equipped with the knowledge to restore your property efficiently and effectively. With a nationwide system of qualified franchises, no damage is too large or too small for SERVPRO of Germantown.

If you would like to schedule service for your home, school, or business, please call today!

Serving you since 1967, SERVPRO is the cleaning and restoration brand you know and trust.
Committed to Our Community:
Our owners, Sean McCabe and Mike McGrory, have made it their mission to dedicate time and resources to the Germantown community. Any chance that they have to lend a helping hand to the local fire departments, local police departments or any organizations in need, they are always the first ones to help. Our owners have instilled that mindset in all of the employees who work here and each one tries to donate at least one to two hours a week volunteering. Every year SERVPRO of Germantown joins forces with other local franchises to host their annual Hydrating Heroes event at the Wells Fargo Center, which benefits the first responder community.
Our Employees:
At SERVPRO of Germantown, we believe in outstanding local, residential care and treatment regardless of our big franchise name. Each SERVPRO is own independently to be able to focus on our local communities. We believe in making sure all of our customers receive a personable and comfortable experience all while performing an exceptional restoration of your home or business. Find out more about our office employees, production managers, and crew chiefs here!
Why SERVPRO?
Each of our crew members goes through intensive training online and in the field. Every member is trained to pass the IICRC (Institute of Inspection Cleaning and Restoration Certification) along with the Employee Certification Training to ensure that our crew is properly equipped to handle any restoration job. For more information about our crew training, click here!
Service Area
Philadelphia, PA |
Olney-Oak Lane, PA |
Germantown, PA |
Belfield, PA |
Ogontz, PA |
Lawncrest, PA |
Logan, PA |
Fern Rock, PA |
Wister, PA |
Olney, PA |
La Salle University, PA |
Wyoming, PA |
Penn-Knox, PA
Certifications
CCT - Carpet Cleaning Technician
ECTP - Employee Certification Training Program
OSHA - 10-hour General and/or Construction Industry Training Program
IICRC Certified Firm
ASD - Applied Structural Drying Technician
WRT - Water Damage Restoration Technician
ABRA Certified Biorecovery Technician course
OSHA - Other Training
UFT - Upholstery & Fabric Cleaning Technician
FSRT - Fire & Smoke Damage Restoration Technician
AMRT - Applied Microbial Remediation Technician
OCT - Odor Control Technician
HST - Health and safety Technician
OSHA - 30-hour General and/or Construction Industry Training Program
Payment Info
The following cards are accepted:
Awards
Founder's Silver, for Outstanding 2012 Sales Performance
Chairman's Silver, for Outstanding 2014 Sales Performance
Chairman's Gold, for Outstanding 2015 Sales Performance
Millionaire's Club
Millionaire's Platinum, for Outstanding 2008 Sales Performance
Millionaire's Club
Millionaire's Club
Chairman's Bronze, for Outstanding 2017 Sales Performance
Chairman's Platinum, for Outstanding 2011 Sales Performance
SERVPRO Franchise of the Year
FRED Award
Highest Franchise Total Volume and Volume Mitigation
SERVPRO Millionairs Club
Chairman's Platinum, for Outstanding 2018 Sales Performance
Millionaire's Club
President's Gold, for Outstanding 2004 Sales Performance
Millionaire's Club
Millionaire's Club
FRED Award
Chairman's Silver, for Outstanding 2013 Sales Performance
Chairman's Silver, for Outstanding 2009 Sales Performance
Director's Silver, for Outstanding 2003 Sales Performance
Millionaire's Gold, for Outstanding 2007 Sales Performance
President's Silver, for Outstanding 2002 Sales Performance
Chairman's Platinum, for 2019 Sales Performance
Millionaire's Silver, for Outstanding 2006 Sales Performance
Goal Buster
Founder's Bronze, for 2020 Sales Performance
Chairman's Gold, for Outstanding 2010 Sales Performance
Driven to SERV
Millionaire's Club
Franchise of the Year
Millionaire's Club
Goal Buster
Millionaire's Platinum, for Outstanding Sales Performance
Affiliations
HAP-Hospital and Healthsystem Association of PA
PALA-PA Assisted Living Association
Apartment Association of Greater Philadelphia
M&SCA-Mechanical and Service Contractors of Eastern PA
HFMA - Hospital Fire Marshall Association
ICSC - International Council of Shopping Centers
ABC East-Associated Builders and Contractors
SADV - Subcontractors Association of Delaware Valley
PSBA-PA School Board Association-Corporate Partner
FEMSA-Fire and Emergency Manufacturers and Services Association
Alacrity Services
PA State Coroners Association
PASBO-PA School Board Officials
LeadingAge
HFMADV - Healthcare Facilities Managers Association of Delaware Valley
PFDA-PA Funeral Directors Association
AFE - Association for Facilities Engineering
Crawford Contractor Connection
CCAP-County Commissioners Association of PA
PCPA-PA Chiefs of Police Association
DVFDA- Delaware Valley Fuel Dealers Association
Pennsylvania Apartment Association (PAA)
Daily Dispatch
CAI (Community Association Institute)
BCWSA - Bucks County Water and Sewer Authority
PHCA-PA Health Care Association
PRLA - Pennsylvania Restaurant & Lodging Association
PAMIC-PA Association of Mutual Insurance Companies
PFESI-Top Sponsors
Clean Trust
GPHA - Greater Philadelphia Hotel Association
Mechanical & Service Contractors Association (M&SCA)
PAPHCC-Plumbing-Heating-Cooling Contractors Assoication