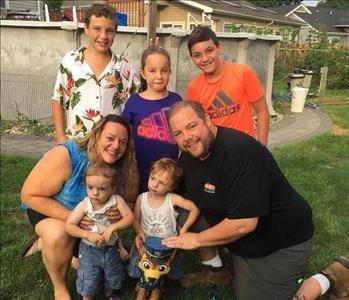 John E. Blehl
Owners of SERVPRO of Dover / Stillwater
About Us
SERVPRO of Dover / Stillwater is here for you 24/7/365. We are locally owned and operated and our staff is highly trained in property restoration. When disaster strikes we will stand with you and help get your property back to pre-loss condition as soon as possible.
Here to Help® 24/7.
SERVPRO of Dover / Stillwater
About Us
SERVPRO of Dover / Stillwater has been at the forefront of home restoration and remediation here in Morris and Sussex Counties for the past 5 years. Our dedicated owner John E. Blehl began his career as a home adjuster and has brought a wealth of experience to the role, aligning it with our restore over replace mentality. We specialize in home remediation after a fire, water, or mold damage emergency with a rapid response team ready to help you with natural disasters, storms or the cleanup of Biohazard substances.
Our commercial response team has carried out restoration services valued at more than one million dollars but are available to any size disaster. We provide each commercial client with a project manager who can keep you in the loop throughout service. Our emergency contact line is operated 24 hours a day, and we can immediately send a team of technicians with extensive training and IICRC qualifications to your property.
As members of this community, we make an effort to support our first responders. Our support extends to the fire departments in Dover, Byram, Andover, and Morris and Sussex Counties. We even sponsor FF1 and FF2 graduating classes in the Morris County Fire Academy. In this line of work, we find ourselves working near firefighters usually arriving on site shortly after they have packed up and moved on. We witness the size and scale of their everyday work; it is only right to support them, and this community, in any way we can.
Our service is backed up by our personal qualities, experience, and expertise. You can trust us to get the job done because our technicians hold qualifications from the IICRC in a variety of restoration areas. Our specialties are in water damage, fire & smoke damage as well as applied structural drying. However, we go one step further and hold certificates in lead-based paint activities and restoration as well as certified Biorecovery training with some of our technicians completing a ten general/ construction industry training program.
In short, we are here to help you get your property back to its best after damages have occurred, "Like it never even happened."
Service Area
Dover, NJ |
Hopatcong, NJ |
Jefferson, NJ |
Stanhope, NJ |
Mt. Arlington, NJ |
Wharton, NJ |
Mine Hill, NJ |
Netcong, NJ |
Byram, NJ |
Oak Ridge, NJ |
Stillwater, NJ |
Woodport, NJ |
Prospect Point, NJ |
Cranberry Lake, NJ
Certifications
AMRT - Applied Microbial Remediation Technician
CRT - Color Repair Technician
ASD - Applied Structural Drying Technician
RRRP - Lead-Based Paint Activities and Renovation
OSHA - 10-hour General and/or Construction Industry Training Program
FSRT - Fire & Smoke Damage Restoration Technician
OSHA - 30-hour General and/or Construction Industry Training Program
CCT - Carpet Cleaning Technician
HST - Health and safety Technician
RRT - Carpet Repair & Reinstallation Technician
ECTP - Employee Certification Training Program
RCT - Rug Cleaning Technician
ABRA Certified Biorecovery Technician course
WRT - Water Damage Restoration Technician
UFT - Upholstery & Fabric Cleaning Technician
OCT - Odor Control Technician
Affiliations
Netcong Fire Department
Sussex County OEM preferred vendor
Hopatcong DPW
Habitat for Humanity
Dover Fire Department Supporter
Sussex County Fire Academy FF1 and FF2 graduating class sponsor
Andover Fire Department Supporter
Byram Fire Department Supporter
Roxbury Boy Scouts Troop 54 sponsor
Roxbury Soccer Sponsor
Hopatcong Fire Department Supporter
Morris County Fire Academy FF1 and FF2 graduating class sponsor
Roxbury Fire Department supporter and sponsor
Hopatcong OEM
Newton Departmnet of Public Works Vendor
Benson Thompson Agency sole mitigation responder