About Us
Serving Phoenix and Surrounding Areas
SERVPRO of East Phoenix is here for you 24/7/365. We are locally owned and operated and our staff is highly trained in property restoration. When disaster strikes we will stand with you and help get your property back to pre-loss condition as soon as possible.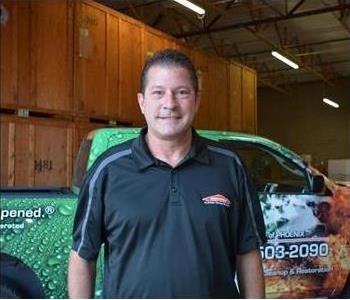 Jason Daryl Wolfswinkel
Owners of SERVPRO of East Phoenix
About Us
SERVPRO of East Phoenix is owned and operated locally by Nicole Baird and Jason Wolfswinkel. They have built a team of highly-trained, certified technicians that come with decades of experience. We specialize in cleanup and restoration services for residential and commercial properties affected by fire and water damages. In additions we provide services that include microbial remediation, asbestos abatement and bio-hazardous cleanups.
Many times a home or business may need reconstruction in order to restore the property to its pre-loss condition and at SERVPRO of East Phoenix, we have the facilities an manpower to do so.
We are committed to lessen the interruption to your daily life and make it "Like it never even happened."
Our crew is experienced in property damage restoration with IICRC-industry certifications. There isn't a damage that is too large or small for SERVPRO of East Phoenix with our nationwide system of franchises.
Serving you since 1967, SERVPRO is the cleaning and restoration brand you know and trust.
Our Employees
The employees at SERVPRO of East Phoenix have been chosen due to there genuine hard work, skilled abilities and experience. Together they have achieved amazing jobs in record time. Mr. Brown has been going strong with us for over 39 years. Chris Butas (Butas) has been here for 16 years and continuing and Amella is going on 20 years now. The decades of fire and water damage restoration services held by all employees together, in addition to the experience and commitment, we are proud to be the go-to guy for your disasters.
Committed to Community
SERVPRO of East Phoenix is a well-rounded bunch coming from all over. We all have our ways that we enjoy contributing to our community which includes feeding the homeless, supporting local artists while participating in local events/festivals and we have a passion for Hot Rods.
Certifications
CMT - Commercial Carpet Maintenance Technician
HST - Health and safety Technician
CR - Certified Restorer
RCT - Rug Cleaning Technician
OCT - Odor Control Technician
WRT - Water Damage Restoration Technician
ASD - Applied Structural Drying Technician
RRT - Carpet Repair & Reinstallation Technician
RRRP - Lead-Based Paint Activities and Renovation
FSRT - Fire & Smoke Damage Restoration Technician
ECTP - Employee Certification Training Program
IICRC Certified Firm
OSHA - 10-hour General and/or Construction Industry Training Program
CCT - Carpet Cleaning Technician
AMRT - Applied Microbial Remediation Technician
CRT - Color Repair Technician
UFT - Upholstery & Fabric Cleaning Technician