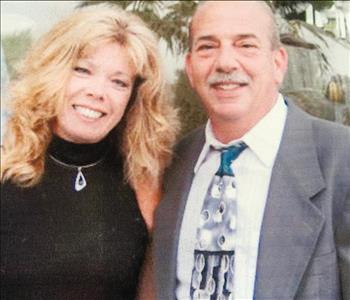 Robert & Dianne Lucchesse
Owners of SERVPRO of Babylon / Deer Park
About Us
SERVPRO of Babylon / Deer Park is here for you 24/7/365. We are locally owned and operated and our staff is highly trained in property restoration. When disaster strikes we will stand with you and help get your property back to pre-loss condition as soon as possible.
Here to Help® 24/7.
SERVPRO of Babylon / Deer Park
About Us
Our History SERVPRO of Babylon/Deer Park has been serving our community, surrounding areas and Long Island for the past 42 years. We have customers we have helped when we first started asking us to help them at their own homes or recommending us to their family and friends. We have had the same phone number for all these years.
Committed to our Community
Robert and Dianne Lucchesse have grown up and raised their family here. They are involved in almost every organization. Whether it be The Chamber, community organizations, veterans, church, school, sports or music, they are involved in it all. As always they are committed to serving OUR community and servicing their needs.
We see customers, new and old, in the grocery stores, restaurants, shows and public gatherings. We help organizations such as the Red Cross, Lions Club, Music clubs, The West Babylon and Town of Babylon Chambers as well as the sports clubs.
Our Trained Employees
We pride ourselves in providing the best service possible to all our customers. Our technicians do not work in this field until they complete all required courses in our training room. They then are sent out to be trained and tested to become certified technicians at SERVPRO'S Corporate training facility. Our team has decades of experience to draw from in property restoration. We tell all of our employees that when you enter a customer's home, it is the same as entering your family's home. Treat every single customer as if they were your grandparents.
Service Area
Certifications
OSHA - 10-hour General and/or Construction Industry Training Program
ECTP - Employee Certification Training Program
IICRC Certified Firm
FSRT - Fire & Smoke Damage Restoration Technician
HST - Health and safety Technician
WRT - Water Damage Restoration Technician
RRRP - Lead-Based Paint Activities and Renovation
RCT - Rug Cleaning Technician
ASD - Applied Structural Drying Technician
CCT - Carpet Cleaning Technician
UFT - Upholstery & Fabric Cleaning Technician
OSHA - Other Training
AMRT - Applied Microbial Remediation Technician
Payment Info
The following cards are accepted:
Awards
President's Silver Award
Lion of the Year
Presidents Gold Award
Directors Platinum
Scope Education Services Community Service Award
Outstanding Service Award
Volunteers for Babylon
Directors Bronze Award
Community Service Award
Outstanding Service award
Affiliations
Deer Park Chamber of Commerce
West Babylon Chamber of Commerce
National Association of Remodeling Industry
Babylon Historical Society
North Babylon Chamber of Commerce
West Babylon Main Street Organization
West Babylon Community Group
Town Of Babylon Chamber of Commerce
West Babylon Lions Club
West Babylon Little League
West Babylon Football and Cheerleading
West Babylon Music Parents
V.F.W Halls, West Babylon
West Babylon Historical Society
Wyandanch Music Program
West Babylon Leo's Club
West Babylon Alumni Foundation
Interior Design Society Long Island
West Babylon Junior High School Softball