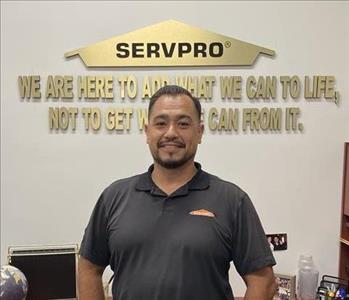 Homero Arteaga
Owners of SERVPRO of Monrovia and El Monte
About Us
SERVPRO of Monrovia and El Monte is here for you 24/7/365. We are locally owned and operated and our staff is highly trained in property restoration. When disaster strikes we will stand with you and help get your property back to pre-loss condition as soon as possible.
Here to Help® 24/7.
SERVPRO of Monrovia and El Monte
About Us
How do you define water and fire damage? Here at SERVPRO of Monrovia we understand that everybody has their own personal definition of damage. Which is why we treat every customer as unique as their situation. From the moment you call us, we clear all distractions and focus on you. You are what keeps us going, you are the reason we are in business. Which is why you are our top priority. When you are calling us, we understand that something has happened to your home and you want the best of the best to help. We will listen to you and to your situation and consider the best ways to help. We don't just send a technician to start a job, we send a manager, or the owner, to take a good look at the situation and make an assessment there with you. We walk you through every possible solution and begin with what you're comfortable with. It takes an emotional toll to see your home under construction, which is why we like to explain every step we take before we begin. We treat your home as if it were our own home, we don't want you to feel like this is just another job for us. We want you to trust us, we want you to communicate every concern and question, we want to be the final solution to your problem. Our mission here at SERVPRO of Monrovia is to treat every customer with a sense of urgency. When our phone rings, we are eager to talk to the person on the other line, we are eager to answer the call and solve a problem. We really love what we do, and we don't doubt that you'll take notice!
Certifications
ECTP - Employee Certification Training Program
FSRT - Fire & Smoke Damage Restoration Technician
ASD - Applied Structural Drying Technician
WRT - Water Damage Restoration Technician
IICRC Certified Firm
RRRP - Lead-Based Paint Activities and Renovation
Licenses
General Contractor License: 969180
Mold Remediation: 232586
Payment Info
The following cards are accepted:
Awards
Sales Performance (Bronze)
Sales Performance (Gold)
Sales Performance (Silver)