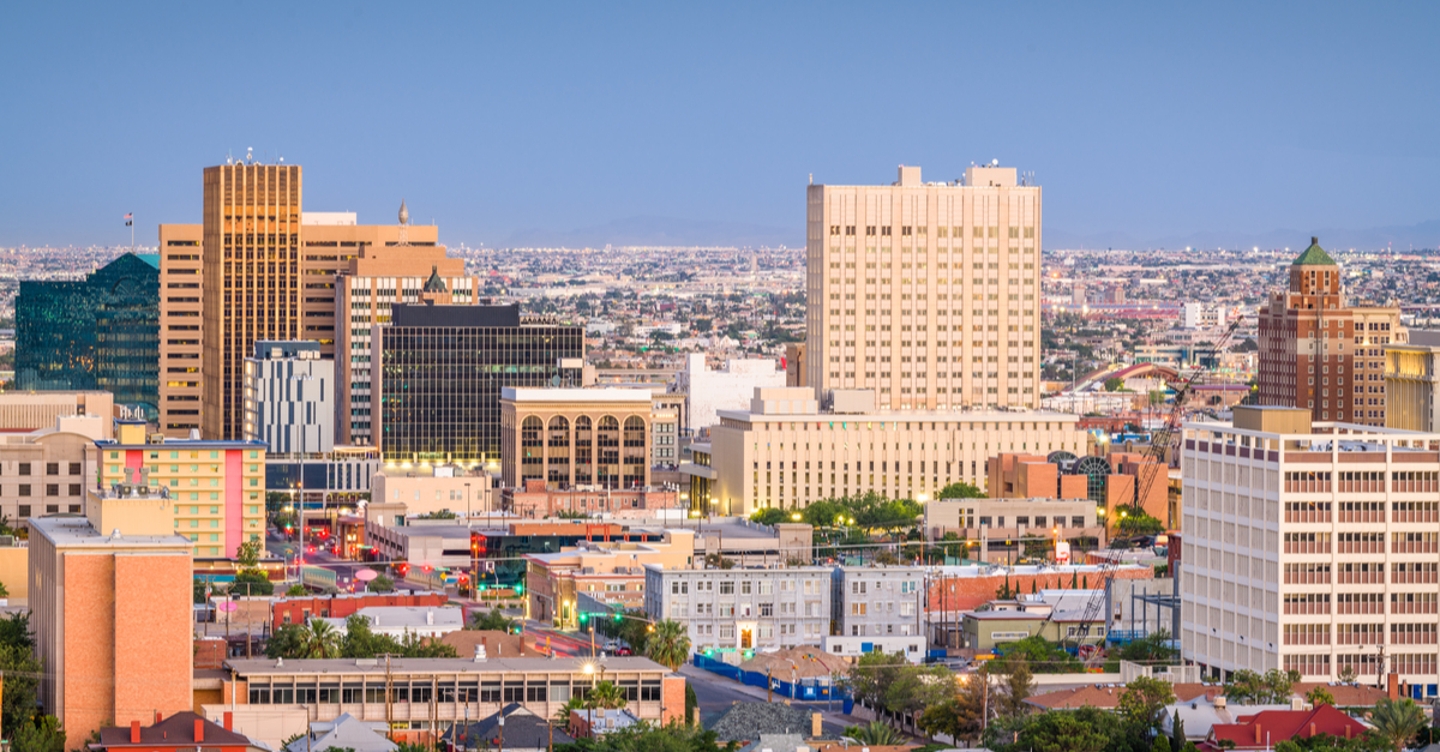 El Paso's Cleanup and Restoration
Commercial and Residential Damage Cleanup and Repair
When Water, Fire, and Storm Damage Happens in El Paso - We're Ready
Whether you're looking for restoration, cleaning or construction services, we're here to help 24/7.
El Paso, Texas, often called The Sun City, is a unique fusion of history and evolution, nestled firmly on the Western edge of Texas. With sights, experiences, and locations like Franklin Mountains State Park, the University of Texas—El Paso (Go Miners!), and arguably some of the best steak in the country, this is certainly a city for the adventurous. Unfortunately, even El Paso can be hit by various disasters, like water and flood damage, fires, mold infestations, and biohazard dangers. That is why SERVPRO® has over 1900 franchises across the United States and Canada, ready to service any size disaster at a moment's notice. We are only a click or call away and will be onsite within one hour of loss notification.
24-Hour Commercial and Residential Emergency Service


Made up of labyrinthian sidewalks, one of the largest manmade stars, and consistently maintaining the designation as one of the safest cities in the country, El Paso certainly has much to offer. To beat the heat, why not take a dip in the Rio Grande River? Or, for a different way to cool off, hop in a hot air balloon during the yearly Balloon Fest. Although rain is rare in this heat-drenched city, when it does come, flooding is common, invading streets and residences alike, and bringing along mold and fire damage.

Our highly rated specialists are:

Highly Trained Water, Fire and Mold Restoration Technicians
IICRC – Certified Restoration Specialists
Recommended by most Insurance Companies
Faster to Any Size Disaster

Protecting Your Home or Business When Water and Flood Damage Occurs

When water and flood damage strike El Paso homes and businesses, SERVPRO professionals are prepared to handle all types of water. We will extract and dry both standing and hidden water, using air movers and floor coverings. If a mold problem is found, we will also provide mold remediation services, removing all mold spores and black mold, and return your air quality to normal condition. Fire, smoke, and soot damage are also no match for us, as we utilize advanced techniques to remove these and additional odors present in your home or business. Beyond that, we will work with your insurance company to ensure your property is restored to pre-loss condition.

When homes and businesses in the El Paso - Hudspeth area require the best in water-fire-mold restoration, we're Here to Help®

Residents and business owners in El Paso and the surrounding areas want the assurance that a top-tier cleanup and restoration company is always available. From Culberson to Hudspeth, our independently owned and operated franchises are always Here to Help®, and Faster to Any Size Disaster®. No matter weekend or weekday, holiday, or workday, SERVPRO is available 24 hours a day, 7 days a week, 365 days a year.

Contact SERVPRO for a free, no-obligation consultation with our team of IICRC certified damage restoration specialists. Our teams work with your insurance company through the restoration process.

SERVPRO, The Best Restoration Services in the El Paso - Hudspeth - Far West Texas Area

Locally Owned and Operated
Trusted Leaders in the Water Restoration Industry
Advanced Water Inspection, Extraction, and Drying Equipment

Whether you are in Anthony, Clint, or perhaps Dell or Horizon City, SERVPRO professionals will use the best techniques in the industry to make your disaster "Like it never even happened."® So when disaster strikes, do not hesitate—give us a click or call.

When homes and businesses require a top restoration service provider, they contact SERVPRO.

Our locally owned and operated SERVPRO franchises are available 365 days a year, 24 hours a day. Give us a call, and we will make it "Like it never even happened."®

Our commercial cleaning professionals are trained to follow CDC protocols for all types of specialty cleaning services for hazardous materials including the novel coronavirus, biohazard, and mold removal.

Contact SERVPRO for a free, no-obligation consultation with our team of IICRC certified damage restoration specialists. No matter the amount of damage, SERVPRO has over 50 years of experience and over 1900 franchises nationwide.
Recommended For You
Restoring your home or business after fire damage is our main goal. As a leading fire dama...

Mold can grow anywhere. Trust SERVPRO® for reliable mold remediation, abatement, and resto...

Keeping your commercial business looking its best is a priority. When your business requir...